[70th Anniversary of the End of WWⅡ] Watch Japan Now
post date : 2015.04.13
2015 marks 70 years since the end of World War II.  Events related to this anniversary are listed below.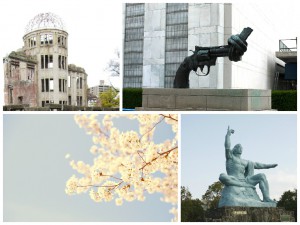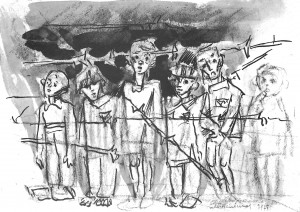 【March 24-April 23, 2015】
Remembering Auschwitz: Seventy Years After Liberation– Exhibition of Mieczysław Kościelniak Paintings   
Cultural Affairs Division, Waseda University
WASEDA University is pleased to announce two events commemorating the liberation of the Auschwitz Birkenau German Nazi Concentration and Extermination Camp (1940-1945) seventy years ago.                                    (Courtesy of  Ms. Michiko Nomura)
Exhibition:  Paintings from Auschwitz by Mieczysław Kościelniak
Date/time:  March 24 to April 23, 10:00-18:00 (Closed Sundays)
Place:  Waseda University Okuma Memorial Tower (Nishi-waseda 1-6-1, Shinjuku)
Admission:  Free
Symposium:  What does Auschwitz have to teach us today?
Date/time:  Saturday, April 18, 13:00-17:30
Place:  Waseda University Toyama Campus Bldg.36 Room 382 (Toyama 1-24-1, Shinjuku)
Greeting:  Cyryl Kozaczewski, Ambassador of the Republic of Poland to Japan 
Keynote Address:  Michiko Nomura, Author
Panelists: Ayaka Takei, Associate Professor, Gakushuin Women's University
               Shinichi Furuya, Lecturer, Waseda University
               Haruka Miyazaki, Lecturer, Hokkaido University of Education
               Coordinator:  Koichi Ouchi, Professor, Waseda University
【Contact】 Waseda University  Information & Public Relations
  Email: koho@list.waseda.jp              URL: http://www.waseda.jp/top/en-news/23555
----------------------------------------------------------------------------------------
【March 25-April 25, 2015】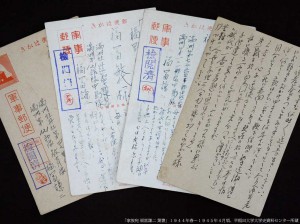 Spring Exhibition "Student Battlefield-70 years after the War"
Dates: March 25 (Wed) – April 25 (Fri), 2015 Closed Sundays
Opening Hours: 10:00 – 17:00 (final admission 16:30)

Venue: Waseda University Building No.2 Aizu Museum Special Exhibition Gallery

      *Free admission

【Contact】 Waseda University Archives   Email: archives@list.waseda.jp