"KING SKYFRONT", a Base for Open Innovation is Being Developed near Haneda Airport (Kawasaki City)
post date : 2015.02.24
Internationalization of the Haneda Airport is proceeding to make it a hub airport.  On the opposite shore of the Airport (Tonomachi area, Kawasaki Ward, Kawasaki City), development is advancing to create "KING SKYFRONT", a base for open innovation in the fields of life sciences and the environment. 
KING SKYFRONT is an "area to develop dream medical technology for the future", where research and development is conducted for treatments of Alzheimer's disease, intractable cancer and spinal cord injury, as well as medical devices such as leading edge medical robots.  It is also an important area in terms of national strategy as exemplified in its designation as an international strategic zone.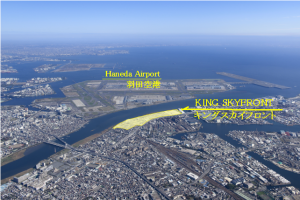 ★  Official website of KING SKYFRONT
 http://www.king-skyfront.jp/ (Japanese)
 http://www.city.kawasaki.jp/en/category/132-5-0-0-0-0-0-0-0-0.html (English)
 ★  Kawasaki SkyFront i-Newsletter: Introduces researchers and research results of KING SKYFRONT.
 http://inewsletter-king-skyfront.jp/en/ (English)
1. Newly Located Enterprises and Major Facilities
(1)  Johnson & Johnson K.K. Tokyo Science Center (Operation began in August 2014.)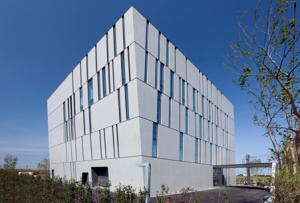 This is the third facility that began operation in KING SKYFRONT.  Tokyo Science Center is a base to provide training for safe use of leading edge medical devices and to transmit advanced medical technologies for Asia.  Over 10,000 medical service workers visit the Center annually from both in and outside of Japan.
(2)  Innovation Center of NanoMedicine (iCONM) (Scheduled to begin operation in April 2015.)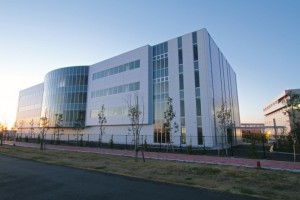 Led by nano-medicine authority Prof. Kazunori Kataoka of the University of Tokyo, universities (Tokyo Institute of Technology, etc.), enterprises (Fujifilm Corporation, Nikon Corporation, etc.) and research institutes (National Cancer Center, etc.) will transcend mutual boundaries and carry out research and development of nano machine to treat or prevent intractable diseases.
(3)  FUJIFILM RI Pharma Co., Ltd. (Completion date of facility construction to be determined.)
FUJIFILM RI Pharma performs research and development for diagnostic radiopharmaceuticals, such as PET agents.
(4)  CYBERDYNE INC. (Completion date of facility construction to be determined.)  
CYBERDYNE is known for its wearable Robot Suit HALⓇ, which moves in response to the wearer's intention to move.  It is performing research and development for state of the art robotic medical and welfare devices.
(2)  Kanagawa Prefecture Life Innovation Center (Tentative name) (Scheduled to begin operation in FY2016.)
The Life Innovation Center will promote measures to commercialize R&D results in the fields of regenerative and cellular medicine.
2. Town Development for Vitalizing KING SKYFRONT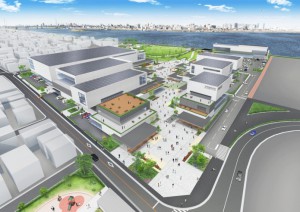 It has been decided that DAIWA HOUSE Industry Co., Ltd. and the City of Kawasaki will collaborate in promotion and development of the area's bustling and exchange functions, similar to those of a university campus where researchers freely interact.
[Point of Contact]
Coastal Area International Strategy Office  General Planning Bureau  City of Kawasaki
E-mail: 20rinkai@city.kawasaki.jp
Related archive:
"Kawasaki City: KING Skyfront – the Base for Japanese Innovation" (January 30, 2014)