Wood Biomass Power Generation: Turning Quake Rubble into Electricity (September 1, 2011)
post date : 2011.09.01
【Watch Japan Now vol.4/FPCJ】
September 1, 2011
Wood Biomass Power Generation: Turning Quake Rubble into Electricity
Faced with piles of rubble in disaster-hit areas and electricity shortage in the aftermath of the Great East Japan Earthquake, the focus in Japan has moved to power generation from wood biomass.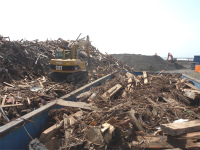 This method generates electricity by burning chips recycled from woody materials such as wood offcuts and construction waste. In Japan, the number of power plants specializing in wood biomass has increased with the growing environmental awareness, and there are about 50 in the country now. It has been pointed out, however, that a steady supply of wood biomass is necessary for biomass power generation on a commercial basis to be more widespread.
According to an estimate by the Government, the disaster in March left the country with about 25 million tons of rubble in total, the majority of which is wood debris. Meanwhile, efforts to secure a stable power supply are continuing in the service areas of the Tokyo Electric Power Co. and the Tohoku Electric Power Co. People see power generation from wood biomass, which burns debris into electricity, as an ideal way to kill two birds with one stone.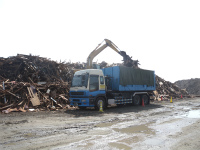 Here we introduce the Katsutakankyo Co. Group in Hitachinaka, Ibaraki Prefecture, which is engaged in collecting quake rubble and turning it into electricity.
The flagship company of the corporate group is the Katsutakankyo Co., a waste processor, and Biopower Katsuta Co., a wood biomass power plant in the same group, stands in the same compound. Until the quake and tsunami, the waste processor collected wood debris such as construction waste and pruned branches from the surrounding areas, processing them into wood chips and providing them to the power generation facility. The power plant sells electricity to a major trading company.
The quake and tsunami severely damaged Ibaraki Prefecture, however, leaving piles of rubble centering on the coastal area of the prefecture. This led the Katsutakankyo Co. to decide to accept woody debris such as house wreckage and wooden furniture to meet the requests of the affected municipalities in the prefecture, first from inside its hometown Hitachinaka City, and then from neighboring municipalities. The waste processor provides its affiliate power plant in the same compound with 150 tons of rubble turned into wood chips per day.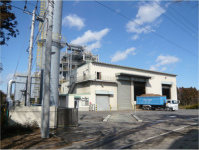 The output capacity of the power plant is 4900 kWh from burning 150 tons of chips per day. Of the total output, deducting the electricity for its own consumption, 4100 kWh, equivalent to the total consumption of about 10 thousand households, is sent to the Kanto region via a trading company to relieve the electric power shortage.
A spokesperson of the Katsutakankyo Co. told the Foreign Press Center/Japan, "At this stage, we are fully occupied with dealing with rubble collected from inside Ibaraki Prefecture." But he also said, "Though we have many unresolved problems including possible damage to the boiler from salt contained in the rubble, we are considering accepting rubble from the disaster-hit prefectures in the Tohoku region in the next phase."
(All photos by Katsutakankyo Co.)
(Copyright 2011 Foreign Press Center/Japan)