Date : August 12, 2011
Power-saving Life in Tokyo – Arakawa Ward's "Summer Retreats in Town" Project (August 12, 2011)
post date : 2011.08.12
【Watch Japan Now vol.1/FPCJ】
August 12, 2011
Power-saving Life in Tokyo – Arakawa Ward's "Summer Retreats in Town" Project:
Prevent Heat Stroke and Widen Exchanges between the Residents, while Saving Electricity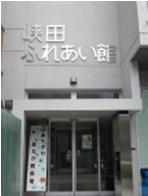 The Fukushima Daiichi Nuclear Power Plant accident is forcing people, especially those in the areas covered by the Tohoku Electric Power Co., Inc. and the Tokyo Electric Power Company, to cut down on use of electricity this summer. While some local governments are trying to limit or shorten the use of their facilities, Tokyo's Arakawa Ward designated 33 community facilities in the ward as "Summer Retreats in Town" during the period June 21 (Tue) to September 30 (Fri). This project lets ward residents get together at nearby Summer Retreats so that less electricity is used in each household and in Arakawa Ward as a whole, protecting people, especially the elderly, from heat stroke, and promoting citizens' exchanges at the same time.
In early August, we paid a visit to "Haketa Fureai Kan," one of the Summer Retreats in Town. It was forecast that the temperature would reach 31°C on that day. Although there were some clouds in the sky above, it was truly a hot and humid day.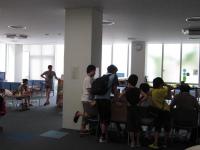 A little after 11:30 a.m., about 30 people including elementary school children and mothers with toddlers were in the all-purpose lobby of the first floor, eating lunch, or using the PCs available in the lobby as they pleased.
On the third floor, about 20 young people, including mothers whose children were being taken care of in the playroom, were sweating away at physical exercises, and some middle-aged and older users of the facility were earnestly making flower arrangements using origami folding paper. These were part of the many events that each Summer Retreat frequently plans to attract more people.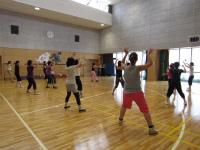 Electricity saving is, to be frank, easily associated with such negative images as "endurance" or "restraint." The Summer Retreats in Town project, however, positively regards electricity saving as offering a very good opportunity to improve the residents' health and expand their exchanges. How could this distinctly opposite concept come into being?
The environment section of Arakawa Ward says that the idea of setting up Summer Retreats in Town was triggered by the rolling blackout after the Great East Japan Earthquake, which was applied to a part of the ward. According to the section, "It would be putting the cart before the horse if saving too much electricity were to result in heat stroke cases, as the residents have a very high electricity-saving awareness. Last year some residents who were living alone died of heat stroke, so this project was also intended to prevent that."
Residents in Arakawa Ward highly value the Summer Retreat project. Mr. Toshiaki Yamada, Curator of the Haketa Fureai Kan, says, "After the summer holidays started, some children spent the whole day here. In July an average of about 200 people a day, and 6,000 a month, used this facility. A woman in her thirties who visits this facility almost every day with her children explains why she comes here: "It is hot at home. We can meet many friends here and also save electricity." Other young mothers also say they can make new friends here. A fourth-grade elementary girl said, "I come here to play. I find new friends. I do not do my homework here, though."
The total number of users of the Summer Retreats in the whole of Arakawa Ward is now being compiled, but the ward office estimates the number has increased by 10% compared with the previous year when the Summer Retreats concept was not used and there was no publicity given to the activities. The ward also estimates if a Summer Retreat has nine visitors or more, it is beating the heat and saving electricity. 
(Copyright 2011 Foreign Press Center/Japan)