Tokyo 2020 Olympics—A New Direction to Internationalize the Hotel Industry
post date : 2014.06.02
Tokyo 2020 Olympics
—A New Direction to Internationalize the Hotel Industry
Author: Rachel LAM Un-wa,  FPCJ Intern
In 2013, the number of foreign visitors to Japan reached more than ten million, marking the highest amount ever according to the Japan National Tourism Organization. The tourism industry is faced with the need to improve their services in order to welcome overseas guests for the Tokyo Olympics in six years. We interviewed several types of hotel about their approaches to and challenges in internationalization.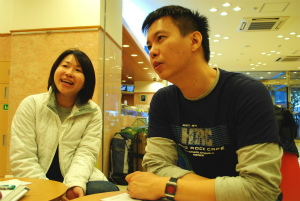 The main content of the homepage of Toyoko Inn  in Ota Ward of Tokyo has been available in ten languages and has supported online reservations in English, Chinese and Korean for more than ten years. Throughout their 238 branches, they served about 955,000 foreign guests in fiscal 2013.
"Ten years ago not as many staff could use English. When we first stayed at Toyoko Inn, we had to use body language to communicate with the staff. Today, many of them can communicate in fairly good English," said Mr. Ngiam Chong How, a regular customer from Singapore with his wife who has witnessed the growth of Toyoko Inn over the past ten years.
(Photo) Mr. and Mrs. Ngiam from Singapore shared their feelings on the growth of
Toyoko Inn over the last decade, at Toyoko Inn Ikebukuro Kita-guchi No.2 in Tokyo.
In addition to their multilingual service, Toyoko Inn is also developing their business around the world. They have six branches in Korea and they are planning to open new Toyoko Inn hotels in Cambodia and the Philippines in 2015. Moreover, branches will be opened in France and Germany within the next few years.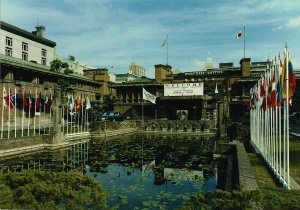 Located in Chiyoda Ward, Tokyo, "To be the world's best hotel" is the raison d'être of the Imperial Hotel, which was established in 1890 to receive foreign dignitaries to the capital. Fifty years ago, the hotel was selected as accommodations for the International Olympic Committee (IOC) in connection with the 1964 Tokyo Games. Furthermore, the chef of the hotel was selected to serve as one of the head chefs of the Olympic Village Dining Room.
The hotel aims to provide impeccable Japanese hospitality to guests while making every effort to achieve ideal international hotel standards, following the spirit of its founding. It is further improving its services by offering Muslims the necessary tools for their religious practices upon request, and by improving the English skills of its staff to nearly native-speakers level.
(Photo by Imperial Hotel) The Imperial Hotel, which was designated as the accomodations for the IOC during the Tokyo Olympics (October 1964).
On the other hand, many travelers seek out hotels with affordable prices. Capsule hotels are receiving attention due to their distinct Japanese style. Each room has many tightly packed "capsule"-style spaces separated by curtains, with only a simple bed inside them. The number of foreign guests who are visiting out of curiosity has been increasing recently.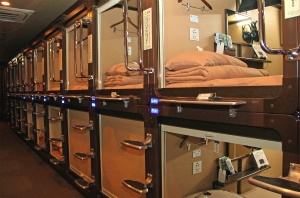 Anshin Oyado in Chiyoda Ward in Tokyo provides English, Chinese and Korean versions of their homepage and an emergency TV interpretation system.
"It is unfortunate that we only serve male customers over 18 and we cannot perfectly meet the needs of families and couples, but we will host with as much omotenashi (hospitality) spirit as we can," said Mr. Kazuhiko Nunome, manager of the Shinbashi branch.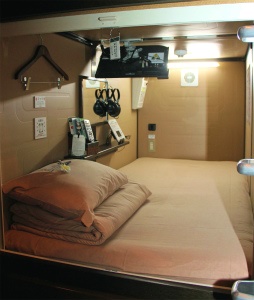 (Photo right above) Each room is filled with bi-level "capsule" spaces. (Capsule Hotel Anshin Oyado, Akihabara, Tokyo) / (Photo right below) Inside each space, items such as a simple bed, TV, tablet computer and alarm clock are provided (Capsule Hotel Anshin Oyado, Akihabara, Tokyo
Dr. Genichi Igarashi, associate professor of Hospitality Management at J. F. Oberlin University, pointed out "Because the population of Japan will decrease hereafter, one major challenge will be how to attract foreign customers and satisfy them so that they become repeat customers. Now is the time to prepare for the future." He suggested Japanese hotels should improve their Wi-Fi service, staff language skills and cross-cultural understanding. "There are famous foreign search engines with hundreds of millions of visitors daily, and users' comments on those search engines and SNS have a lot of influence. Even just responding politely makes a good impression." "In spite of the fact that there is a limit to what each hotel can do, it is important for hotels and associations to work together, and to collaborate with travel agencies and airlines to improve the industry as a whole."
 ---------------------------------------------------------------------------------------------
<Reporter's Comments> 
Japan is famous for excellent service with high standards in the hospitality industry. However, how to internationalize the Japanese hotel business is a considerable challenge. The process of news editing provided me a good opportunity to observe how Japanese hotel brands have eliminated their difficulties technologically, linguistically and collaboratively. As opposed to the infrastructure improvement of the 1964 Olympic Games, I expect that Japan as a highly developed country will succeed in improving its intangible image around the world in 2020.
(Copyright 2014 Foreign Press Center/Japan)