Seniors Seeking Purpose in Life by Working in World's Fastest Aging Society, Japan
post date : 2014.05.08
Seniors Seeking Purpose in Life by Working
in World's Fastest Aging Society, Japan
Author:  Liu Yan, FPCJ Intern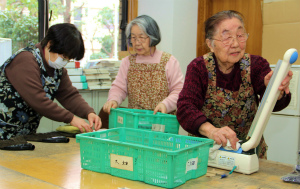 Five women aged 67 to 94 are packaging brooms.  None of them feel uncomfortable with the work, despite having to stand while doing it.  The Edogawa-kuSilver Human Resources Center in Tokyo offers light, short-term work for seniors 60 and over, to increase their confidence and build connections more than for a stable income.  Ms. Shizue Ohata, the oldest at 94, says "I come here almost every day for the happiness I get from talking with the others who work with me."  Since Ms. Ohata lives alone, she believes that working at the Center enhances her health.
 (Photo) Seniors including Ms. Ohata (at the right) are working at the Edogawa-ku Silver Human Resources Center
Japan has one of the fastest aging populations in the world.  More seniors than ever are finding purpose in work, and are looking for workplaces to make social connections and realize their own value.  We spoke with these seniors and the people supporting them.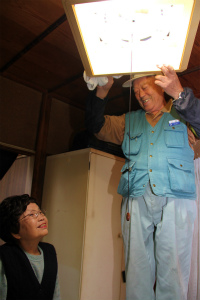 The Center was established in 1975, as the first job agency for seniors.  Now, Silver Human Resources Centers are everywhere in Japan at the municipal level, with "Silver" meaning the elderly in Japanese-English.
(Photo) Mr. Yamazaki (right) cleans the light
while talking with the old lady who asked for help
Since 2012, the center in Edogawa-ku even developed a service at a low price where members visit the households of older people, people with disabilities and so on.  "I feel happy when I receive thanks," says a smiling Mr. Shimpei Yamazaki, 79, after cleaning ceiling lighting fixtures for a couple in their 80s.  Mr. Yamazaki was a construction worker, until he decided to quit at 70.  "I was lonely soon after quitting.  I've wanted to contribute to society in some way."  He started working at the Center five years ago.  Although his hands tremble when he cleans, he still has the stamina and skills he developed working on construction sites.
According to the Japanese Cabinet Office's 2013 Annual Report on the Aging Society, due to increased life expectancy and a falling birth rate, it is predicted that the ratio of people 65 years of age or over will rise from 24.1% in 2012 to 39.9% in 2060.  This is significantly greater than the worldwide average of 7.6% in 2010, predicted to reach 18.3% in 2060.  The declining birthrate will bring about a smaller workforce, combined with increased life expectancy and lifestyle changes which make seniors more energetic, is causing more seniors to play important roles in society.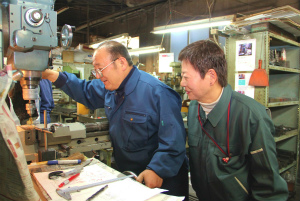 Ms. Kiyoko Shibuya, 70, the owner of Tamahiko Seiki in Ota-ku, Tokyo, which produces machine parts, is an employer who hires seniors.  She has handled the company for 30 years since her husband passed away, and is uncertain how long she can continue.  Still, she says she herself "can't imagine" life after retiring.  "Age isn't a problem.  Motivation is what matters."  She feels that senior workers are skilled, attentive and they work with enthusiasm, and finds it "frustrating" that society is letting them go to waste.
 (Photo) Ms. Shibuya (right) watches Mr. Sugawara process a metal piece
One of her employees, Mr. Takeshi Sugawara, 65, agrees.  "There are people with a lot of different skills.  It's a waste not to use them."  Mr. Sugawara worked designing and processing machine parts for more than 40 years.  After the factory where he worked closed, he started to look for another job last year at the age of 64.  He visited the local branch of the employment agency Hello Work, but found nothing.  He then used the Ota-kuIki-Iki Shigoto Station in Tokyo, which provides support for people over 55 looking for work, and found his current job.  "I want to work until I can't move.  If I don't do anything, I'll just get old.  I get satisfaction from work, and it makes life more fulfilling."
"There are definitely many seniors who still want to work.  Companies are thinking of how to use senior human resources, as it will be difficult to find young workers due to the impact of the falling birth rate and the aging population.  However, it is still difficult to meet both these needs," explains, Mr. Fumio Sasaki, the president of the Station.  "Instead of just looking at their age on the application materials, I hope employers will see their skills, experience and character."  He gave an example to improve the situation by setting up a short-term trial period before hiring to check whether an applicant is capable of a job, which is beneficial for both companies and seniors themselves who may not have enough confidence.
Opened in 2012, the Station is one of 12 free employment agencies for seniors supported by the Tokyo Metropolitan Government and local municipalities.  The Ministry of Health, Labour and Welfare has also made efforts to improve the situation in such ways as releasing a report by the Commission Aspiring for a Society Where People Can WorkTheir Entire Lifetime.  In 2013, with the revision to the Law Concerning Stabilization of Employment of Older Persons, which stipulates the age of retirement as 60 years old, employers will be fully obliged to re-employ all of their workers who wish to continue their jobs after retirement until the age of 65, with this program to be fully implemented by 2025.  Not only are the elderly themselves keen to work, but the system supporting them has now been enhanced.
<Volunteer Work for Seniors>
(Photo) Seniors are practicing reading books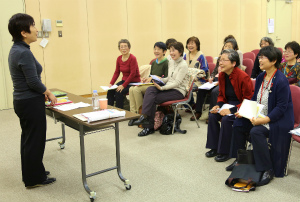 Besides working, volunteering is another attractive activity for older people.  For example, in the volunteer organization REPRINTS in Chuo-ku, Tokyo, many seniors over 60 years old read picture books to children at schools and kindergartens.  It is professionally organized, with regular meetings and lessons.  After listening attentively to a class that teaches seniors how they can express the materials better for their audience, Ms. Yukiko Miyao, 83, says, "I have been a volunteer with REPRINTS for more than 10 years.  It has changed my life. I like children and it is good to meet and chat with them since I live alone."  Her comment shows the eagerness of energetic older people, and their desire to get involved and contribute to society to feel a sense of worth.
                      -----------------------------------------------------------------------------------------------------------------------
<Reporter's Comments>
The seniors I interviewed were different from the stereotype of people troubled by sickness and age, who seem to be powerless and unproductive.
In contrast, these people have a desire for novelty and live high-quality lives.  Ms. Shibuya, the owner of the factory, goes out to take photos of outstanding natural beauty which helps her relax and forget her problems.  I was also surprised to learn that she is proficient at using a computer and updates her blog(http://tamahiko.blog59.fc2.com/) every day.
Older people can perform better than young people in some aspects because of their enthusiasm for work.  Mr. Yamazaki even assisted the old couple with other things after cleaning their light fixtures.
We can see a difference in appearance in people who take part in social activities, as they usually look younger than their actual age.  A lady I met at a study meeting by RRPRINTS is very fashionable and colored her hair green in order to match her kimono, and she looked happy when I said I wanted to take a photo of her.
I began looking forward to my retirement after the interviews. It is necessary to redefine the meaning of aging. Getting older is a new start to one's life rather than an end to be dreaded. When we retire, we can choose from all kinds of lifestyles to pursue our happiness.
*Some of the pages that the links represent are only in Japanese.
(Copyright 2014 Foreign Press Center/Japan)