Interview Series Vol.5: Mr. Tadateru Konoe, President, Japan Red Cross Society
post date : 2013.02.13
Two years have already passed since the Great East Japan Earthquake occurred. Mr. Tadateru Konoe, President of the Japanese Red Cross Society (JRCS), has been energetically working on emergency countermeasures and reconstruction work of various disasters since he took office as President of the International Federation of Red Cross and Red Crescent Societies (IFRC). FPCJ President Kiyotaka Akasaka asked President Konoe about preparedness for and challenges of natural disasters in the world, which, in recent years, show a tendency to occur more frequently and get more massive and complex. Mr. Akasaka also questioned Mr. Konoe about new efforts for handling nuclear disaster.
Challenges in coping with large-scale disasters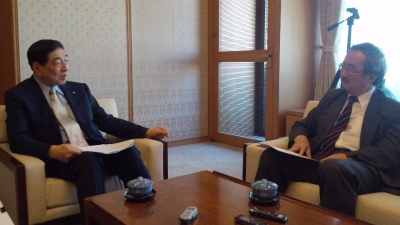 President Akasaka (hereafter K.A.): 
In recent years we have seen great natural disasters in Sichuan in China, Pakistan, Haiti and East Japan. As IFRC President, how have you been addressing the problems and challenges in coping with large-scale disasters?
President Konoe (hereafter T.K.): 
The 2010 Haiti Earthquake occurred two months after I took office as IFRC President, and in the next year, the Great East Japan Earthquake happened; as the President I visited both disaster areas. The two quakes made a clear contrast in that they occurred in one of the least developed countries (LDC) and in an advanced country, but they had something in common: the two disasters were unprecedentedly catastrophic, drawing global attention and requiring global handling. For Haiti we issued an emergency appeal for assistance and raised the largest ever amount of donations in the history of the IFRC. It was also our first experience of dispatching emergency teams comprising experts in medicine, water, hygiene and other fields from 16 countries. When it came to the Great East Japan Earthquake, we made no appeal but more than 90 countries and organizations donated a little under 60 billion yen to the JRCS. The Government of Kuwait donated five million barrels of crude oil, which we converted into money and obtained about 40 billion yen; finally, almost 100 billion yen was made available for our reconstruction programme. Distinctive characteristics common to both disasters were that they required emergency measures for a great disaster and that we have had to engage in prolonged reconstruction. How to deal with prolonged reconstruction is a big challenge for us; we think we have to use that challenge for strengthening our "resilience," the capacity to deal with future disasters.
K.A.: 
When a great disaster occurs, emergency assistance is easy to get from other countries or individuals, but mid- and long-term reconstruction funds are not; it is said that obtaining sufficient funds for keeping reconstruction going is difficult. I wonder if you have sufficient funding for coping with disasters.
T.K.: 
It depends. When it comes to Haiti, we collected more money than we had capacity to programme in a short period. Simply putting Haiti back the way it used to be only means Haiti would still be an under-developed country. We used the slogan, "build back better," and tried to come up with a reconstruction plan in accordance with a grand design for Haiti's development. The government's administration was, however, too weak to achieve the grand design. The same is true of Japan; the government took much time to come up with a basic policy for reconstruction so that we worried how we could efficiently use the funds we had gathered. Generally speaking, when a significant disaster takes place, fund-raising for emergency assistance is not a problem, but when a disaster is neglected or forgotten after it happens, funds are not always enough. The Sahel region, for example, has need of longstanding assistance for such problems as poverty, food shortages, and communicable diseases. Besides that, the security of the region is poor, making the crisis mixed. I think it is a very big challenge for us to focus international attention on such neglected issues. When the IFRC makes an emergency appeal for a disaster, 10% of the donation will be allocated to meet such long term needs. 
Volunteers actively working in the world
K.A.: 
The year before last was the International Year of Volunteers, and the United Nations Information Center held an international conference together with the United Nations Volunteer program (UNV). I understand that now there are several tens of millions of volunteers actively working in the world. Do you have any good ideas to further activate volunteer activities? 
T.K.: 
One of the IFRC principles is "voluntary service" and there are societies whose activities are centered on volunteer activities. How well volunteers are organized is the barometer of the capability of a national society. Taking the opportunity of the International Year of Volunteers, the IFRC conducted a field survey on volunteer activities together with the International Labor Organization and Johns Hopkins University. Using the definition of a volunteer as one who has put in more than four hours of service in a year, the survey revealed that there were about 13 million active volunteers worldwide, and that in 2011 their social and economic contribution amounted to six billion U.S. dollars (about 540 billion yen). In terms of disaster assistance, they rendered services to about 30 million people. If volunteers, from grass-roots level to international level, can work together, they can make a great contribution, which was demonstrated in Haiti and in East Japan.
Last February I went to Burundi in Africa. Until very recently, national societies in poor countries depended on assistance from advanced countries. We have established volunteer organizations in 80-90% of local communities and started our activities from the grass-roots level; as a result, African traditional communities on the verge of breaking up were reconstructed and African Red Cross Red Crescent Societies are now able to work on their own, rooted in their local communities. This is regarded as a good example of an independent red cross in a LDC. As the JRCS has many hospitals and medical workers, we have dispatched many rescue teams over a long period since the Great East Japan Earthquake. However, in the case of such a huge disaster, there are countless needs that are beyond the reach of the government; we regret that if we had made more effective use of red cross volunteers, we could have offered much more detailed services.
Reconstruction assistance projects for areas afflicted by the Great East Japan Earthquake
K.A.: 
Would you talk about some examples characteristic of the reconstruction assistance projects for areas afflicted by the Great East Japan Earthquake, that the JRCS has carried out with overseas donations? 
T.K.: 
We have received a very significant amount of assistance from foreign countries though we didn't actually make a request for support. So, how we could live up to the expectations of donors, i.e. how we could keep our transparency in the use of the money and meet our accountability requirements, was a big issue. We therefore invited representatives of national societies around the world to inspect disaster-hit areas and to share their rehabilitation plans with us; we have reported on the implementation of these operations regulary. We have adopted international auditing standards and opened up evaluations by international teams to raise our accountability. And we have arranged that the Red Cross Red Crescent of each country can provide their local donors with information. I am sure that the trust we have built in that way will lead to better operations next time around.
In parallel with the diffusion of the Internet in recent years, the profile of the aid donor and the aid recipient has been changing rapidly. Some developing countries with remarkable economic growth have become more self sufficient and are able to assist other countries. At the time of the Great East Japan Earthquake, though the amount was not big, children in many LDCs extended assistance via the Red Cross Red Crescent in their countries.
K.A.:
Almost all the donations exceeding 320 billion yen, to be distributed in the form of cash grants, which were sent to the JRCS after the Great East Japan Earthquake, were delivered to the disaster-afflicted areas. You must have had a hard time in quick and fair delivery. What kind of efforts did you make?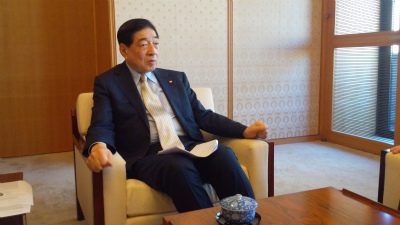 T.K.:
I am sure that the donors were thinking, "Deliver our sympathy to the disaster victims as soon as possible." It is local municipalities that have a dear grasp of the situations of the victims; but assessing the actual needs requires much time. One cannot simply hand over cash to people who are not identified. We have certain standards for cash delivery, but when it comes to a gigantic disaster like this time, our fairness will be questioned, if there has been no discussion as to who would need assistance most. We had an idea of collecting contributions in place of local administrations and letting them decide how to use the money. Many donors, however, said, "We entrusted the money to the JRCS, so use it on its own initiative," or "Give us a detailed report on how the JRCS used the collected money." We, therefore, had to think again who is the owner of the donations and for whom they should be used. Even if we solicit contributions and local municipalities distribute them as in the past, we have trouble in coming up with a unified opinion as each local municipality has a different opinion. We are now distributing the donations as cash benefits based on certain standards, with the help of local administrations; so this did take some time but we have delivered 1,140,000 yen to 450,000 cases including those who had lost their families or houses. Concerning the relief money that the JRCS had received from overseas national societies, on the other hand, we had direct negotiations with the disaster-hit local municipalities for the use of the money; we were able to make rather quick delivery. For example, we delivered a six-item package of electrical appliances to each of 130,000 households who had moved to temporary housing or to rented houses; we restored several hospitals, and provided welfare vehicles to schools and elderly care homes. We did this faster than the government or the local municipalities.
Strengthening nuclear disaster preparedness
K.A.:
This time the disasters were three-fold; an earthquake, tsunami, and because of the accident at the Fukushima Daiichi Nuclear Power Plant, it was also a nuclear disaster. In response to the resolution, "strengthening nuclear disaster preparedness," adopted at the IFRC General Assembly in November 2011, the IFRC held a consultation meeting in Tokyo in May 2012. Tell us concretely how the IFRC will deal with possible nuclear disaster.
T.K.:
Before the resolution, we had a common understanding, "Since nuclear plants exist, we need to be prepared." So we decided to share our information first of all. How each Red Cross and Red Crescent Society will get involved will depend on the country to which it belongs. As nuclear power stations in any country have been built on the assumption that there could be no accident, information exchanges assuming the worst-case scenario have been limited. In Japan, people residing around the Fukushima Daiichi nuclear plant were not given enough information on the possibility of an accident there, and the medical staff who rushed to rescue them had to face the unexpected. We should be ready to identify who will deal with a possible accident and how responsibility will be divided up; we will come up with guidelines for reference. We at the JRCS have created a Task force and at the headquarters of the IFRC, in February a person has also been appointed to this portfolio. The JRCS is still active as we purchased whole-body counters and other equipment, using the money donated by sister societies, for long-term monitoring activities in Fukushima Prefecture. It has been 27 years since the nuclear meltdown at Chernobyl; rescue activities have been getting harder and harder as the world's interest has been waning and less money has been coming in. At Chernobyl, however, residents still have health problems. As these problems cannot be handled only by their country, the RCSs in Ukraine, Belarus and Russia have been pleading for continued assistance from other countries.
K.A.:
Reconstruction work continues. I am sure your work as President will be busier, but please take good care of yourself for your continued work. We at the FPCJ wish to help you as much as possible. Thank you very much for this long interview. We look forward to working with you in the future also.