Mr. Sadanobu Takemasu/Lawson, Inc. President and COO
post date : 2016.08.23
 ~Making Convenience Stores Essential to People's Lives~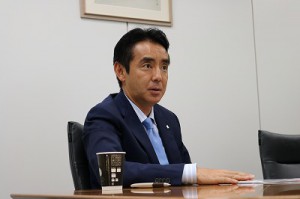 If asked what single thing was most essential in their daily life, many residents of Japan would likely reply "convenience stores." Open 24 hours a day so customers can shop whenever they like, behind the scenes convenience stores are engaged in constant corporate efforts to meet the needs of consumers. We spoke with Mr. Sadanobu Takemasu, President and COO of major convenience store chain Lawson, about the development of Japanese convenience store culture and overseas business opportunities.
(Interviewer: FPCJ President Kiyotaka Akasaka)
With 41 Years of History,
Working to Meet Customer Needs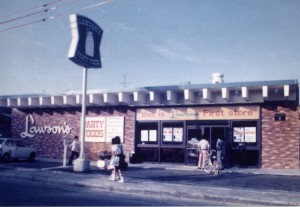 Forty-one years have passed since the first Lawson store opened in Toyonaka, Osaka in 1975. That makes Lawson one year older than the FPCJ. Looking back, during that time Japan's shopping arcades began to decline. Over the past 20 years in particular, the number of retailers decreased from 1,600,000 to 800,000, households grew smaller with 1.5 times as many one or two person households, and the number of households with seniors 65 years of age or older doubled. The key to the success of the convenience store industry is how well we were able to meet customer needs that arose from these changes in society.
 (photo: The first Lawson store, opened in Toyonaka in 1975. The milk bottle logo is well-known )
The number of convenience stores continues to increase. Lawson has worked together with franchise owners and implemented a number of changes through a continual process of trial and error. The convenience store industry is extremely competitive, but Lawson was the first chain to have stores in all 47 prefectures. Lawson was also the first chain to bring in deep fryers and begin selling hot food. Kara-age Kun (fried chicken nuggets), for example, has been a best-seller for the past 30 years. Although fresh-brewed coffee has become a standard item at Japanese convenience stores, Lawson had already begun selling it in 2011 at a Nagano location before the boom occurred. Whenever we attempt one of these new initiatives, we carefully review customer reactions and make improvements through a process of trial and error.
Lawson's Corporate Philosophy is "Creating happiness and harmony in our communities." The most important factor when ensuring our stores follow this philosophy is the efforts of our franchise owners. We have also been incorporating women's perspectives recently, creating a discussion group for women franchise owners and considering a number of ways to implement measures based on the unique details these women have noticed as they run their own stores.
Furthermore, in order to make our stores more closely linked with their communities, we have implemented a management owner (MO) system. Although there is a strong perception of convenience stores being operated individually, with this system we have one owner operate four or more stores. Although there are difficulties unique to managing multiple stores, franchise owners from around the country are sharing their experiences to overcome these problems together, and it has begun to help increase the stores' presence within their communities.
Convenience Stores
Solving Japan's Problems
In the past, convenience store customers tended to be working-age men, buying high-calorie bento lunch boxes, bottled drinks, and cigarettes…but with women more active in the workforce and households becoming smaller, the product lineup has changed significantly. In cases where it is not feasible to buy ingredients in large quantities at the supermarket for cooking, customers are interested in convenience stores carrying healthy ingredients in efficient, small packages. We have been increasing the number of ingredients we have for cooking, so in addition to salads that are ready to eat, we carry sliced vegetables that can be used to make salads or stir fries, and also carry different kinds of tofu. Demand for these products is particularly high among women in their 30s to 50s.
Lawson develops products based on 10 guidelines for healthy product development, including limitations on salt and sugar content. For example, bread made using bran is good for people who are concerned about their blood sugar levels. Our green smoothies that contain an entire day's worth of vegetables sell at a rate of one every second. Even if a product is healthy, it won't sell if it doesn't taste good, so a lot of research went into making this product.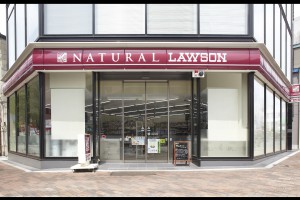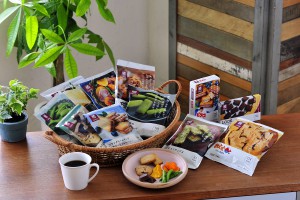 We also have the "Lawson Store 100" chain, which mainly offers 100 yen products, also has a variety of fresh food. The concept is to make products useful in daily life available at an affordable price. The "Natural Lawson" stores are based around the concept of health and beauty.
(photo:  Natural Lawson stores are popular for having readily available, healthy products)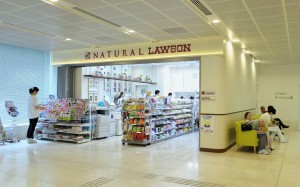 We also have around 250 stores located in hospitals, and we make sure every service we provide in them is appropriate for being in a hospital. Considering the needs of patients staying in the hospital long-term, many books are available, and there are attractive hospital clothes so the patients can enjoy shopping. Having heard that a patient wanted to buy a present for their grandchild who came to visit, we suggested a service in which products bought online at Amazon or other websites can be sent to the Lawson store for parcel pick up. 
(photo:  There is a specialized team for Lawson stores in hospitals, providing support for store planning)
Convenience Stores Have Responsibility
for Disaster Preparation
Since Japan suffers frequent natural disasters, we have a responsibility to keep stores open as much as possible even during disasters, as a national chain and a key infrastructure in the communities. The Kumamoto earthquakes damaged not only our stores, but also the distribution routes and logistics centers used to ship products to stores. However, we were able to respond quickly by getting products from other areas and using airplanes and passenger automobiles instead of the usual delivery trucks.
A large number of employees from the headquarters went to provide support, working to repair stores and deliver products. Two days after the main earthquake, nearly all the stores in the prefecture had reopened. While the aftershocks continued, many people evacuated to convenience store parking lots because they felt safe there. This response was based on experience accumulated from other major disasters such as the Great East Japan Earthquake.
The day after the main earthquake, I went to Kumamoto from Kagoshima and went to the stores that had been damaged, and all the owners had handled the situation impressively. The shelves were already bare, and there were difficulties in restocking products, but the owners were keeping the stores open even if they had nothing to sell. Despite having been affected by the earthquake, they kept their stores open in the hopes that seeing the lights of the store would reassure customers. It filled me with a sense of pride, seeing how Lawson is not just about selling products, but about working for the good of the community.
It is during times like those that it becomes clear that convenience stores truly are the "fourth infrastructure" after electricity, gas, and water. Everything our owners do comes from the desire to open the store as quickly as possible in order to reassure customers.
New Business Opportunities
with Overseas Expansion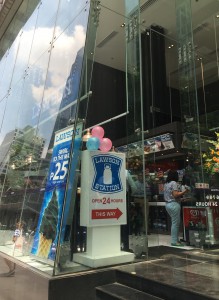 When opening stores overseas, we would like to maintain the warm courtesy and quality service Lawson has developed over the past 41 years in Japan. We would like our stores to be beloved by the community, both in Japan and overseas.
It has been 20 years since Lawson opened a store in Shanghai, and now the group has a total of 800 stores overseas in markets including the Philippines, Thailand, Indonesia and Hawaii. Since the culture and customs of each country are different, it is not effective to try and export the Japanese style as-is. In China, we have entered five markets including Beijing and Dalian, and the stores are designed differently to match each area: stores in Beijing are a little more luxurious, and the Shanghai stores more relaxed.
(photo: A Lawson store in the Philippines. Store design and product development is done to match the local conditions overseas. )
We have yet to enter the European market, but I believe there is a lot we can learn from there. Many cities take great steps to preserve their traditional appearance, and as demonstrated by the popularity of markets in Paris there are few stores with large storefronts, so I believe there is potential for convenience stores in Europe. People are also very health conscious, and organic food has been a trend, so it will be necessary to put some effort into the store design. Expanding into countries where convenience store culture has already developed requires careful consideration on how to enter the market. We are carrying out a process of trial and error overseas as well, which is very challenging and interesting.
Continuous Evolution
in Japan
Our stores in Japan are continuing to evolve as well. Currently we are working on the challenge of "using convenience stores to support the lives of people in the community." Responding to the needs of small children, working-age adults, and senior citizens all within one small store is definitely a challenge.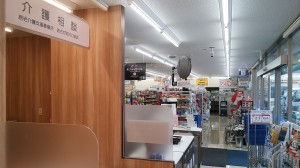 Lawson has implemented a number of initiatives outside the conventional framework of a convenience store, such as placing nursing care consultation desks in store, or increasing the selection of over-the-counter medicines, daily goods, and cosmetic products. Currently, there are approximately 12,000 Lawson stores in Japan. Instead of just increasing the number of stores, I would like to improve the quality of the products and services we provide so they become "essential stores" that people rely on in their daily lives.
(photo: A care manager or consultant is available for nursing care consultations, in an initiative responding to Japan's aging society)
I have a strong desire to have people from other countries learn about Japanese convenience store culture. During the press tour to Niigata City held by the FPCJ in November 2015, foreign correspondents covered the Lawson Farm being run in cooperation with a local farmer. We would like to continue efforts in disseminating information overseas, and hope the FPCJ will help with its network and experience.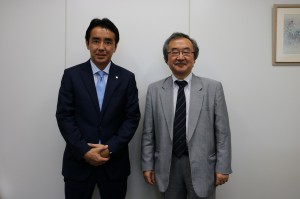 <Profile: Sadanobu Takemasu>
Born in Osaka. Graduate of Osaka University, B.A. Economics. Joined Mitsubishi Corporation in 1993. After being transferred to the Indiana Packers Corporation in the U.S., worked at the Corporate Communications Department and as Executive Assistant to the President & Chief Executive Officer at the Corporate Administration Department and Corporate Strategy & Planning Department of Mitsubishi Corporation. He then became the Senior Executive Vice President and Representative Executive Officer of Lawson, Inc., in 2014. In charge of SEIJOISHII supermarket business, overseas business, entertainment services, and other corporate divisions. President and COO since June 2016.