Interview series:Mr. Yuzaburo Mogi Honorary CEO and Chairman of the Board, Kikkoman Corporation Chairman, Japan Productivity Center
post date : 2015.10.21
Japan has much to be proud of, not the least of which is washoku, which has received newfound attention with its addition to the UNESCO Intangible Cultural Heritage List. We asked about how Japanese cultural values should be applied when interacting with international society and disseminating information overseas.
Food-Based Cultural Exchange Increases Mutual Understanding
FPCJ: Washoku has received a lot of attention at World Expo 2015 in Milan, providing an opportunity to promote Japanese food culture to the world. Mr. Mogi, you have worked for years on popularizing soy sauce overseas. What are your thoughts on promoting Japanese food culture?
 I believe that soy sauce is central to Japanese food culture. Therefore, selling it will help to introduce the food culture overseas. I recently went to Expo Milan, and there were many people at the restaurants in the Japan Pavilion. The reason people are becoming more interested in Japanese food culture is that washoku is delicious and healthy. I hope that this expo will lead to even greater interest.
FPCJ: With the addition of washoku to the UNESCO Intangible Cultural Heritage List, Japanese food culture and cultural exchange through food has thrived.
Washoku was added to the UNESCO Intangible Cultural Heritage List in December 2013. I believe this will be very helpful for having people worldwide understand Japan's food culture. I believe that cultural exchange is necessary for people around the world to get along. Food culture is the aspect of culture most closely connected with our daily lives. There is a saying about "eating from the same pot," and I believe the value of shared experiences with food and exchange of food culture lies in encouraging mutual understanding.
FPCJ: What initiatives do you believe are necessary in order to further promote Japanese food, agricultural and marine products around the world?
 There are approximately 55,000 Japanese restaurants throughout the world, but Japanese food and other products will have to be used in ordinary households as well in order to increase their demand. Soy sauce has become widely used globally since it is now common not only in restaurants but homes. In order to have people use soy sauce in their local cuisine, we develop recipes that match local tastes and ingredients, and then introduce these recipes to locals, all in an effort to fuse soy sauce with the local food culture. I believe the same type of effort will be necessary to popularize Japanese food and products throughout the world.
Internationalization of Soy Sauce
FPCJ: Soy sauce is now available in supermarkets all over the world. Why did you decide to start selling soy sauce overseas? You also began local production and internationalization early on.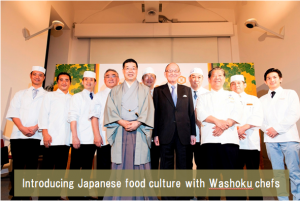 What drove the internationalization of soy sauce was sluggish domestic demand. For about a decade after 1945, if you could make it you could sell it, but from around 1955 production returned to prewar levels, and the growth of domestic demand began to slow. Since soy sauce is a daily necessity, the amount consumed remains quite steady and overall demand only increases to the extent that population does. At the time, 80% of the company's sales came from soy sauce, and sluggish growth in demand for soy sauce was a crisis for us. That is when the company put two strategies into action. The first was diversification through selling products other than soy sauce domestically, and the other was an internationalization strategy of selling soy sauce overseas. We established a sales company in the USA in 1957 to begin sales of soy sauce as part of the internationalization strategy, and it was at that time that I went to study abroad. After returning to Japan, I worked on long-term strategy, and found that although the general idea of the internationalization strategy was correct, it would fail if profits remained negative. Thinking of how to make it profitable, I proposed having an American production base. There were some obstacles along the way, but we built a soy sauce plant in the USA in 1973. The oil crisis occurred the same year the plant was built, so there were large deficits for the first two years, but things started to look up in the third year, and by the end of the fourth year all the losses had been made up. In last year's (fiscal 2014) consolidated financial results, 80% of the company's operating income was from overseas businesses.
FPCJ: What has your view been of the potential of soy sauce?
 I had no particular interest in soy sauce before I studied overseas. However, when I helped with a free tasting event at an American supermarket, giving out samples of meat fried with soy sauce, the customers seemed to enjoy it. This made me feel that soy sauce could be an international seasoning given the right conditions. My opinion of soy sauce changed, and I began to feel like it could be an incredible product. Since then, I have continued working on the internationalization of soy sauce.
Working to Gain the Understanding of Others
FPCJ: Looking at venues such as the World Economic Forum, it seems that members of the Japanese business community are not as high-profile as they once were in the 1990s. What kind of efforts do you think are necessary to disseminate messages globally?
Many people participate in the World Economic Forum every year, so I believe the Japanese presence is actually increasing, but so is that of other countries such as China, which makes it seem like Japan is falling behind comparatively. If Japan has a limited presence, then it would be necessary to make efforts to increase it. Some people make comments about the Japanese government spending less on international advertising than China or South Korea, but having a large budget is not everything. Japan's presence must be increased while using that budget effectively. I feel Japanese advertising tends to focus on satisfying the Japanese themselves before making efforts to have others understand, so I believe greater efforts to that end are necessary.
FPCJ: What methods should be used to advertise in a way that is easy to understand? Japanese people are also said to have problems debating.
 Japanese people may have a tendency to lose their temper in debates, but in forums for international debate it is necessary to calmly exchange opinions. Japanese also tend to be restrained, disliking to speak up or exaggerate, and I believe this is an area that can be improved. There is no need to do it in English, but if debating is not practiced from a young age, I believe Japan will lag behind other countries in the world. Sometimes it is necessary to dramaticize so the person you are speaking to will understand, though I feel presentations by some Americans can be a little excessive. This is something that will be necessary to learn. When explaining things to people with different languages or cultural backgrounds, some embellishment is necessary to get them to understand. Due to these cultural differences, people almost never understand if you just stay quiet.
FPCJ: What is necessary for Japanese to be active and effective on the global stage?
 First, English education is imperative. I believe it is important for children to study English from an early age and become accustomed to it quickly. Then as adults, they should specialize in one thing until they reach a level where they are completely confident. I think those who are not serious and do things only halfheartedly cannot compete on an international level. I also believe that once you have gained expertise in one area, it becomes easier to learn about others. There was a time when executives were thought to be generalists, but now they are considered specialists in business management. You must have several specialties and be an expert in business management to become a professional executive.
Learning about Japan through the Media
FPCJ: The FPCJ provides opportunities to connect Japan with other countries through press tours and press briefings for foreign correspondents to help ensure foreign countries understand Japan accurately. How do you view our activities?
How foreign media understands Japan is an extremely important issue. It is through the media that many people throughout the world learn about Japan, so I believe helping members of the media portray Japan accurately in their reporting is very difficult and important work. Since members of the foreign media face language and cultural barriers when researching stories about Japan, if more accurate reporting is possible by providing them with support, I believe that effort should be made. I also believe there are many people, corporations and organizations in Japan that would like to disseminate information overseas, but do not know how to do so effectively. Connecting them with foreign media and those worldwide who interact with that information is an important role. Since other countries learn about Japan and gain an understanding of Japanese people through the work of the FPCJ, I hope that you will continue providing this valuable service in the future.
(Interviewed by Ko Yamaguchi, Council, Foreign Press Center Japan and Special Advisor, Strategic Planning Office, Kyodo News.)