Date : August 25, 2011
Report: Kawasaki Press Tour (August 25, 2011)
post date : 2013.08.24
Japan's energy policy is a focus of attention as the Diet passed a renewable energy bill last week. Twelve journalists from China, Hong Kong, Taiwan, Germany, France, and the UK joined our press tour to Kawasaki City which is promoting natural energy to achieve a low-carbon society.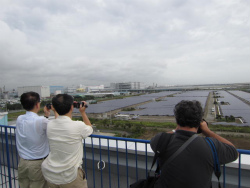 The journalists first visited Ukishima Solar Power Plant which started operation on August 10, 2011. This is the first mega-solar plant in the Metropolitan area, and combined wit
h the neighboring Ogishima Solar Power Plant which will be completed in December this year, the total output will reach 20,000 kW, one of the largest in Japan. The participants were given a briefing by officials of Kawasaki City and the Tokyo Electric Power Company, the joint operators of this project, and toured the plant on the vast 11 ha land area, which was originally a landfill of incineration ash. After asking questions on the construction cost, power generation efficiency, and future construction projects, they visited Kawasaki Eco Gurashi Mirai-kan, an educational facility near the mega-solar station.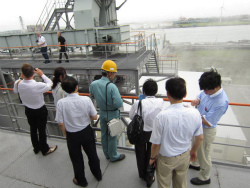 Then the journalists covered Kawasaki Biomass Power Plant, which uses wood chips as fuel. In operation from February this year, it has the output capacity of 33,000 kW, the largest in Japan as a biomass-only power generating facility. Mr. Hiroshi Murakami, the director of the plant, emphasized that the power plant is a city-type biomass power station, which has cleared the world's most strict environmental regulations in Kawasaki. From the top of the boiler, the journalists also had a bird's-eye view of various low-carbon power plants in the coastal zone.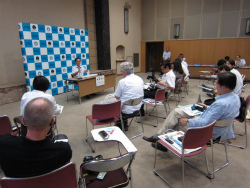 At a press conference with Kawasaki Mayor Takao Abe, the journalists were given a briefing on Kawasaki's history of overcoming pollution and its international contribution as a leading environmental city. The journalists asked questions on the impact of the approved renewable energy law, medium- and long-term mega-solar projects, the possibility of accepting the debris from the disaster-hit areas, and the direction of abandoning nuclear power generation.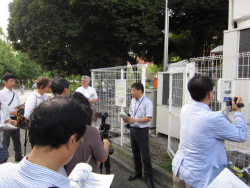 The final destination of the tour was the Minami-Kawara Youth Center which is equipped with a ground-source heat pump air-conditioning system. The system uses the stable underground temperature of about 15 centigrade as its heat source, and Kawasaki City has been conducting a joint research project with a local company for the last three years. The city officials explained the energy-saving effects of the system and showed the center bustling with local children.