Date : June 15 - 25, 2014
Reports on Japan: Fellowship Program for ASEAN Journalists
post date : 2015.04.13
From June 15 to 25, 2014, ASEAN press participated in the "Recovery from the Great East Japan Earthquake – Sharing Tohoku's Revitalization Using Marine Resources with Asia" program. Below are the stories which are based on the program and published by the participants from Indonesia, Malaysia, the Philippines and Thailand.
*Please find the report of their 11 days of research in Tokyo and Tohoku here.
*This program was undertaken with support from the Nippon Foundation and the Toshiba International Foundation.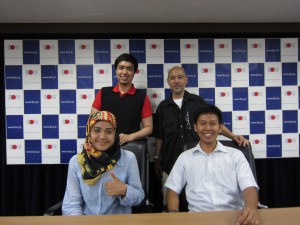 [The Philippines] Mr. Dewey Joseph Gida Yap, Reporter, Philippine Daily Inquirer (Upper left)
"'Miracle of Kamaishi': It can happen here for 'Yolanda' kids" (June 29, 2014) (English) 
[Thailand] Mr. Thasong Asvasena, Senior Rewriter/Front Page Editor, The Nation (Upper right) 
"Harnessing mother nature and hi-tech on road to recovery" (July 9, 2014) (English)
"Seeking safety with trees" (July 21, 2014) (English) 
"Japan eyes wind power to generate electricity" (October 14, 2014) (English)
"Part way down a long road" (February 23, 2015) (English)
[Indonesia] Mr. Bayu Prasetyo, Domestic News Reporter, Antara (Lower right)
"Japanese method to defend against tsunamis with a green fortress" (June 27, 2014) (Indonesian)
Article Summary: This article covers two projects, the Great Forest Wall Project and Mori wa Umi no Koibito, explaining in detail how they started, their goals, and what they involve. The article ends with mention of how the Bengkulu provincial government in Indonesia has planted trees along the coast, and how coastal forests and embankments not only provide nice scenery, but also help reduce damage from tsunamis.
"Spirit to rebuild from the Great East Japan Earthquake" (July 2, 2014) (Indonesian)
Article Summary: This article is written based on the reporter's observations and interviews with locals in Otsuchi, Iwate and Minamisanriku, Miyagi. It deals with what the damage was like after the tsunami, the progress of reconstruction projects such as construction of a coastal levee and land development, future reconstruction plans, and local residents' feelings about their hometowns. In particular, the fact that the tsunami was taller and went farther than anticipated, and so caused greater devastation, is explained along with testimonies from residents.
"Recovery of Japanese tourism and fishing industry after 3.11" (September 27, 2014) (Indonesian)
Article Summary: Based on interviews with locals in Minamisanriku, Miyagi such as a guest house manager and a fisherman cultivating coho salmon, and with members of the Tourist Association in Matsushima, Miyagi, this article describes reconstruction efforts for the fishing and tourism industries in areas that were badly damaged by the Great East Japan Earthquake. After mentioning the Fukushima Daiichi accident, the article concludes with "A lesson we can learn from Japan, a developed country, is that despite living in danger from natural disasters and advanced technology, Japan is still making serious efforts to conserve and protect nature, and maintain its beauty."
"Prayers from Indonesia for people affected by 3.11" (March 25, 2015) (Indonesian)
Article Summary: The article describes how after the December 2004 Sumatra earthquake (the Aceh Tsunami), Japan provided aid to Aceh, while after the Great East Japan Earthquake in 2011, the people of Aceh provided aid to Japan. Memorials in Aceh also included prayers for the people affected by disaster in Japan. The article then mentions that in Sendai during the March 2015 UN Conference on Disaster Risk Reduction Indonesian Vice-president Jusuf Kalla emphasized the importance of international cooperation and information sharing for disaster prevention and reduction. It then goes on to point out that the media can play a major role in disaster prevention and reduction, and describes how the ASEAN reporters in this program were covering efforts in Tohoku such as building embankments and forest coastal levees
[Malaysia] Ms. Azzah Mohamad @ Md Som, International Desk Reporter, Bernama (Lower left)
"ASEAN Countries can emulate from Japan's experience" (June 17, 2014) (English)