Date : February 23 - March 2, 2014
Report: The second "Invitation Program for Young Egyptian Journalists" of the Sasakawa Peace Foundation
post date : 2014.03.27
Two young Egyptian journalists of Al Masry Al Youm, a leading Egyptian daily, visited Japan from February 23 to March 1, 2014 on the second "Invitation Program for Young Egyptian Journalists" of the Sasakawa Peace Foundation (the Sasakawa Middle East Islam Fund), after the first in September last year. Commissioned by the foundation, FPCJ set up and ran the program.
Al Masry Al Youm is a recently established independent Arabic language daily paper that is rapidly gaining new readers despite existing media losing readership after the 2011 collapse of the Mubarak regime.  In a 2012 survey of the popularity of major papers in Egypt, it came in first place. The two reporters mainly covered three themes while in Japan: 1) Japan-Egypt relations, 2) The state of reconstruction after the Great East Japan Earthquake, and 3) Islam in Japan.
As part of their coverage of reconstruction from the Great East Japan Earthquake, they visited Iwaki City in Fukushima Prefecture for two days to cover the people working towards recovery and the scars left behind by the disaster.  While there, they spoke with residents in temporary housing and people involved in the fishing industry, visited Nissan Motor Company's Iwaki factory and Tomato Land Iwaki which are leading recovery of local industry, and saw Iwaki City Hall's display of the messages of encouragement sent to the city from Egypt before the third anniversary of the disaster.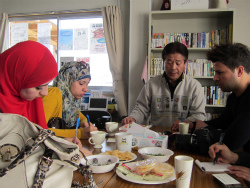 The following article (in Arabic) has already been released based on this trip to Japan.
- "Observing the Damage on the 3rd Anniversary of the Great East Japan Earthquake: Effects of the Tsunami Not Yet Mitigated" (March 11, 2014)