City of Yokohama: Ms. Fumiko Hayashi, Mayor (October, 2016)
post date : 2016.10.12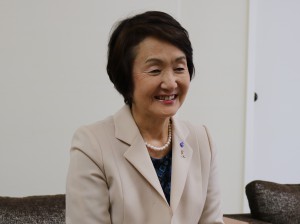 Since the opening of its port, Yokohama has been a link to the outside world and a leading force in Japan's internationalization. As competition between cities increases at a global level, Yokohama has been working on international infrastructure business and promoting foreign tourism to the city with the slogan "Yokohama, growing along with the world." The FPCJ spoke with Yokohama Mayor Fumiko Hayashi about these efforts.
—In April 2015, Yokohama became the first designated city to open an international affairs bureau. In February this year, the city announced the Yokohama International Strategy as part of its goal to become a "city that grows along with the world." How successful have efforts been so far?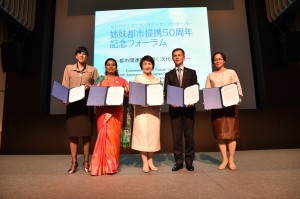 Over the past year, with efforts led by the International Affairs Bureau we have been increasing Yokohama's presence and engaging in paradiplomacy with local governments. In June 2015, Yokohama hosted a commemorative forum for the 50th anniversary of our sister-city agreements with Mumbai, Manila, Odessa, and Vancouver. During the Forum, members signed a joint declaration vowing to make efforts together toward creating an international stage for the young leaders of tomorrow. I personally visited Vancouver in June and Manila in September, and we agreed to strengthen our bonds as sister cities as well as increase our joint efforts in the fields of the environment and education. I have also been participating in the APEC Women and the Economy Forum since 2011, promoting the participation of women in the workforce in Yokohama, which has directly led to concrete exchanges between entrepreneurs. 
(Photo: Sister City Agreements 50th Anniversary Forum (June 2015))
We have also been successful in attracting companies to Yokohama, with many global companies such as Apple having chosen our city. In September 2015, I participated in the Invest Japan Seminar in New York with Prime Minister Abe, and promoted Yokohama's excellent business environment. In November 2015, Yokohama opened the Mumbai Representative Office to encourage Indian companies to come to Yokohama, and to provide support for Yokohama business expansion in Mumbai
I feel certain that a virtuous cycle is being developed that will lead to new international relations and business chances in the international city of Yokohama.
—In recent years, Yokohama City has been taking advantage of its technological prowess, particularly in the international infrastructure business. What current initiatives do you have underway, and what plans do you have for the future?
Having overcome difficulties such as reconstruction from the 1923 earthquake and World War II, and a rapid increase in population, Yokohama grew into a major city with a population of 3.7 million. Yokohama's past experiences led to the creation of the Y-PORT project, a public-private collaboration that uses the resources, technology and expertise of the city to contribute to solving similar issues for cities in developing countries. The Y-Port Center was established in May 2015, in collaboration with local businesses and international organizations to further promote overseas infrastructure business. The city has signed memorandums of understanding on technical cooperation with Cebu, Philippines; Da Nang, Vietnam; Bangkok, Thailand; and Batam, Indonesia. The city is working together with them to help in determining their infrastructure needs and formulating a master plan.
In Cebu, a waste, sewage, and waterworks demonstration project is underway, with Yokohama businesses operating their equipment on-site in Cebu. This project has been praised by the national government as a leading example of development cooperation involving collaboration between local governments and SMEs. I feel that even greater hopes are being placed on Yokohama at the Asia Smart City Conference—a conference about sustainable development attended by local leaders from developing countries and experts from international organizations. We are taking steps to improve information sharing between cities even outside of the conferences, such as by establishing a Facebook account.
―What issues exist and what strategies are in place for responding to increased inbound tourism and to further promote the city to foreign tourists?
Having reached the goal of 20 million foreign tourists to Japan, the national government set a new target of 40 million by 2020. To contribute to the city's growth, Yokohama also needs to bring in tourists, particularly from rapidly developing Asian countries. In 2015, Yokohama had 37.61 million tourists, with 318.8 billion yen of tourist spending. The number of foreign tourists staying overnight increased to 720,000, a 140% increase compared to the previous year. These are all record numbers. However, according to a survey done in other Asian countries, which account for approximately 60% of the tourists who stay overnight in Yokohama, although nearly 90% of respondents knew Yokohama's name, less than 50% knew any details about it. The 2019 Rugby World Cup Final and 2020 Tokyo Olympics and Paralympics are excellent opportunities to promote Yokohama to the world and bring in both domestic and inbound tourists, so we are increasing our efforts to promote the city in order to increase Yokohama's presence and brand power.
Focusing on promotion using SNS and videos, particularly in East and Southeast Asia, we will further increase the number of Yokohama's fans. By making signs and guidebooks available in multiple languages, increasing Wi-Fi and internet availability, and setting up facilities to welcome foreign tourists with a variety of lifestyles and customs, we plan to have an increased numbers of visitors staying overnight and encourage tourists to take longer stays in order to increase tourism spending.
―Yokohama will host events for both the 2019 Rugby World Cup and the 2020 Tokyo Olympics and Paralympics. What preparations are underway?
In only 3 years, in 2019, the Rugby World Cup will take place in Asia for the first time. It is a major event, watched by over 4.2 billion people around the world. The venue for the finals, Yokohama International Stadium, was also used for the 2002 FIFA World Cup Finals. It will have the honor of becoming one of only two stadiums in the world to host the World Cup final for both rugby and soccer, along with the Stade de France. There are plans to use it for soccer during the 2020 Tokyo Olympics and Paralympics, so attention from around the world will be centered on Yokohama for two years in a row.
As the host city, Yokohama will make all the necessary preparations in order to ensure the competition is carried out safely and smoothly. Working together with residents, businesses, and the organizations involved, we are making preparations to welcome guests both from Japan and abroad in a way that will enable them to have an experience unique to Yokohama. As the Olympics and Paralympics are also a major cultural event, Yokohama intends to use its experience in hosting quality art and cultural events to take a leading role in the Olympic Paralympic Culture Program planned to be held throughout the country, and ensure the fruits of their involvement are passed on to the next generation of Yokohama.
―Yokohama has been a supporting member of the FPCJ since 1991, and we have had the opportunity to work together on press tours and a variety of other projects. For the first time, we are carrying out a one-year staff exchange program in 2016-2017. How would you evaluate the projects carried out so far, and what hopes do you have for the future?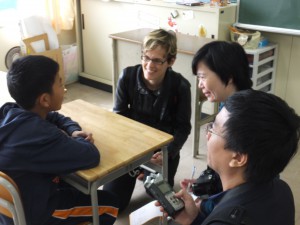 Through press tours and press releases, the FPCJ has helped disseminate information about Yokohama including international events, culture and art projects, the environment, and its efforts to reduce the number of children on daycare waiting lists. In a 2015 press tour based on the theme of living in a multinational and multicultural society, 12 journalists from nine countries visited sites around Yokohama city, including an apartment complex, an elementary school, and a nursing home. They covered foreign staff working in nursing care, as well as local efforts for living in harmony. Being able to increase understanding of Yokohama this way is possible thanks to the FPCJ's network and planning skills. I believe staff exchange programs will provide the opportunity to learn about many topics, including how to work with foreign media and disseminate information, which I would like to use to increase the number of opportunities to inform the world about the international city of Yokohama. I look forward to your continuing support. (Photo: Foreign media during October 2015 press tour "Working towards a Multinational Society")