Iwate Prefecture: Governor Takuya Tasso (March 2016)
post date : 2016.03.11
Five years have passed since the Great East Japan Earthquake. The towns along Iwate Prefecture's coast, which at one point were described as "devastated," have begun to regain their old energy as infrastructure and industry are rebuilt. On the fifth anniversary of the disaster, what does the future of Iwate's recovery look like? The FPCJ spoke with Iwate Prefecture Governor Takuya Tasso about current conditions in the prefecture, and about its future. (Interviewer: FPCJ President Kiyotaka Akasaka)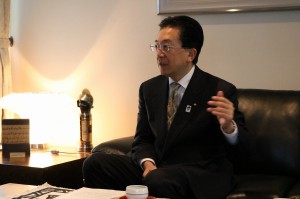 —Now that five years have passed since the Great East Japan Earthquake, how would you evaluate Iwate Prefecture's recovery efforts so far? What plans are there for the future?
Ever since March 11, 2011, the recovery efforts in the three Tohoku prefectures and elsewhere have received significant support from around the world. Although five years have passed, there are still many issues that remain, and we are still at the peak of our recovery efforts.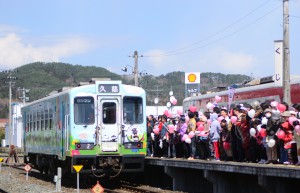 In Iwate Prefecture alone, 4,672 people are dead and 1,124 from the disaster missing (as of January 31, 2016). The damage was particularly severe along the coast, as public buildings such as schools and hospitals were damaged beyond usability, as were many homes. The fishing industry, one of Iwate Prefecture's core industries, suffered from the destruction of the majority of fishing boats and fish farms. In order to proceed with recovery as rapidly as possible, the prefecture created the Iwate Prefecture Great East Japan Earthquake and Tsunami Reconstruction Plan in August 2011, five months after the disaster. The length of recovery was established as three separate periods over eight years, and by deciding on which initiatives to carry out at each stage, the goal was to achieve a more systematic recovery process. As a result, we were able to clear debris from the disaster and fully reopen the Sanriku Railway lines by 2014. (Photo: Sanriku Railway North Rias Line fully reopened (April 2014) )
We are currently moving into the final year of the second recovery period, where the amount of recovery projects underway will reach their peak. The budget is available, so now is the time to maintain our pace and ensure work proceeds.
—How has the situation been changing when it comes to the homes and daily lives of those people in Iwate Prefecture who were affected by the disaster?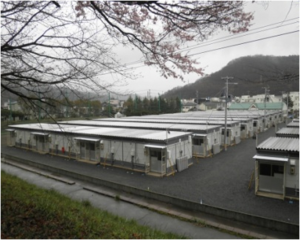 There are still many people who have no choice but to live in temporary housing. Some of these people will likely remain there for several more years, so the quality is becoming even more important, and we must provide mental and physical care, and community support. The main focus of recovery efforts now is building homes. Approximately 90% of public housing for survivors is expected to be ready by the end of March 2017. However, it is expected that another three years will be necessary to prepare the land to rebuild personal homes. Only then will the construction of the homes actually begin, so when considering Rikuzentakata, which was hit worst by the disaster, it could take approximately 10 years. However, as people move from the temporary housing to public housing and their own homes, this will mean recovery efforts are nearing their goal. But even if people have someplace to live, if there are no jobs available, they will have no choice but to move somewhere else. Rebuilding employment opportunities is a critical issue. For the fishing industry, most of the necessary fishing boats and fish farms have been rebuilt, and the catch has recovered to 80% of pre-disaster levels. New seafood processing plants are also being built to replace those that were destroyed. About 80% of the trade and commerce offices that had been affected have also reopened, and recently the shortage of available labor is actually becoming an issue. (Photo: Temporary housing complex in Kamaishi)
—As recovery proceeds to the next stage, new challenges arise. What would Iwate Prefecture like people to know about besides recovery efforts, particularly when it comes to industry?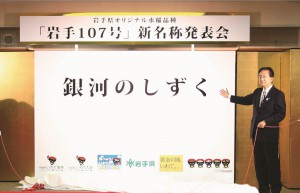 Iwate Prefecture has a lot of agriculture, forestry, and fishery business. It is 11th in Japan for the value of its agricultural output, and 14th in the country for fishing production. A lot of rice is also grown in the prefecture, with Hitomebore rice from the south of Iwate winning "Special A" recognition 21 times in a national taste ranking. Ginga no Shizuku, a new original type of rice from Iwate Prefecture that will go on the market this fall, also received Special A recognition. (Photo: Governor Tasso explaining the characteristics of Ginga no Shizuku rice at the announcement of its name)
For the fishing industry, in addition to Iwate producing the most wakame in Japan, oysters, scallops and more are once again being harvested at pre-disaster levels. Farming of fish such as salmon, as well as abalone and sea urchin, is also thriving. Since these products are all of world-class quality, in the future I would like to see them being exported overseas, as well as throughout Japan. Exports of rice are increasing to Hong Kong and the rest of Asia, and recently there have been meat processing plants certified to export beef to the USA and Hong Kong, increasing the total value of beef exports. Until recently, the seafood industry was exporting frozen fish and similar products to the rest of Asia, but recently the popularity of processed foods in attractive cans and bottles has been increasing, and so the number of exports has increased as well.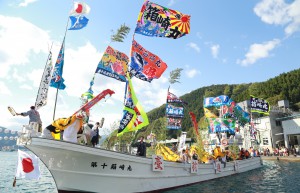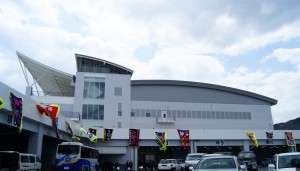 (Left: Fishing boat going around the harbor in Kamaishi's traditional Hikifune Matsuri festival (November 2015) , Right: Newly rebuilt Ofunato Fish Market)
—If industry is stimulated, that will help accelerate the recovery as well. I've also heard that Iwate Prefecture has made the Furusato [hometown] Development Comprehensive Strategy. What is special about this plan?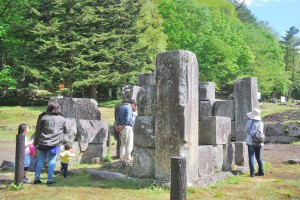 In so much as it has the goal of "ensuring hometowns don't disappear," recovery efforts are similar to efforts to stimulate regional economics and promote small towns. I would like to implement the Furusato Development Comprehensive Strategy created in October last year, and see that it begins moving forward.
The first challenge Iwate Prefecture has to overcome to meet this goal is the declining population. Reasons for the population decline include people leaving the prefecture, and the declining birth rate. When the ratio of available jobs to applicants for Iwate Prefecture dips below the national average, then more people tend to leave the prefecture. It is important for the national government to implement economic policies that ensure regional economies do not worsen as a whole, and it is also important for the various regions to work on improving productivity, in order to avoid the hyper-concentration of population in Tokyo. One factor that affects all of Japan is how difficult the lives of young people and women are, and there is a necessity to create measures for support at all life stages, including when looking for employment, marriage, having children, and raising children. In addition to providing support for people looking for employment, starting this year the Iki Iki Iwate Marriage Support Center will provide support to people looking for marriage partners. We are also working on healthcare and welfare systems to make it easier to have children and raise children. (Photo: Sites of Japan's Meiji Industrial Revolution: Hashino Iron Mining and Smelting Site (Kamaishi))
—Are there any other new projects that are being put into action alongside the recovery process?
With the Sanriku Creation Project, I would like to promote the creation of cutting-edge research facilities. One example is the plan for building the International Linear Collider*. Plans for development of renewable energy were also included in reconstruction plans, and I would like to help with efforts to bring in new technology to the coastal areas, such as offshore wind power. Also, I would like to focus more on both domestic and international tourism using local resources such as Hiraizumi, which was designated as a World Heritage Site soon after the Great East Japan Earthquake, and the Hashino iron mine in Kamaishi, which was designated as a World Heritage Site in 2015. (The "Bridge of Hope," a suspension bridge made expressly for a conveyor belt that transported soil. (Rikuzentakata) )
Although we lost much in the disaster, Iwate Prefecture has a bright future ahead. Although it might be surprising, in the two years since 2013 the population of 20–24 year olds in coastal municipalities has increased by 8%. We were prepared for the population to decline after the disaster, and in fact it did for most age groups, but there is a growing number of people in their early 20s. This is a nice, positive change. It demonstrates resilience among people along the Iwate coast, especially young people, and their presence makes the future brighter.
—More young people can have a lot of positive effects. The FPCJ will also help to provide opportunities for foreign media to cover those aspects of Iwate as well. In addition to the prefecture's World Heritage Sites and the construction of the ILC, the Kamaishi stadium being made for the 2019 Rugby World Cup is also something to keep an eye on. Thank you for speaking with us today.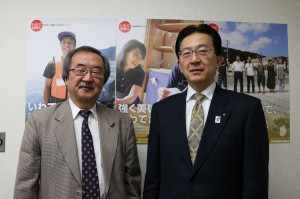 *An underground tunnel planned for construction as a cutting-edge particle research facility, with a total length from 31 to 50 km. With granite bedrock 100 m underground, the Kitakami Mountains have been mentioned as a likely candidate site.
On March 3 and 4, the FPCJ held a press tour to the coastal region of Iwate, covering the theme "The Fifth Year of Recovery." Click here for details