Wakayama Prefecture: Mr. Yoshinobu Nisaka, Governor (September 2015)
post date : 2015.09.15
From historical sites such as the Kumano Kodo and Koyasan to agricultural and marine products like ume [Japanese plums] and tuna, Wakayama Prefecture has many attractive features. We spoke with Governor Yoshinobu Nisaka, who says that one reason the prefecture is attractive is thanks to "the friendly and welcoming residents." (Interviewer: FPCJ President Kiyotaka Akasaka)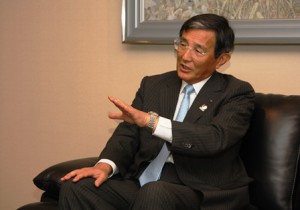 Wakayama, Bringing in Tourists from around the World
―The number of overseas tourists in Wakayama has increased significantly in the past few years, reaching over 300,000 last year. The UNESCO World Heritage Site "Sacred Sites and Pilgrimage Routes in the Kii Mountain Range"and Koyasan, which was founded 1200 years ago, are some of the attractions bringing people in. Do you have any particular plans to encourage even more foreign tourists to visit Wakayama?
I do have some plans in mind. Wakayama's increase in foreign tourists is happening at a pace above the national average. In 2013, the average increase nationally was 24%, but Wakayama was 80%, and in 2014 the national average was 29% and Wakayama was 43%. This is partly because the original numbers for Wakayama were so small, but with tourists from around the world finally visiting Wakayama, the local residents have realized that foreign tourists are interested in Wakayama.
Photos: (Left) Koyasan, which received three stars in the Michelin Green Guide Japan
(Right) Tourists gathering at the tax-free shop in Kuroshio Market ―①
There are two likely reasons for the increase. The first is due to our efforts in promoting the prefecture to foreign travel companies and media outlets. One example of the success of this strategy is how a lot of tourists from Hong Kong in particular visit Wakayama. The other reason is that the Michelin Green Guide Japan gave three stars, their highest rating, to Koyasan in 2009 and to Kumano in 2011. This led to an increase in the number of Western tourists, in particular French tourists. Wakayama's nature, history and culture appeals to Western tourists, while its hot springs, food and beautiful coast appeal to Asian tourists such as those from Hong Kong. The goals of Asian tourists will likely become more "westernized" in the future. There is also an increasing trend to stay in Wakayama when hotels in Osaka are full, and do sightseeing in the area while they are there.
The goal now is to encourage tourists to return and visit Wakayama more than once. In particular, we would like people who came as part of a tour group to visit by themselves later. Hospitality is an important factor here. Currently, we are installing free Wi-Fi hotspots, with the goal of making 1500 available within the prefecture. Two years ago, we started Operation Wakayama Bathroom Hospitality, installing Western-style toilets with warm-water bidets, self-cleaning urinals, and ostomy accessible toilets. In addition to the bathrooms in prefectural facilities, we are also providing subsidies to municipalities and public transportation companies for installing the same kind of toilets. Aside from central areas in major cities such as Tokyo or Osaka, I believe the bathrooms in Wakayama are already the nicest in Japan.
―That sounds like a wonderful project. Another topic that was discussed a lot was Tama, the cat station master at Kishi Station on the Wakayama Electric Railway Kishigawa Line that connects Wakayama City and Kinokawa. I remember how even the foreign media covered Tama's funeral after she died in June this year.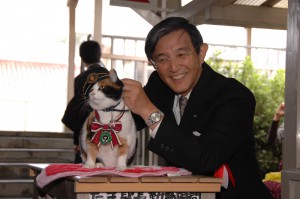 Station Master Tama was an excellent cat, always keeping her composure. She became station master thanks to Mr. Mitsunobu Kojima, CEO of the Ryobi Group transportation company in Okayama Prefecture and president of Wakayama Electric Railway. Since we wanted to show our thanks to Station Master Tama, she was given titles by the prefecture twice. I didn't want them to be boring, so the first time she was awarded with the title of Wakayama de Knight, the only recipient of that title in the prefecture. The next time, she was given the title of Wakayama Prefecture Tourism Maneki Daimyojin [beckoning god], representing her status as a living god. It is unfortunate that she passed away, but the second Station Master Tama is carrying on her legacy. (Photo: The investiture ceremony of the title "Wakayama de Knight" (October 2008) ―②)
The "Kingdom of Fruit," Applying for Recognition of Ume Cultivation
as a Globally Important Agricultural Heritage Systems
―How about promoting the appeal of Wakayama's food overseas? Wakayama is known for its excellent agricultural and marine products, such as mandarin oranges, ume, and tuna. I've also heard that an application has been made to the Food and Agriculture Organization of the United Nations (FAO) to recognize traditional ume cultivation as a Globally Important Agricultural Heritage Systems (GIAHS).
Photo: Wakayama Prefecture produces plenty of fruit, such as green ume and mandarin oranges ―③
Food is a very important part of tourism. I believe Japan has excellent agriculture, but one aspect of Wakayama's agriculture that is uncommon is the fact that fruit accounts for 60% of the prefecture's agricultural production value. I don't think many foreigners can notice any difference in how rice tastes, but you can tell if fruit is delicious in one bite, such as with mandarin oranges, Kiyomi oranges, or peaches. I believe the only place you can eat a peach that delicious is in Japan. There are also plenty of other fruits, such as persimmons, kiwis, hassaku oranges, and loquats.
We are also very proud of our fish. There is a lot of high-quality tuna caught with longline fishing off Wakayama's shores. The tuna caught is auctioned at Katsuura, and sometimes then brought to Tsukiji in Tokyo. As well as tuna, there is also delicious cutlassfish, grouper, conger and lobster.
Bonds with Turkey Formed Thanks to the Local Character
―Wakayama has a lot of great products. Next, I would like to ask about its people. My impression is that Wakayama has produced a lot of intellectuals, such as the diplomat Mutsu Munemitsu, and Konosuke Matsushita, the founder of Panasonic. There are also many people that emigrated to Brazil or Canada from Wakayama. Does this have something to do with the character of people from Wakayama?
This is only my personal opinion, but I believe there are three main aspects to the character of people from Wakayama. The first is being skilled at innovation and invention. For example, Mr. Konosuke Matsushita didn't just do something new, enjoy the wealth he reaped, and end there; he is respected because he did enough that people still speak him to this day. On the subject of inventions, soy sauce, katsuobushi, (Kinzanji) miso, the pole-and-line fishing method for tuna, and traditional whaling techniques were all invented in Wakayama. However, we always tell everyone else about these inventions. Katsuobushi went from Wakayama, to Shikoku, and then to Kagoshima where it became a major industry, while soy sauce is mass produced in Chiba. It may just be that people in Wakayama are open and straightforward.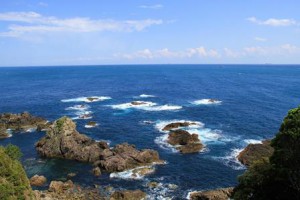 Second, we aren't exclusionary. Perhaps due to the warm weather and being located next to the sea. Wakayama has a history of pilgrimages, and that culture continues to this day. I think we tend to be kind to everyone. If we were mean and told outsiders to stay away, travelers would have stopped coming. One significant example is when the Turkish navy ship Ertuğrul ran aground offshore from Wakayama in 1890, and the people of Wakayama selflessly rescued 69 survivors. In December this year, a movie called Kainan 1890 [Shipwreck 1890] based on this incident will be released in Turkey and Japan. The movie will also cover the Tehran incident that took place 95 years later in 1985, when a Turkish airplane rescued Japanese nationals who were fleeing Iran to avoid bombing by Iraq during the Iran-Iraq War. The incident with the Ertuğrul is still included in Turkish textbooks, and the Turkish people have not forgotten their gratitude towards Japan. I believe Japanese people should always remember the Tehran incident, and keep thanking Turkey for it. (Photo: The coast near Kushimoto (where the Ertuğrul ran aground) ―④)
The third is our capacity to deal with hardship. Looking at Wakayama's economy, we have a tendency to try our hardest when things are at their worst. Of course, then we let our guard down once things get better. That just goes to show how easygoing people are in this prefecture.
―The Ertuğrul incident helped form friendly relations between Turkey and Japan. I'm interested to see how this movie will do in Turkey as well. To conclude, how would you briefly describe the appeal of Wakayama?
Haruo Sato, an author from Wakayama, once described the prefecture as having "blue skies, blue mountains, blue seas." I think that sounds nice, but it is a little plain, so I would also like to mention its history such as the Kumano Kodo and Koyasan, and the laid-back people.
―Thank you for your time today. Wakayama will be busy from the end of September with the 70th National Sports Festival and the 15th National Sports Festival for People with Disabilities. I hope they are successful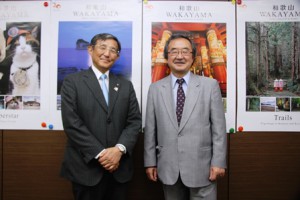 Photos (①-④) provided courtesy of Wakayama Prefecture.