City of Fukuoka: Mr. Soichiro Takashima, Mayor (April 2015)
post date : 2015.04.10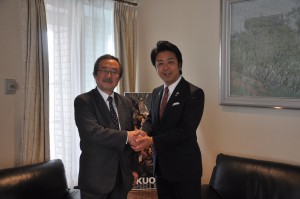 Mayor Soichiro Takashima of Fukuoka City, which has been designated by the national government as a Special Economic Zone to encourage startup companies and job creation, spoke about his attempts to establish a new set of values different from other cities.
(Interviewer: FPCJ President Kiyotaka Akasaka)
-Fukuoka City was designated as a Global Startup & Job Creation Special Economic Zone in May 2014. What results have there been so far, now that nearly one year has passed?
The Tenjin Big Bang project has been started, taking full advantage of the Special Economic Zone's relaxed regulations. Although Fukuoka City's access to the city center from the airport is the most convenient in Japan, building heights are restricted by the Civil Aeronautics Act. In the Tenjin district, the center of Fukuoka City, many of the buildings were built decades ago, but since they would not be able to have the same floor area after rebuilding due to changes in the laws since the building was first built, building features are not being upgraded. After the Great East Japan Earthquake, various companies came to investigate the possibility of expanding to Fukuoka, but more than one decided against doing so because of this issue.
With the relaxation of regulations for the Special Economic Zone, exceptions for the height of buildings in the Tenjin area are permitted, making it possible to build buildings up to two stories taller. Fukuoka City also relaxed city regulations on floor area ratio, as part of a major project to encourage 30 buildings in the Tenjin area to rebuild and upgrade within the next 10 years, in an effort to improve city functions and floor area.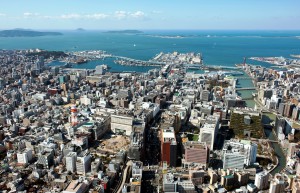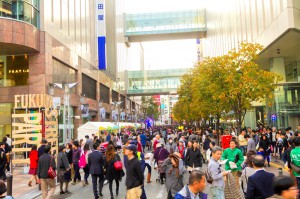 Tenjin District                                                  FUKUOKA STREET PARTY
According to calculations by the Fukuoka Asian Urban Research Center, the total floor area in the Tenjin district will increase by 1.7 times, 57,200 new jobs will be created, and building investment will have an economic impact of ¥290 billion. After rebuilding, the estimated annual economic ripple effect is ¥850 billion.
In the Tenjin area, in response to the Special Economic Zone business operators have begun dismantling buildings and making plans for rebuilding. Instead of investing tax money, by relaxing regulations private investment has increased.
The increased pace of business startups has led to domestic and international media reporting on startups in Fukuoka. For the first year of the project, these seem like extremely positive results.
-Fukuoka City was already known as the "gateway to Asia," with a plan in place to become an international city with close connections to Asia and the rest of the world.
That's right. Unfortunately, currently Fukuoka City doesn't actually have sufficient city functions to be called the gateway to Asia. However, unlike 20 or 30 years ago when many Asian countries were still developing, today Asia has become a global engine for growth, and Fukuoka City is the Japanese city that is closest to the rest of Asia. It's right between Tokyo and Shanghai, and is only three hours to Pusan by jetfoil. I feel like the role of Fukuoka City is changing. We have to ensure there is sufficient city infrastructure to fulfill our role as a base for Asian commerce.
To that end, we have also begun redeveloping the waterfront area. After Tokyo, Fukuoka City has held the most international conferences in Japan, mainly around the waterfront area. However, due to a lack of capacity, 52 events had to be refused in 2012, for an economic loss of ¥19 billion. Similar to the Tenjin area, currently Fukuoka City doesn't have sufficient supply to meet the ample demand.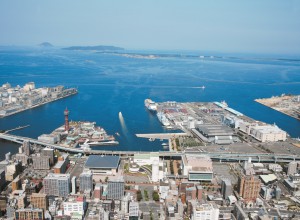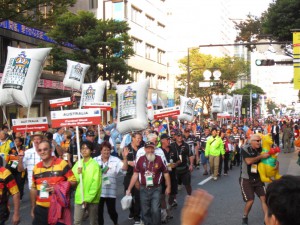 Fukuoka Waterfront                                       Rugby Football Festival
For the waterfront area, we have been incorporating the know-how of private companies to carry out integrated redevelopment of convention facilities and halls, and to attract hotels. We are building a major hub fit to be the gateway to Asia, to draw people and investment from both within Japan and from abroad.
In 1987, Fukuoka City was the first city to include becoming a base for Asian commerce in its master plan. Now, 30 years later, I believe that time has come. I would like to take advantage of this opportunity by using the Special Economic Zone to rapidly improve the supply capacity of the city so it can properly function as a base for Asian commerce.
-Aside from the Special Economic Zone, what measures are being taken to improve the city?
Policies are being implemented according to short-term, medium-term and long-term strategies. Wholesale, retail and the service industry are quite developed in Fukuoka City, with the service industry accounting for 90%. If the number of people coming to the city increases, the economy will clearly improve, and so in the short term we are focusing on promoting tourism and MICE. In order to make things more convenient for tourists, the city is cooperating with private companies to provide free public Wi-Fi access throughout the city with Fukuoka City Wi-Fi, which has the widest coverage of any free Wi-Fi service operated by a local government in Japan. 
Over the medium term, our strategy is to bring the creative industry to Fukuoka, including fashion, games, animation and other digital content.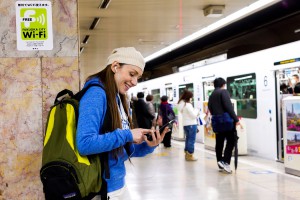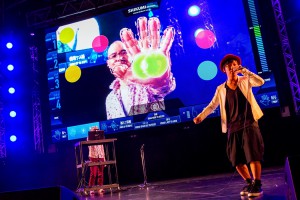 Fukuoka Wi-Fi Project                                 Winner of Intel Contest "KAGURA"
In the long term, we are aiming to move the city away from being an economy of branch offices. In order to do so, we have been working on functionality that would be appealing for company headquarters. The national government is also implementing policies to encourage companies to move from Tokyo to other areas, but I believe that even if it is partially successful, it will not solve the fundamental issue.
The only thing that can change a region is the efforts of the people who live there. That is why we are focusing on supporting startup companies. I believe that from a long-term perspective, the way to escape an economy of branch offices is by having startup companies that grow into major companies operating with Fukuoka as their base.
-Giving young people the opportunity to start businesses is very important to stimulating the Japanese economy going forward.
What led me to focus on supporting startups was a visit to Seattle. World-famous companies such as Microsoft, Starbucks, Amazon and Boeing all started in Seattle. A major reason is that Seattle has an environment that is easy to live in and work in, thanks to the presence of a lot of nature and culture, its proximity to the ocean and mountains, and its convenient transportation.
Fukuoka City has a similar environment. Fukuoka City was ranked 10th in a list of the world's most livable cities made by the UK's Monocle magazine, demonstrating that its livability is highly regarded both domestically and internationally. The city also has low business costs, and there are plenty of human resources available, such as science and engineering students. With Fukuoka City's favorable conditions, I felt that it could become at least Seattle's equal when it came to producing companies operating on a global level.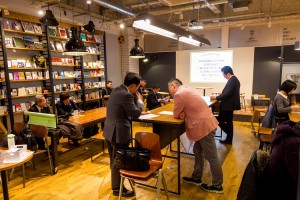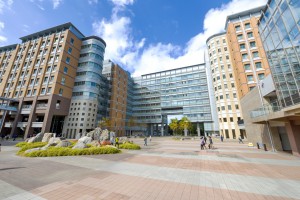 Start-Up Cafe                                                  Kyushu University
In 2012, I made the Startup City Fukuoka declaration with the goal of turning Fukuoka into the Silicon Valley of Asia, and focused on supporting startups. By the next year, the rate of businesses opening had increased from 6.2% to 7.1%. This is the highest rate among designated cities.
I would like to create an environment where people of all ages, including young people, can try to make their dreams come true.
-Fukuoka has plenty of traditional culture and events. What efforts are you making to preserve and develop traditions and culture?
Fukuoka City has 2000 years of history, longer even than Kyoto. There are a lot of shrines and temples such as Tochoji, the first temple built by Kobo Daishi after he returned to Japan from China, and Jotenji, the birthplace of udon and soba.
Kyoto's history makes a story, but unfortunately that is not the case for Fukuoka. However, lots of bits and pieces of history actually took place in Fukuoka.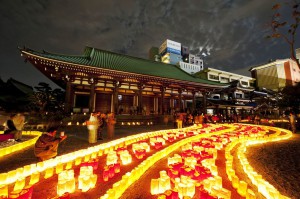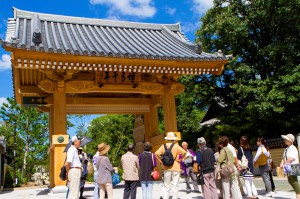 Tochoji Temple                                             Welcome Gate, Sennen-mon
For example, there is the King of Na gold seal, a National Treasure of Japan, and the Itazuke site, where rice was first cultivated in Japan. There are also many other historical sites that are still present, such as Fukuoka Castle, which was built by Kanbei and Nagamasa Kuroda; the Korokan, an ancient diplomatic buildings; and the Genko Borui wall. I believe these historical resources could become very valuable assets in attracting both domestic and foreign tourists.
There are several projects to help people feel Fukuoka's history, such as restoring an Edo-period gate as "Welcome Gate," performing maintenance on paving stones, and illumination display of temples and shrines in the Hakatabu area passing on the long history of Hakata.
 I would like to carefully preserve and utilize these historical resources, so that citizens can feel pride in their city.
-Please tell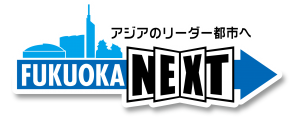 us about the Fukuoka Next slogan.
Most of Japan's major functions are concentrated on the Pacific Ocean side, but with disasters such as Nankai Trough earthquakes expected, the Japan Sea side also needs a solid base. With its low probability of earthquakes, we are going to move Fukuoka City on to the next stage, beyond just being a regional city. "Fukuoka Next" refers to all the various projects involved in doing so.
I would like to improve Fukuoka's capacity as a city by upgrading functions, and develop the city into contrasting areas with Hakata as a town of history, Tenjin as a constantly changing town of business and commerce, and the waterfront as a base for Asian commerce. Fukuoka City will also create a sustainable model for ever-growing social security programs, using ICT and the like. These projects are being carried out in an integrated fashion as Fukuoka Next.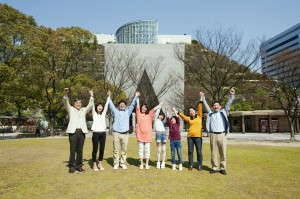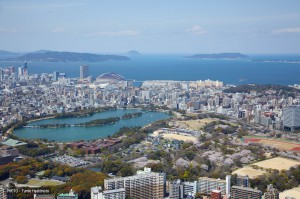 Fukuoka Citizens                                                   Fukuoka Central Park
-What kind of city would you like to make Fukuoka into over the next 10 or 20 years?
I want to make Fukuoka City into a leading city in Asia, with harmony between the people, the environment and the city's energy. Not into the No. 1 city, but a leading city. It's not about having the tallest buildings or the largest population. Having an environment conducive to business, plenty of nature in the surrounding area, safe food to eat, the ability to send children to school or out to play without being worried, and a community where people help each other out when someone has problems. I believe that if you ask anyone in the world, this is the kind of city they want to live in.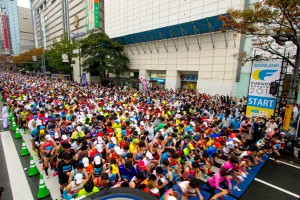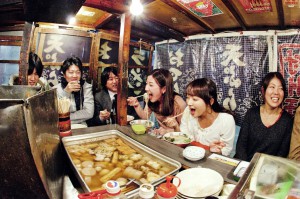 2014 Fukuoka Marathon                                         Yatai (Street-Food Stall)
Although Fukuoka City is viewed as being a very livable city, there is still the issue of the "energy" of the city. The city center's functions will be reborn with the relaxation of regulations. Also, with the movement to create startups picking up steam, new companies will be continually made. By matching venture startups with existing companies, their services will gain added value and help them grow into competitive companies. While taking these economic measures, we will also attempt to balance people, the environment and city energy at a high level. By striving to become this type of city, I believe we will be able to present the world with a new kind of city, one different from megacities such as Tokyo and Shanghai.
Pictures:Courtesy of the City of Fukuoka