City of Sendai: Ms. Emiko Okuyama, Mayor (February, 2015)
post date : 2015.02.12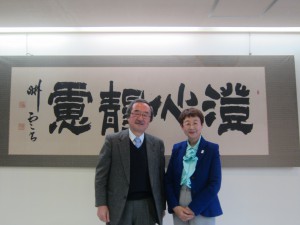 Sendai City Mayor Emiko Okuyama has been at the forefront of reconstruction efforts since the Great East Japan Earthquake. We interviewed her about how those efforts are proceeding and about increasing the participation of women in society.
(Interviewer: FPCJ President Kiyotaka Akasaka)
Messages to the World about Reconstruction and
Lessons Learned from the Great East Japan Earthquake
—It's been nearly four years since the Great East Japan Earthquake. How have efforts been proceeding to rebuild people's lives, implement new disaster prevention measures and develop the community?
So far, reconstruction efforts have focused on restoring public facilities and on providing safe residences. There are three main projects for rebuilding residences in Sendai City. The first is the collective relocation of 1,540 households in high-risk coastal areas further inland. The second is building public reconstruction housing. Construction of 3,200 residences is planned, with 2,000 projected to be completed this fiscal year. Since April 2013, people have been moving into this housing, with 700 households already living there. The third project is restoring damaged residential areas. There were over 5,700 cases in Sendai City where cracks appeared in the ground in residential areas or retaining walls collapsed, and there were even some cases where entire buildings moved a few dozen centimeters. The restoration of residential areas is being supported by both a public project and subsidies. The public project portion is set to end this fiscal year.
             Tsunami hittng Sendai on March 11, 2011.                        The shutdown of rail service after the
                                                                                                  earthquake left many people stranded.
—Is the reconstruction plan proceeding on schedule?
Many affected areas, including Miyagi Prefecture, have 10-year plans for reconstruction, but with Sendai City also being a designated city, our target is five years. Instead of clearing land and conducting a collective relocation to higher ground as Minamisanriku Town and Onagawa Town are doing, we are relocating laterally further inland, so things are proceeding comparatively quickly and smoothly. There are also people rebuilding in the same location, thanks to the city's unique support in the form of aid for rebuilding homes, building embankments, and elevating land. In addition to the coastal breakwater being constructed by the national government, a prefectural road is being elevated by six meters to serve as a second breakwater so we will have multiple defenses, and there are also plans to build three new evacuation roads that will allow people to evacuate inland from coastal areas in the event a similar earthquake occurs again. These projects will extend beyond the five-year plan, and are expected to be completed by 2018.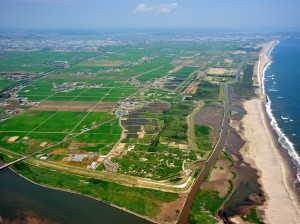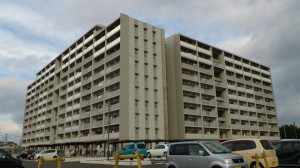 Renewing agriculture (Coastal area of Sendai)                   Public reconstruction housing
—The UN World Conference on Disaster Risk Reduction will be held in Sendai in March. What kind of message do you intend to send from Sendai City?
There was a lot of talk about the bonds between people after the Great East Japan Earthquake. Whether or not a community had faced the possibility of disasters head-on affected the speed with which they began rebuilding. The UN has recognized Sendai as a role model city for promoting community-based disaster risk reduction, and I would like to demonstrate why. After the earthquake, every neighborhood created a manual for operating its evacuation center, so I would also like to provide information about community organizations and their structure. An issue that was brought up after the Great Hanshin earthquake, and that became a focus in this disaster as well, is that women and people with disabilities should be involved from the planning stage. Getting their opinions after a disaster has occurred is too late. As one of the lessons learned in Sendai from the Great East Japan Earthquake, I would like to send the message that it is important for a variety of stakeholders to be involved from the planning stage, in both developed and developing countries.
—In the past several years, there have been many major disasters such as the earthquakes in Sichuan and Haiti and flooding in Myanmar, but information about disasters is not shared.
Sendai City has a population of a million people. That makes it a rather rare example of a variety of disaster-related cases, such as how community development is being carried out with resident participation in the creation of reconstruction plans, and what kind of disorder occurs when city infrastructure such as public transportation and communications systems are paralyzed. I believe sharing this information can help improve the safety of cities.
—How is the public being educated?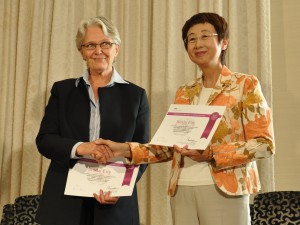 It is very important to evacuate properly. How people move can completely change the degree of damage caused by a disaster. Training residents on how to act during a disaster does take a long time, but it's a far smaller investment than building an embankment. This is the kind of disaster countermeasure that can be taken to some extent even in developing countries with limited budgets, and I would like people worldwide to be aware of it.       
                                                                                           UNISDR recognized Sendai as a role model for  the
                                                                                           Making Cities Resilient Campaingn (October 2012)
—I've heard that the number of visitors from overseas dropped off for a time after the disaster.
The number of visitors had been increasing yearly until the disaster, and although there weren't very many compared to Kansai, we had around 90,000 overnight visitors annually. With the low value of the yen, the number of foreign tourists has been increasing west of Tokyo, but unfortunately it hasn't been increasing in Tohoku. Even four years after the disaster, the number of foreign tourists has only recovered to about 60% of what it was before the disaster. People may still have some negative perceptions due to the disaster.
A Society in Which Women Support Each Other
—You are the first female mayor of a designated city. Female empowerment in Japan still has a way to go, but what do you think about the possibilities for women's active participation in the future?
I think it is necessary for women to support each other when they go out into society. I think women in a variety of different positions have to support each other and strengthen their solidarity. It is also necessary to develop social systems to make it easier for women to work by removing barriers that prevent women's participation, such as increasing the number of daycare centers and improving nursing care insurance systems.
—An executive of an international organization commented that "Japan doesn't have an environment appropriate for women to work in." Does Japan still not have a work environment where women can participate to their fullest?
 The atmosphere of society may be an issue, but I am opposed to considering that as the primary factor. That can lead to an attitude of, "Well, that's how the atmosphere is, so nothing can be done." We have to create more facilities for childcare and improve nursing care systems in order to provide opportunities for women to participate. The main things we can affect are laws and regulations, and without the belief that changing these can also change the atmosphere, there is no point in being a politician trying to change society. I believe in affecting change, and that attitudes will catch up later.                                                                            Conducting an emergency drill  
                                                                                                                    including womens perspectives
—A lot more women seem to be active in universities and society recently.
Men are active as well, but about 60% of successful applicants for the Sendai City employment exam are women. Without women in management positions, Sendai City will not be able to operate in the future. I think this may be the case to some extent in all organizations.  When there are only one or two women in an organization, it is difficult to tell whether there is an issue with that individual, or with women in general, and individuals tend to be considered as representing women in general. But when there are 20 or 30 women, issues can't be generalized anymore. In order to avoid generalization, it is important to have a group. One month after I became mayor, Ms. Fumiko Hayashi became mayor of Yokohoma City, so I was the only female mayor of a designated city for just one month. There is a big difference between 0 and 1, but there is also a big difference between 1 and 2, with singular becoming plural.
A City That Treasures Scenery and the Environment
—What is Sendai City's image?
We often call Sendai the City of Trees, which is something its citizens are very proud of. They are also very careful to keep the city clean. Sendai has a variety of outdoor events, such as the Sendai Pageant of Starlight, the Jozenji Streetjazz Festival, and the Tanabata Festival. With attendance ranging from 100,000 to 200,000 people, a lot of garbage must be generated, but when you walk around the next morning there is almost no litter in sight. Of course the organizers clean up, but the participants also take their garbage with them. People aren't happy if the city isn't clean, and they want to live someplace clean, so they take pride in keeping Sendai clean. I think this demonstrates a sense of citizenship.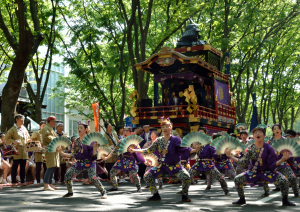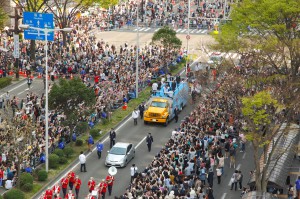 Sendai Aoba Matsuri held in spring (May)               Sendai native Olympic gold medalist Yuzuru
                                                                                                     Hanyu celebratory parade (April 2014)
※Pictures provided by the City of Sendai