City of Niigata: Mr. Akira Shinoda, Mayor (July 2014)
post date : 2014.07.23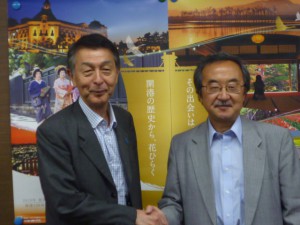 Niigata is the only designated city on the Sea of Japan side of Honshu. We spoke with Mayor Akira Shinoda about the initiatives Niigata has undertaken in recent years having been designated as a model city of various types.
(Interviewer: FPCJ President Kiyotaka Akasaka) 
【Water and Land Art Festival:A piece from the 2012
Water and Land- Niigata Art Festival
Wang Wen-Chih's Phoenix From The Flames 】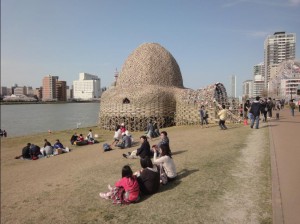 –Niigata has been selected as a model city for various goals, including a National Strategic Special Zone, Environmental Model City and a culture and art creation city recognized by the commissioner of the Agency for Cultural Affairs. This will be the tenth year since the 2005 merger into the expanded city of Niigata. For the first three or four years after becoming a designated city in 2007, we spent a lot of energy building a foundation for the city-building that was to follow. In the last four or five years, we have built the city while considering how to best use this foundation we made, and how to take advantage of Niigata's positivity and fulfill its missions and roles. I believe it is thanks to these efforts we were chosen as a model city.
–The Basic Act for National Resilience was approved in Cabinet, and Niigata City was selected to participate in a model study for the National Resilience Regional Plan.
After the Great East Japan Earthquake three years ago, Niigata used its position as a city on the Sea of Japan side to play an important role as the largest aid center for restoration and recovery efforts. The role and mission of Niigata are very important. With the possibility of major earthquakes, such as one with its epicenter in Tokyo or an earthquake in the Nankai Trough, it is necessary as a disaster support city to improve both infrastructure and training or national resilience will be nothing more than a pipe dream. Initiatives to make Niigata into a disaster support city will be central to national resilience and so we will make sure to build a strong hub. There was a major earthquake in Niigata in the past. June 16 of this year will mark 50 years since the Niigata Earthquake. The number of citizens who were alive during that earthquake has decreased, so I plan to take this opportunity to increase public awareness of disaster prevention and avoid having the lessons learned fade.
Niigata Initiatives as the Number One Agricultural City in Japan
【The Echigo Plain, a productive breadbasket
Niigata City has No. 1 of all municipalities in Japan for
rice paddy area and amount of wet rice harvested】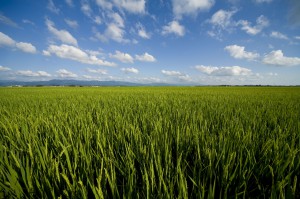 –Niigata City has been chosen as one of the first National Strategic Special Zones, which loosen regulations significantly in specific regions.
As a base for reforms to large-scale agriculture, Niigata City will work on improving its operating base by consolidating farmland and encouraging participation by companies, and encouraging the sixth industry, which handles everything from producing agricultural products to processing and selling them. As the number one agricultural city in Japan, even when compared at a prefectural level the total area of paddy fields in Niigata City is 31st in Japan and the value of its rice output is 18th. The Netherlands is the second largest exporter of food in the world, and has created Food Valley where agricultural and food companies are gathered together with research facilities in order to improve production efficiency. In order to create an agricluster in Niigata, we have been studying agriculture in the Netherlands for the past three or four years and sent delegations to the Netherlands last year and the year before.
–Now that Niigata has been designated as an agricultural zone, people will be anticipating further development in food-related industries.
We are considering farm restaurants. By providing a clear increase in jobs in areas where it is difficult to increase employment and by insisting on local ingredients, farm restaurants can have a significant economic impact on surrounding farms. There are around 20 applicants for this project, so we will choose carefully before proceeding. The regulations for creating agricultural production corporations have also been relaxed. Previously, to be an agricultural production corporation it was necessary for over one quarter of constituent members to engage in agricultural labor, but now it is sufficient for one member to be engaged in agricultural labor. If a farm with a successful restaurant made an agricultural production corporation with someone who is good at advertising, I believe it would be possible to provide varied products at a high level of service. There are also quite a number of agricultural production corporations that have expressed interest in starting plant factories. When seeing neglected farmland, the locals feel that it is a waste. We are looking at using abandoned farmland as locations for plant factories. Some farmers have been decreasing the amount of tobacco grown on sand dunes within the city. I believe plant factories could become a significant option when changing crops.
Niigata, City of Delicious Food and Liquor
 【Ikutopia Food & Flower: A food and flower complex that had
its grand opening in June, 2014 . Enjoy food and flowers from
Niigata with gardens, markets and restaurants】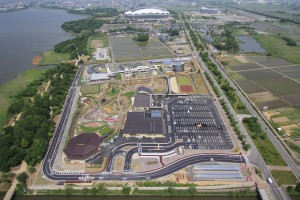 –Many companies in Niigata are closely involved with rice production, aren't they?
I believe Niigata already had a food valley at one time during the Showa period. Japan's #1 rice snack maker Kameda Seika, #2 Sanko Seika and #5 Kuriyama Beika are all companies that started from rice fields. Without Niigata rice for Sato Foods' Sato no Gohan and Sato no Kiri-mochi, it would not have become the company it is today. Rice, agriculture and food processing was actively developed during the Showa period. We are still benefitting from that activity today. Niigata City's goal is to be a "pastoral designated city," but we are not taking full advantage of the capabilities or resources of the countryside. I believe there is more that can be done, such as proceeding with developing the sixth industry.
 【Bandai Bridge: An Important Cultural Property crossing
the largest river in Japan, the Shinano River】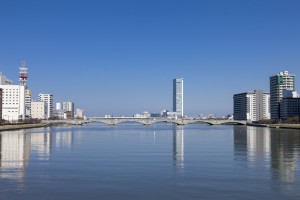 –What issues will there be reforming agriculture?
Loosened regulations for converting agricultural land have not been approved yet, but if for example 10 hectares of abandoned farmland was put into use again, I would like the government to recognize conversion by Niigata City for land that is in poor locations for agriculture, such as by highways or airports. I think that would make city-building much quicker and stimulate the economy. Agriculture is thought of as being grim, but there are many energetic farmers out there having fun with agriculture. Everyone says that the presidents of small and medium enterprises that are successful in local industries are "strange". The agricultural cooperatives have also started to try and energize regional agriculture, so I would like to use this designation as a Special Zone as a chance to work together with our citizens to develop agricultural policies.
【There are 15 sake breweries in Niigata City
Niigata sake is light and dry, with a crisp, clear finish.】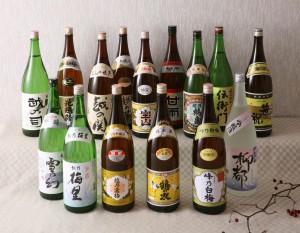 –Kubota, Hakkaisan, Koshi no Kanbai. A lot of good sake is made in Niigata.
Niigata Prefecture has a lot of breweries making high-quality ginjo and junmai sake, and they have made light, dry sake since the Showa period. Although there have been times when the consumption of sake decreased, recently women have been drinking sake more often, and after consumption bottomed out two years ago it began to increase again. Every spring, the Niigata Sakenojin event is held to promote Niigata sake, with around 100,000 people attending over the course of two days. Since 2004, around 90 Niigata sake breweries have participated and attendees can try a variety of different sake. Recently, groups of women and visitors from around Tokyo and other prefectures have started attending too.
 【International Food Award The basic theme of the Sano Touzaburo
Memorial Niigata International Food Award is "Food & Life"】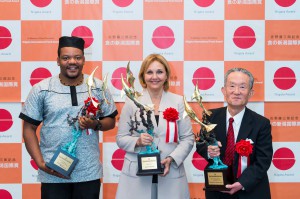 –Would you say food is central to the Niigata brand?
The photo is of recipients of the 2nd Niigata International Food Award (from left: Mr. Nnaemeka C. Ikeguwounu, Ms. Josette Sheeran, Prof. Masanao Umebayashi)
With cooperation from Niigata companies such as Kameda Seika and Bourbon, we have made the first food-related international award in Japan, the Niigata International Food Award. The award is biennial, with this year being the third time it will be awarded. I hope to contribute to international society in the field of food. We are also trying to join UNESCO's Creative Cities Network in the field of Gastronomy. Niigata's food culture is focused on rice, and also has a culture of fermentation with sake and koji. I plan to promote our food culture to the world, rediscover the varied food culture developed in our region and remind people from outside the prefecture about the appeal of Japanese food again, so that Niigata becomes known for its food.
Pictures provided by Niigata City.