Mie Prefecture: Mr. Eikei Suzuki, Governor (February 2014)
post date : 2014.03.20
Ever since Ise pilgrimages in the Edo period, Mie Prefecture has been demonstrating its appeal to people from Japan and abroad with their welcoming personality.  Governor Suzuki talks about the ama (female diver) culture that was recognized as an Intangible Folk Cultural Property by the prefecture to move towards registration as an Intangible Cultural Heritage with UNESCO.  He also discussed regional efforts to deal with the declining birth rate. (Interviewed by FPCJ President Kiyotaka Akasaka)
 Uji-bashi Torii Shrine Gate, Ise-jingu Shrine
(Photo by Mie Prefecture)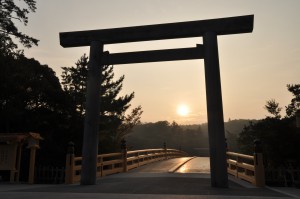 -How are you broadcasting the appeal of Mie Prefecture to the world?
Including visitors from overseas, 14.2 million people visited Mie for the rebuilding of the Ise Grand Shrine last year, the highest number ever.  Overseas, we are putting effort into attracting tourists from Taiwan and ASEAN countries, and as part of those efforts we held the Japan-Taiwan Tourism Summit in Shima City in May last year.  At this conference, members of the tourism industries of Japan and Taiwan joined together, and we promoted the appeal of Mie to the Taiwanese tourism industry.
                                                                                                        Ninja lanterns   (Photo by Mie Prefecture)
-Mie has quite a lot of interaction with Taiwan.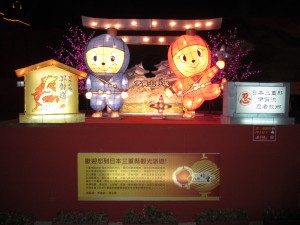 In February of last year, the Taiwan Tourism Bureau held their Lantern Festival, where we exhibited ninja and ama lanterns to promote Mie, the first Japanese local government to do so.  Thanks to our promotion, the number of Taiwanese tourists during January through September increased by 42% compared to the previous year.  In addition to exchange through events and advertising, there is an area in Taiwan's largest city, New Taipei City, called Sanchong (written the same as Mie: 三重), and so we signed a tourism agreement in October last year.
With the increased number of tourists from Taiwan, we requested China Airlines increase the number of direct flights to Chubu Centrair International Airport from 11 per week.  As of March, there will be 13 direct flights per week.  This exchange of tourism with Taiwan is regarded as having contributed greatly to promoting tourism in Taiwan, and on February 11 we were the second local government after Shizuoka Prefecture to receive a Taiwan Tourism Award.                                              
                                                                                                                            Kumano Kodo Magose Pass 
                                                                                                                                (Photo by Mie Prefecture)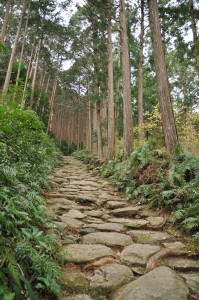 -What kind of interaction do you have with ASEAN countries and sister cities?
Our promotion of tourism focuses mainly on Thailand and Malaysia.  We made a Ninja Pack to attract foreign tourists using ninja, which are known worldwide.  We have tourists get on train cars with ninja artwork and experience being a ninja.  Last year we had approximately 1000 tourists from Thailand, Malaysia, Singapore Taiwan and Hong Kong participate.
Last year was the 40th anniversary of sister region relations between Mie Prefecture and São Paulo in Brazil.  In addition to signing a joint agreement to build new relationships, we also reaffirmed that current exchange would further develop.  Mie Prefecture has technology and knowledge from overcoming the industrial pollution that caused Yokkaichi asthma, and we would like to contribute to environmental conservation and economic development in Brazil through the transfer of this technology.  Brazil's economic potential is extremely high, and we would like to promote cooperation between businesses in Mie and Brazil.  Of tourists to Japan last year, Brazil was second only to Thailand for the amount tourists increased compared to the previous year, and we broadcast a variety of information considering the future tourism market as well.   This year is the 10th anniversary of the Kumano Kodo being registered as World Heritage, so we would also like to spread our message in Europe.
~Promoting Ama Diving and Preserving Ama Culture~
-What is the outlook on registration as a UNESCO Intangible Cultural Heritage?
On January 23, Mie Prefecture recognized ama diving as an Intangible Folk Cultural Property, the first prefecture in the country to do so. There is female free diving in 17 prefectures throughout Japan, and on January 24 the governors of eight of those prefectures established a Council for the Preservation of Ama Culture.  We have requested that the Agency for Cultural Affairs make it a national Cultural Property this year.  We plan on applying to UNESCO after it is designated a national Cultural Property.
-You also have some interaction with the haenyo of Jeju Island in South Korea.
Despite the current state of Japan-Korea relations, we engage in mutual exchange with the haenyo of Jeju Island.  We have built an extremely good relationship at the grassroots level, and I hope we can continue to work together.  Having recognized ama as a prefectural Cultural Property, people in the prefecture are also more enthusiastic, and so we are working steadily towards being registered as a UNESCO Intangible Cultural Heritage.
Gov. Suzuki (left) and FPCJ President Mr. Akasaka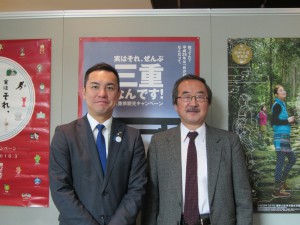 -What was the response to the press tour for correspondents held in September last year?
Thanks to the press tour, several papers such as Le Monde in France reported heavily on Mie.  As mentioned in Le Monde's reporting, the environment facing ama is a harsh one.  The annual income from working as an ama is only around one million yen.  By stocking the area with young abalone, which is the primary source of income for ama, the prefecture is supporting their income.  The prefectural designation as a Cultural Property and working towards registration as an Intangible Cultural Heritage with UNESCO comes with responsibilities, and we plan to proceed steadily.
-Will registration as a UNESCO Intangible Cultural Heritage take time?
The review by the government will likely take one or two years.  There is a waiting list in Japan to register as Intangible Cultural Heritage.  Next year, the Milan Expo will be held in Italy.  Plans are underway for Mie Prefecture to have a booth at the expo, and to hold Mie Week.  The Japanese Pavilion will be focusing on Japanese food and food culture, so we would like ama divers to make an appearance and do some local promotion there.
~Stimulating the Region with Local Measures to Fight Declining Birth Rate~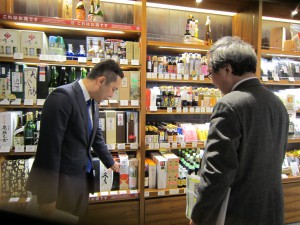 -You are also assertive in measures to fight the declining birth rate.
In northern Europe and France where they overcame a declining birth rate, in addition to creating an environment where you could have a child when you wanted one, it was also possible to provide quality support by envisioning a life plan including pregnancy and childbirth.  The ideal number of children in Mie Prefecture is 2.5, but the actual number of children is only 1.7.  There is a gap of about one child between the ideal and reality.  There are many possible reasons involved in not having a child despite wanting one, including health factors, economic factors, cooperation from men, and work styles in the workplace.  I am also a member of the Cabinet Office's Task Force for Overcoming the Declining Birthrate Crisis, and am suggesting the country and local governments both provide support throughout each life stage.
-Tell me about specific approaches Mie Prefecture is taking.
We are one of the first places in the country to put effort into male fertility treatments, providing subsidies for appropriate treatments.  We are also relaxing limits on the number of fertility treatments.  The national government will provide subsidies for a total of up to six fertility treatments, but if for example you successfully have a child with the fifth treatment, you might be reluctant to use fertility treatments to try for a second child even though you want one, due to only having subsidy available for one more treatment.  Mie Prefecture is considering this situation of fertility treatments for a second child and has created a system to allow for subsidies up to eight times.
We also consider male participation in child rearing an important aspect of dealing with the declining birth rate.  Women who do housework while raising children are very good at planning, and so men who participate in child rearing will not only experience the same happiness as women do, but also improve their work skills and become better people in the process.  The population of Mie Prefecture is 1.84 million, and it is said it will be 1.5 million by 2040.  I would like to create solid measures to fight the declining birth rate to stimulate the region and make it sustainable.
~Actually, That's All Mie! ~
-Wh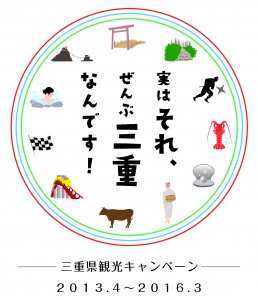 at is the appeal of Mie Prefecture?
Our strong point is that we have everything here.  There are famous tourist spots like the Kumano Kodo and Ise Grand Shrine and local specialties like Matsusaka beef and Japanese spiny lobster, but they are not well known as being from Mie.  We have created the slogan "Actually, that's all Mie!" to describe this enticing variety.  The term "omotenashi (hospitality)" was used during the bid for the 2020 Tokyo Olympics, but during the Edo period the people of Mie Prefecture provided pilgrims to Ise with food, a bath and a place to sleep even when they had no money.  The people of this prefecture have omotenashi in their DNA, and I believe the tradition of welcoming tourists warmly lives on.  I think a common thread in the good points of Mie Prefecture is shown in Matsuo Basho's phrase "fueki ryukou (accepting change while remaining fundamentally the same)". 
The Ise Grand Shrine changes every twenty years and has new parts despite being old, and the Kumano Kodo is the same.  However, there are so many good things here it is difficult to determine how to emphasize them.  In addition to tourism, creating a brand where visitors can see and experience some of the lifestyle might help communicate the appeal.  I plan to focus on sending the message that if you come to Mie Prefecture, you will be greeted warmly and with hospitality.