일본국 헌법 시행 70년, 그 특이한 구조
post date : 2017.05.23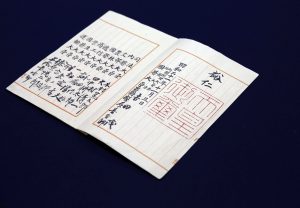 일본국 헌법 시행 70년, 그 특이한 구조
케네스 모리 맥엘웨인 도쿄대학 사회학연구소 부교수
"일본국 헌법의 특이한 구조가 개헌을 필요로 하지 않았다" 
중앙공론 5월호
도쿄대학 사회학연구소 부교수인 케네스 모리 맥엘웨인(Kenneth Mori McElwain) 씨는 ≪중앙공론≫의 논문에서 "일본국 헌법이 구조적으로 상당히 특수했기 때문에 개헌을 하지 않아도 충족이 되었다"고 논했다. 맥엘웨인 씨에 의하면 일본국 헌법의 단어 수는 4,988 단어로 전세계 헌법의 평균인 2만 1000단어에 비해 압도적으로 짧다고 하면서 전후  한 번도 개헌을 안 해도 되었던 이유는 "헌법이 짧기 때문"이라고 지적했다.  그 이유에 대해서는 "일본국 헌법은 선거제도 하나만 보더라도 거의 헌법에 명확한 규정이 없이 '법률로 이를 정한다'고 되어 있는 것이 많기 때문"이라고 하고 있다. 참고로 공직선거법은 과거 58차례 개정되었다.
한편  맥엘웨인 씨는 일본국 헌법에는 "인권 규정이 많으며 통치기구에 관한 기술은 적다"는 특징을 들면서 선거제도와 지방자치 등의 통치기구에 관한 규정이 적은 것에 대해 "입헌주의에 입각하고 있지만, 일본의 헌법은 규정이 안 되어 있는 부분이 너무 많은 것이 아닐까"라고 지적했다. 중의원과 참의원 선거에서의 '한 표의 격차' 문제도 "일본국 헌법이 짧고 애매한 부분이 많기에 일어나는 문제"라고 했다. 그러므로 맥엘웨인 씨는 "일본국 헌법도 좀 더 통치기구에 대해 명시하고 권력자에 의한 자의적인 제도 운영 등을 억제하는 것이 바람직하다"고 하면서 "일본 국민도 실정에 맞취서 헌법 개정을 하는 것을 선택지에 포함시켜야 한다"고 제언했다.
Photo:Reuters/ AFLO  The late Japanese Emperor Hirohito's signature and seal on the replica of an official original copy of the Constitution of Japan
*이 페이지는 공익재단법인 포린 ・프레스센터가 독자적으로 작성한 것으로 정부 및 기타 단체의 견해를 나타내는 것은 아닙니다.