Time for the Year of the Tokyo Olympics and Paralympics
post date : 2019.12.24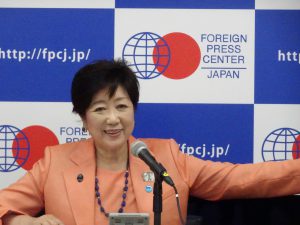 The year of the Tokyo Olympics and Paralympics, 2020, will be starting soon. The legacy of the 1964 Tokyo Games is said to be the Shinkansen and expressways. What legacy will be created this time? The Olympics are also said to be facing a major turning point, with their scale and economic burden having grown too large, and the impact of climate change. January's magazines engaged in lively debate over whether the upcoming Tokyo Games will be able to indicate a new direction for the future of the Olympics.
■ Chuokoron, [Discussion] Yuriko Koike (Tokyo Governor) and Alex Kerr (East Asian Culture Researcher), "No more utility poles, underground expressways... Using intangible legacies to make Tokyo into a world-class capital"
Koike mentioned that foreign visitors to Japan are said to take pictures of vertical parking lots, pachinko parlors, and power lines and utility poles as three things which they are not used to seeing, and stressed that eliminating utility poles was important from the perspectives of both disaster prevention and promoting tourism. She lamented that there are said to be 35 million utility poles in Japan, as many as there are cherry trees, but utility poles do not make for as nice of a view.
Kerr commented that while London, Paris, Singapore and Hong Kong had completely eliminated utility poles, Seoul 49% and Ho Chi Minh 17%, Japan as a whole has only eliminated 1.2%, and Tokyo 7.8%. He stated, "There is no need to give examples such as Florence and Paris, as tourist cities throughout the world minimize the number of billboards and advertisements. There is much to be learned from the philosophies and efforts of those cities."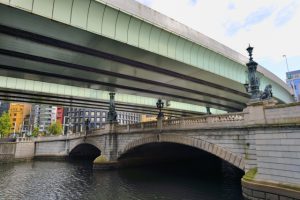 Koike suggested, "The power and telecommunications companies which bury their utility lines underground do not profit from it, so there is little incentive to do so from the business side. However, it improves the scenery, and the value from doing so is significant." She argued that although the legacies of the 1964 Tokyo Olympics, the Shinkansen and  Metropolitan  Expressway, were visible, she wanted the legacies after the 2020 Games to be "intangible," burying utility lines and moving the Metropolitan Expressway in Nihonbashi underground. She stated, 'I would like future generations in 50 or 100 years to say these Games were wonderful, without suffering under the operating costs of buildings."
Kerr suggested that in that case, the time had come to consider making billboards and noise pollution intangible. He commented that Japan had pursued "flashy" things in order to recover after World War II, but with environmental issues becoming an issue seriously considered worldwide, those values had to change. He noted that cities such as Seoul, San Francisco, and Madrid had removed expressways, but this had not caused any particular inconvenience to residents, and suggested that with Tokyo's public transportation infrastructure, it was in a better position to eliminate cars than most other cities.
■ Bungeishunju, [Special Feature] A new legend to be born in Japan, from Tokyo 1964 to Tokyo 2020, "I am staking my life on the Paralympics" (Tokyo Governor Yuriko Koike)
Koike stated, "Until now, I have staked my life on various preparations for the Paralympics in order to work toward an inclusive society, and now my feelings on the Paralympics have become even stronger." She discussed her determination, saying that making the Paralympics a success would lead to a true success.
She noted her disappointment at the marathon course having been moved from Tokyo to Sapporo, despite various efforts having been suggested to deal with the heat, and stressed that those preparations, such as an early morning start and heat-resistant pavement, would be put to use in the Paralympics marathon which will still be in Tokyo, as it will be held slightly later. Koike emphasized that efforts were proceeding on accessibility in competition venues and in stations and accommodations in Tokyo, with over 2,500 barrier-free rooms expected to be available.
Koike commented that one legacy would be early implementation of the next-generation telecommunications system of 5G, an invisible "road of electromagnetic waves," and she suggested this was related to accessibility, describing her plan to create a framework for private companies to use the big data held by the Tokyo Metropolitan Government to develop apps providing information such as where accessible bathrooms were or what train stations wheelchair users could use while in their chair.
Stating that the Olympics were reaching a major turning point, and that events and their rules change with the times, she concluded, "The 2024 Games will be held in Paris, and the 2028 Games in Los Angeles, but in the future extremely hot temperatures may be unavoidable no matter where the Games are held in the northern hemisphere. Considering the state of global warming and climate change, serious discussions need to be held on whether it is feasible to continue in this manner. This is another reason why the 2020 Tokyo Games will have an important role to play in indicating the future of the Olympics and Paralympics."
■ Bungeishunju, [Discussion] Kosuke Kitajima (Swimming Olympic Gold Medalist at Athens and Beijing) and Kankuro Kudo (Screenwriter), "The Olympics are a huge sports festival"
In this discussion, Kitajima mentioned how when he returned from the Sydney Olympics without winning a medal, he felt frustrated over the difference in treatment between being a medalist or not, but then used that as motivation for future efforts. In the end, he decided that it was only natural for people to hope that he would win a gold medal, and athletes with the opportunity to win a gold should make every effort to do so, with athletes receiving media attention in particular in a position fated to achieve good results.
Kitajima also commented that the reason swimming was interesting was because swimming methods continued to evolve, with world records being broken every year in all the different styles, unlike the 100 meter sprint. Although swimming is an individual competition, he explained that since 2000, the style has been "let's win as Team Japan."
Kitajima feels that the Olympics are like a bigger version of the sports festivals held in elementary schools in Japan, with the same foundation of "the excitement on the grounds for the sports festival, and the feeling that you want to put on a good show for Mom and Dad who have come to watch." He argued that although the Olympics have changed over the years, the best thing to do is to consider the athletes first, and focus on how they are trying their best, cheering for them and having fun, in order to make the Tokyo Olympics a success. He mentioned his excitement, saying that there were very few star athletes competing in these Olympics, so everyone has a chance and new stars could be born.
*This page was created independently by Foreign Press Center Japan, and does not reflect the opinion of the Japanese government or any other organization.