Changes to South Korean Policy on Japan and Japan-Korea Relations
post date : 2018.12.28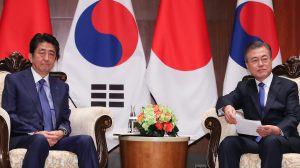 ■Kan Kimura, Voice, December
In an essay titled "Why is policy on Japan so inconsistent?" in Voice, Kobe University Professor Kan Kimura noted that recently the gap between Japan and South Korea's economies has shrunk significantly, and the Japanese share of South Korean trade has declined from its peak of 40% to 7%. With South Korean military spending also rapidly approaching the same levels as Japan, Kimura argued, "They rely less on Japan…Japanese influence in South Korea has declined drastically." He further suggested that the current issue with South Korea is not that they are "implementing anti-Japanese policies at a state level," but instead, "Since they have lost interest in Japan, they have no consistent guidelines on Japanese policy and implement policies haphazardly, which ends up causing chaos in bilateral relations."
Previous South Korean governments have announced foreign policy soon after inauguration, including policy on Japan, but according to Kimura, "The Moon administration has no basic policy regarding Japan." His analysis was that the Moon administration doesn't want Japan to interfere in its relations with North Korea, the US, and China: "If Japan does nothing, that would be good enough for them." Kimura explained, "That is why the Moon administration's policy on Japan sometimes seems inconsistent." He argued that, to respond to this inconsistent policy on Japan by South Korea, "It is important for Japan to send a message in order to have South Korean policy on Japan return to having a certain degree of order and consistency."
■Masatoshi Muto, Bungeishunju, December
In an essay in Bungeishunju titled "South Korea's court decision to compensate wartime laborers: Moon Jae-in has crossed a line," former Ambassador of Japan to South Korea Masatoshi Muto argued that the impact of this court decision on Japan-Korea relations was "significantly larger than other issues such as comfort women. South Korea has crossed a line that must not be crossed." He noted that in 2005, even the Roh Moo Hyun administration which was arguing for taking another look at history had indicated that they believed individuals no longer had the right to seek payment for forced wartime labor, and considering that President Moon Jae-in was involved in writing the statement at the time as a government official, this was a surprising change.
Muto stated that South Korea's anti-Japan stance was "not anti-Japan because it benefits the nation," but because South Korea is unable to take a hardline stance against China, and there is a feeling that they can "do whatever they want" with regards to Japan, "These anti-Japan actions are based purely on sentiment." He also noted that there are structural issues with the current judiciary of South Korea, saying "There are many progressives in the judiciary, and it is said they are more likely to become judges…Therefore, there is a strong tendency for left-leaning decisions to be made." 
Photo: YONHAP NEWS/AFLO
*This page was created independently by Foreign Press Center Japan, and does not reflect the opinion of the Japanese government or any other organization.