Japanese Diplomacy and the Indo-Pacific Strategy
post date : 2018.04.13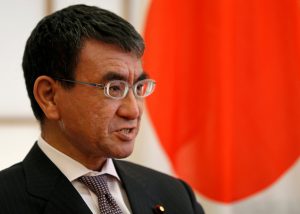 ■Taro Kono, "Continuing pressure on North Korea to push for denuclearization," Gaiko Vol. 47
In an interview in Gaiko, Minister for Foreign Affairs Taro Kono stated that since Japan is facing a period of change to the international order, it should become a "leader" for the world instead of a "follower." He revealed the basic plan for Japanese diplomacy in 2018 would be strengthening the Japan-US alliance, improving Japan-China relations, and using "pressure" to deal with North Korea. In particular, regarding how an agreement was reached during the November 2017 Japan-US summit to move forward together on the "Free and Open Indo-Pacific Strategy" announced by Prime Minister Shinzo Abe in 2016, Kono emphasized the notion that free and open maritime order in the Indo-Pacific region is an "international public goods" bringing peace and prosperity to the region. In response to the opinion that this strategy is a "policy to encircle China," he declared, "That is a complete misunderstanding. It is not being implemented to target any specific country, and is not opposing any kind of initiative."
On the topic of China's Belt and Road Initiative, Kono indicated Japan's intention to cooperate, and stated, "We hope that by sufficiently incorporating common international standards in areas including transparency, economy, the openness of infrastructure, and fiscal soundness, the initiative will contribute to peace and prosperity both in the region and worldwide."
Speaking about the comfort women issue which has been causing problems in Japan-South Korean relations, Kono emphasized, "The agreement between Japan and South Korea is a promise between two nations, and there is a responsibility to ensure it is implemented. There is a responsibility to steadily execute the agreement as part of the international community." He noted intentions to tenaciously continue calling for South Korea to carry out the "final and irreversible" agreement. Commenting on diplomacy in the Middle East, which Kono considers particularly important, he stated that involvement in the Middle East was directly related to peace and security in Japan, and announced intentions to promote diplomacy making maximum use of a "human network" focusing on relationships between heads of state and foreign ministers.
■Akihiko Tanaka, "The range of a 'Free and Open Indo-Pacific Strategy,'" Gaiko Vol. 47
In an essay in Gaiko, National Graduate Institute for Policy Studies President Akihiko Tanaka stated that the concept of "Indo-Pacific" grew out of "super-long term development of the global economy," noting that in the 21st century India and Sub-Saharan Africa have shown noticeable growth, and the Indo-Pacific region had become "the global center of growth." He emphasized that, therefore, "Japan is focusing on the 'Indo-Pacific' not because of a short-sighted response to the actions of some country, but based on a more fundamental perspective of national interest." He argued that Japan's goal was to make the Indo-Pacific region into "a region without force or oppression, a free region, a region ruled by law, a region respecting market economy, a bountiful region."
However, Tanaka noted, it is still unclear what policy methods will be used to accomplish the goals of the government's Free and Open Indo-Pacific Strategy. He suggested the following possibilities: 1) "Policies to promote regional connectivity," such as improving infrastructure to connect the region, including port facilities; 2) "Human security," and support for fragile countries with civil wars and frequent terrorism, such as Afghanistan, Myanmar, and Syria; 3)"Power politics" management to decrease the occurrence of armed conflict; and 4) Multilateral diplomacy efforts, such as the Comprehensive and Progressive Agreement for Trans-Pacific Partnership (TPP11). Tanaka called for "the rapid announcement of a strategy document describing the full picture."
Photo: Reuters/AFLO
*This page was created independently by Foreign Press Center Japan, and does not reflect the opinion of the Japanese government or any other organization.