Strategic Pivot to Asia
post date : 2018.03.12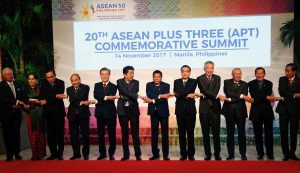 Yoichi Funabashi, "New world of geopolitics: strategic pivot to Asia," Bungeishunju, February
In his column in Bungeishunju, journalist Yoichi Funabashi argues that Japan should rethink its policy on Asia, stating, "An Asian pivot should be carried out with the intent of directly grabbing the ASEAN member states, with their population of 600 million." He notes that the ASEAN countries' stance towards China has changed dramatically over the past year. Specifically, Funabashi commented that the Chairman's Statement released after the ASEAN Summit held in November 2017 lacked concerns over China building artificial islands in the South China Sea, despite having been consistently included in previous statements, indicating increased pressure from China towards the ASEAN nations.
Funabashi states that despite the U.S. having created its Indo-Pacific strategy in response to this changing situation, as long as the position of ASEAN within this strategy is unclear it is nothing more than a military focus. As a result, with the current mix of concerns over China and distrust of the U.S., "The hopes ASEAN countries are placing in Japan have never been stronger."
He also argues that whether Japan can "develop an Asia policy to build a stronger relationship with ASEAN" is the key to the U.S. maintaining involvement in Asia. Funabashi concludes by stating that since World War II, Japan has tried several times to pivot to Asia, and should learn from these past examples: "Grab Asia. Cooperate with China in certain cases. And bring the U.S. back to Asia. The time has come to work towards this kind of strategic pivot to Asia."
Photo: Pool/Reuters/AFLO
*This page was created independently by Foreign Press Center Japan, and does not reflect the opinion of the Japanese government or any other organization.