Education and Entrance Exam Reforms
post date : 2018.03.05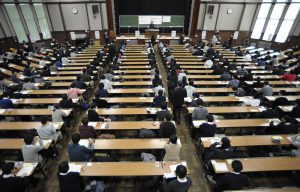 ■Yoshimasa Hayashi, Kazuhiro Fujihara, "Asking the minister about reforms," Chuokoron, February
In a conversation in Chuokoron with Nara Ichijo High School Principal Kazuhiro Fujihara, Minister of Education, Culture, Sports, Science, and Technology Yoshimasa Hayashi revealed his general thoughts on the educational reforms to be implemented in the 2020 school year, including university entrance examination reforms. He emphasized that the goal of these "High School and University Articulation Reforms" is to increase fundamental academic ability considering lessons learned from the yutori education system, and to educate and evaluate based on the three key scholastic skills by 1) Stimulating acquisition of sufficient knowledge and technical skills, 2) Increasing reasoning, decision-making, and self-expression skills to find answers to questions without one clear answer, and 3) Studying by proactively cooperating with diverse people.
The minister also stated that for university entrance exam reforms, "I believe the important thing is for the universities to clarify their admissions policies." He noted the intent to shift from the previous "Mt. Fuji system" with the University of Tokyo at the top, to a "mountain range system" with universities creating curriculums to develop students in different ways. Commenting that "When moving forward with university reforms, an extremely important factor is how to actively engage with society," Hayashi argued, "Universities should keep in mind the collaborative relationship they have with society and industry."
■Hideki Wada, "Academic ability will decline again," Chuokoron, February
In an essay in Chuokoron, psychiatrist Hideki Wada argues that educational reforms "may have a dangerous impact on the academic ability and mental health of Japanese students," listing several problems. First, he states that with the change from the current university entrance exams to the Prospective University Entrant Scholastic Abilities Evaluation Test (provisional name), the focus on written responses "may eliminate unique answers due to an emphasis on answers following accepted models."
Second, he states that a multifaceted selection process considering "reasoning, decision-making, and self-expression skills" would mean "students of the 'old type' with high academic ability but poor self-expression and interview skills would have no escape." He also criticized that even though the reforms may not be successful, "There is no hedge for this risk of problems occurring, such as a decrease in academic ability."
Third, he states that the reforms focusing on proactive learning are a comeback by supporters of yutori education, and argues that objective evaluation is difficult for oral exams and short essays, as well as for evaluation of perspectives such as interest, motivation, thinking, and judgement, stating the biggest problem is that "there will be no guarantee of fairness." He concludes by stating, "Carrying out 'experiments' on students taking university entrance exams, without changing the university system that has a poor reputation worldwide, should not be forgiven."
■Shiki Kurabe, "Worried schools and aggressive companies: Why are more and more entrance exams being outsourced?" Chuokoron, February
In a report in Chuokoron, high school-university collaboration coordinator Shiki Kurabe agrees with the overall direction of the education reforms, while noting concerns over the proliferation of "reform exhaustion" among educators and the increase in outsourcing entrance exams to private companies. In particular, he presents the example of how even though the number of students dropping out of university has been increasing throughout Japan, high schools are unaware of that situation, and their reliance on private companies for services such as guidance counseling is "making the problem worse." He notes that the number of dropouts from universities, junior colleges, and vocational schools has risen to between 110,000 and 120,000 every year, with a 3.3% dropout rate per year, and 12.6% of students in four-year universities dropping out before graduation. Furthermore, he states that many of these dropouts end up unemployed or as temporary employees.
Kurabe argues that the problem lies in "a serious budget and personnel shortage at universities." He states that many universities are already "relying on private companies for a significant portion of the work related to attracting students," and notes this trend of relying on companies is likely to expand: "An overreliance on private companies is a risk not only for high schools and universities, but for society as a whole."
■Yo Takeuchi, Takashi Saito, "Schools should not be looking for 'human qualities'," Chuokoron, February
In a conversation which ran in Chuokoron with Kansai University Tokyo Center Director Yo Takuechi, Meiji University Professor Takashi Saito stated that the ability to identify and solve problems is the type of academic ability sought out now, but emphasized, "The previous type of academic ability focusing on knowledge and memorization is also important." As an example, he noted that in the six years of education in medical school, "Not counting residency, over 90% of the time is spent on memorization."
Saito also indicated concerns that an issue with the university entrance exam reforms is "a loss of fairness due to diversity in the entrance exams," and argues that even with the introduction of "admissions office entrance exams" focusing on individuality, "That obviously does not mean that students that entered university through the standard entrance exams have no individuality." Stating, "Reforms often create even greater loss," he argued that since the National Center Test is being eliminated, "There will be a heavy responsibility on the new general university entrance exam that replaces it."
Photo: Photoshot/AFLO

*This page was created independently by Foreign Press Center Japan, and does not reflect the opinion of the Japanese government or any other organization.