The World of Kazuo Ishiguro
post date : 2017.12.28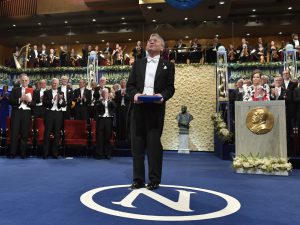 ■Yasuo Hasebe, "How a person should live—the world of Kazuo Ishiguro," Sekai, December
Novelist Kazuo Ishiguro, a British citizen living in the UK who was born in Nagasaki, won the 2017 Nobel Prize in Literature, and in the December issue of Sekai, Waseda University Professor Yasuo Hasebe discusses Ishiguro's works and the worlds he builds from a perspective other than literary criticism.
Ishiguro moved to England when he was five years old, becoming a British citizen upon adulthood. His 1986 novel An Artist of the Floating World, set in a fictional Japanese town similar to Nagasaki and about a man who has retained the ideals of pre-World War II Japan after the war, won the Whitbread Book of the Year Award. His 1989 novel The Remains of the Day won the Man Booker Prize for Fiction, the UK's most prestigious literary award.
According to Hasebe, "writing about the traditions of England that were being lost" is not the reason that Ishiguro received the Booker Prize. Hasebe further states that one of the themes of Ishiguro's main works is "how common folk deal with authority." The Swedish Academy, in stating why Ishiguro was selected to receive the Nobel Prize, described his works as having "uncovered the abyss beneath our illusory sense of connection with the world," and Hasebe comments that in Ishiguro's world, "The world is created not by objective facts, but by people's memories." He further argues that Ishiguro is not advocating for "repressing memories" by forbidding seeking the truth of the past, and argues that objectively examining personal and national memories of the past, even though it may be very painful, is a way to examine how to live one's life. Hasebe concludes by arguing that Ishiguro is questioning "the universal issues of how to deal with authority."
■Yasushi Mano, "The borderless worlds of Kazuo Ishiguro's novels," Sekai, December
Also in Sekai, Gakushuin University Professor Yasushi Mano notes how Kazuo Ishiguro's works are overflowing with a "borderless worldview," and emphasizes that the novelist's illustrious career was given a boost by "the trend of multiculturalism that had just begun in the British publishing industry." Indian-born Salman Rushdie, Nigerian-born Buchi Emecheta, and Trinidad-born Shiva Naipaul had begun to grow in popularity in the British literary world around that time.
However, Mano notes that Ishiguro is in a different position than these three "migrant" authors from former British colonial territories. He argues, "These authors can show anger at British imperialism, but that is not an option for someone from Japan," and notes that while the "migrant" authors consider World War II a "just war," Ishiguro, with his roots in Japan "which was on the wrong side of the war," therefore "occupies a unique position in English literature."
Mano states that after winning the Booker Prize, Ishiguro was free "to write not about Japan, or about the UK, but about universal human experiences. His experiments since then have been eye-opening." Referring to a comment by Ishiguro that after writing about Japan and England, it did not matter where his next novel was set, and mentioning how "the UK is becoming more inward-looking," as can also be seen in statements by former UK Prime Minister David Cameron and current Prime Minister Theresa May, Mano declares, "I would like to tell Ishiguro to take being borderless to the extreme, and perfect 'nowhere.'"   
Photo: TT News Agency/ AFLO

*This page was created independently by Foreign Press Center Japan, and does not reflect the opinion of the Japanese government or any other organization.