Japanese Politics After the General Election
post date : 2017.12.26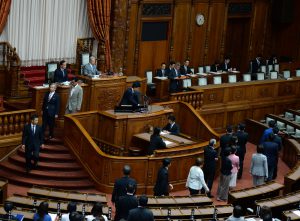 Takeshi Sasaki, "Politicians must discuss painful reforms," Bungeishunju, December
In an essay in Bungeishunju, former University of Tokyo President Takeshi Sasaki questions whether there was a justifiable reason for the October 2017 dissolution of the House of Representatives to call an election to deal with a "national crisis," and notes, "There are very few developed countries in which the prime minister has this much freedom in dissolving parliament."
Sasaki states that these frequent elections are reducing the potential for policy debates from a long-term perspective, as politics shifts to a short-term orientation, and encourage "bureaucratic politics." He emphasizes that the deterioration of opposition parties' ability to propose policy is also a downside of these constant elections.
Regarding the degree of expectations placed on the Party of Hope led by Tokyo Governor Yuriko Koike and the party's election results, Sasaki comments that Koike, who entered politics as part of the "reform" boom in the early 1990s, misjudged the current feelings of the voting public. Specifically, he states that she failed to account for the reality that many Japanese citizens are "fixated on the legacy of the economic miracle, living in a comfortable 'lingering fantasy' and trying to plan the future based on an extension of the past."
Sasaki states that he hopes politics will "move beyond 'lingering fantasy' politics which consist of discussing dreams, and instead move forward with realistic policies from a long-term perspective…. Instead of just passing the buck forward on national crises such as the fiscal crisis, politicians must tell the citizens things they do not want to hear, and convince voters to implement painful reforms based on a long-term perspective."
Sasaki concludes by commenting on the constitutional reform that Prime Minister Shinzo Abe made part of his platform in the general election: "A majority vote in a national referendum will be necessary in the end. However, this device has never been used before in Japanese politics…. If the results of the referendum end up at odds with the Diet, there will be major confusion in Japan." He called for the government to focus on carrying out policies based on a long-term perspective.
Photo: Xinhua News Agency/AFLO
*This page was created independently by Foreign Press Center Japan, and does not reflect the opinion of the Japanese government or any other organization.