Strategic Application of Japan's Diplomatic Records
post date : 2017.11.29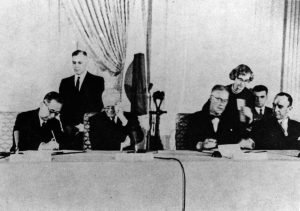 [Roundtable Discussion] Sumio Hatano x Madoka Fukuda x Yuichi Hosoya x  Kayoko Fukushima, "No sense for diplomacy without a sense of history—Towards a strategic application of Japan's diplomatic records," Gaiko, Vol. 45
In a roundtable discussion which ran in Gaiko, Keio University professor Yuichi Hosoya argues that the diplomatic strength of the UK and the US is based on an "archival hegemony" through their active use of diplomatic records, and proposes the strategic application of Japan's diplomatic records, suggesting that if foreign researchers and journalists made use of the Diplomatic Archives of Japan's Ministry of Foreign Affairs, "This would spread understanding of Japan, based on ideas out of Japan."
The Diplomatic Archives (in Roppongi, Tokyo) were created in 1971 as a unique initiative of the Ministry of Foreign Affairs, ahead of other ministries' efforts to preserve government documents, and there are currently 40,000 pre-World War II and 53,000 post-WWII diplomatic records stored there. Including treaties, sovereign letters and personal letters from heads of states, there are approximately 120,000 documents held at the archives, with two to three thousand disclosed to the public every year. Documents are made public after 30 years, with postwar documents beginning to be made public from the late 1980s.
According to Diplomatic Archives Director Kayoko Fukushima, diplomacy is a long-term process of building up negotiations with foreign countries, and she emphasizes, "It is critical to build on past arguments, so diplomatic records are very useful." She also notes that in 2011, based on the Public Archives and Records Management Act, the Diplomatic Archives were designated as having a similar role to the National Archives. Currently, post-WWII microfilms and original documents which can be viewed by the public account for 35% of the total collection.
Although Hosoya recognizes the importance of the Diplomatic Archives, he also notes that UNESCO's Memory of the World project and historical issues such as comfort women often become diplomatic issues, stating, "Japan is the only major power without official historians or archivists in the Ministry of Foreign Affairs." With history frequently being a major battlefield in international society, he proposes, "In order to bring in enough people with PhDs in history, or who have received specialized training, they should be given appropriate compensation and authority." He also states that with the foreign service exam having been eliminated and all exams for government workers being unified into the general civil service exam, "There are now diplomatic officials who have never studied the history of diplomacy or international law," calling for the return of the foreign service exam.
Photo: Kingendai Photo Library/AFLO
*This page was created independently by Foreign Press Center Japan, and does not reflect the opinion of the Japanese government or any other organization.