Sony's Revival
post date : 2017.10.16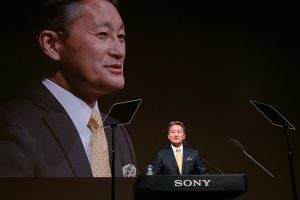 Kazuo Hirai, "The president of Sony speaks of its comeback from rock bottom," Bungeishunju, October
In Bungeishunju, Sony Corporation President and CEO Kazuo Hirai describes how he revived Sony from its slump by pushing through organizational reform and with his pursuit of "Sony-ness." Sony had record losses (520 billion yen) in the 2012 fiscal year, but by 2016 had bounced back to 7.6 trillion yen in sales and 290 billion yen in operating income. April 2018 will mark a full six years since Hirai became president.
As an example of implementing "Sony-ness," Hirai argues that the Seed Acceleration Program he introduced in order to bring in new ideas and develop them into businesses has helped create "a positive mood and vitalize the company in a way that cannot be bought with money." He explains that an important aspect of "Sony-ness" is "appealing to sensibilities."
He also emphasizes that the pillar of Sony's diverse businesses in the future will be "Beyond One Sony," working on cooperation between different business divisions, and that the company will be working on joint projects crossing over between their three main businesses of electronics, finance, and entertainment. Hirai states that currently, Sony is "looking for leaders that can handle a variety of different portfolios, instead of experts in specific businesses." He also comments on how one of Sony's founders, Akio Morita (who was once "the most famous Japanese person in the U.S."), developed markets by adapting to local conditions: "Having a visible leader who continues to make trustworthy statements is even more important during times of great change…. I would like to contribute to the overseas presence of Japanese businesses, and improve the position of Japan as a whole."
Photo: Rodrigo Reyes Marin/AFLO
*This page was created independently by Foreign Press Center Japan, and does not reflect the opinion of the Japanese government or any other organization.