Can Japanese Cars Win in the Global Market? (TOYOTA)
post date : 2017.06.13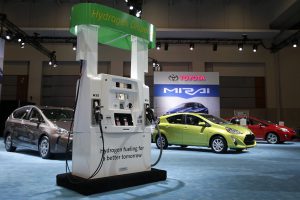 Can Japanese Cars Win in the Global Market ? (TOYOTA)
Kiyotaka ISE, Senior Managing Officer and President of Advanced R&D and Engineering Company, TOYOTA
"Using AI and hydrogen to compete,"  
Bungeishunju, June
In a special feature in the June issue of Bungeishunju, Kiyotaka ISE, senior managing officer and president of Advanced R&D and Engineering Company at Toyota Motor Corporation, notes his belief that "The automobile industry is facing a major revolution of the kind that happens once in a hundred years," and promotes a strategy to survive as an automobile manufacturer that revolves around artificial intelligence (AI) and using hydrogen as a green initiative.
Ise states that although automated driving technology using AI is an innovation that will transform society, there is a global shortage of AI development experts. In response, in January 2016 Toyota established the Toyota Research Institute in Silicon Valley in the U.S., and plans to invest one hundred billion yen over five years. However, he emphasizes that Toyota's final goal "is not driverless cars." Toyota is aiming to implement "level 2" automated driving technology which "supports the driver under specific conditions" by around 2020, based on providing support with automated driving when the driver becomes tired. Google, which has a head-start in the field, is aiming for "level 4" fully autonomous automated driving technology.
According to Ise, another goal is achieving zero carbon dioxide emissions, and so Toyota is continuing research in electric vehicles (EV) and fuel-cell vehicles (FCV) using hydrogen. FCV have issues including the difficulty of cost-efficient mass production and installation of hydrogen fuel stations, but Ise emphasized, "When considering a future energy mix, we believe Japan should become a hydrogen-based society." Furthermore, Ise stated, "We would like to use our technical capabilities to ensure the changing automobile industry becomes a place where new industries are born."
Photo: Reuters/ AFLO
*This page was created independently by Foreign Press Center Japan, and does not reflect the opinion of the Japanese government or any other organization.