Rethinking Abenomics/What Will Become of South Korea?
post date : 2017.01.20
■ Rethinking Abenomics
・Koichi Hamada, "I have reconsidered Abenomics," Bungeishunju, January
In the January issue of Bungeishunju, Yale University Emeritus Professor Koichi Hamada, who provided the theory behind Abenomics as a special adviser to the Cabinet, gives his opinion that unstable global factors over the past year have led to Abenomics "seeming to be at a bit of an impasse." He hints strongly at his belief that a new economic policy has to be adopted.
The "first arrow" of Abenomics was monetary policy, heavily pushing qualitative and quantitative easing by the Bank of Japan in order to escape deflation through artificial inflation (reflation). Hamada, an advocate of this idea, provides his analysis that since the end of 2015 foreign exchange speculation has led to unaccountable changes in price formation in the exchange market and so "the effectiveness of qualitative and quantitative easing has become weakened." He raises two specific points: 1) Even with low interest rates, the yen remains at a high value, and 2) The negative interest policy implemented by the Bank of Japan in January 2016 has not been effective.
As a solution, Hamada notes Princeton University Professor Christopher Sims' argument that "The reason monetary policy does not work can be fiscal policy." "Sims argues that 'even if there is a deficit, sometimes expanding fiscal policy is necessary.' This is an innovative idea." Hamada's analysis is that the inflation desired by Abenomics has not occurred due to not cutting taxes and the like "as a set together with fiscal policy."
Hamada states that the goal of economic policy is not fiscal soundness, but "improving the lives of citizens through employment, production, and consumption." He calls for "Creating stimulation through fiscal policy, including tax cuts," without loosening the reins on monetary policy.
■ What Will Become of South Korea?
・Masatoshi Muto, "Don't let the comfort women issue be brought up again," Bungeishunju, January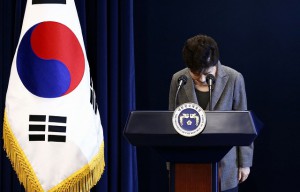 In the January issue of Bungeishunju, former Ambassador to South Korea Masatoshi Muto argues that the December 2015 bilateral agreement on comfort women should not be allowed to be abandoned in relation to South Korean President Park Geun-hye being suspended from office and impeached due to a corruption scandal involving her friend. To that end, Muto states that if South Korea tries to revisit the bilateral agreement, it is important to maintain the stance that "Japan has already faithfully fulfilled the agreement, so South Korea should follow the agreement as well."
Muto comments that with past South Korean presidents, "The usual pattern when their approval rating drops and they become lame ducks is that there is no more positive action for Japan-South Korean relations." However, compared to past examples President Park Geun-hye is a "unique case." With the recent worsening of relations with North Korea she has shifted to improving cooperation with Japan and the U.S., and helped work towards an agreement on the comfort women issue.
Muto notes that the most likely successor to President Park is the opposition Democratic Party of Korea's Moon Jae-in, who "even now wants to focus on dialogue with North Korea." He indicates strong concern over this: "If the new president is from an opposition party that is conciliatory towards North Korea, it will make it easier for North Korea to arm itself with missiles and nuclear weapons." In particular, since President Park's scandal came to light, "North Korea has been refraining from antagonistic actions. However, it is when North Korea is quiet that the greatest caution is needed." Muto states that there is nothing to be done but to work together with the Trump administration on countering North Korea, and share the awareness of risks with South Korea.
・Sonfa Oh and Tatsuya Kato, "The true nature of failure of The Park Geun-hye administration," Voice, January
In an interview with Sankei Shimbun's former Seoul Bureau Chief Tatsuya Kato in the January issue of Voice, Takushoku University Professor Sonfa Oh states that the allegations of corruption that occurred under the Park administration demonstrate "the breakdown of morality in South Korean society." She follows, "North Korea must be jumping for joy at the collapse of the anti-communist Park administration. There is a possibility for major changes in the situation on the Korean Peninsula in 2017 or later." She specifically warns that "The North Koreanization of South Korea will likely progress further."
Kato, who was indicted without arrest on charges of defamation for his reporting on President Park's 'missing seven hours,' notes that it is certain that one of the opposition parties, which account for a majority of the National Assembly, will win the upcoming election, declaring, "No matter the outcome, this will be the birth of a president that is extremely sympathetic to North Korea." Therefore, he argues that Japan has to push strongly for "practical benefits in diplomacy" and "solving the comfort women issue." As a practical benefit in diplomacy, he mentions ensuring the General Security of Military Information Agreement (GSOMIA) Japan and Korea agreed to in November 2016 is carried out, which will have a major impact on security in the Korean Peninsula.
Regarding removal of the comfort women statue in front of the Japanese Embassy in Seoul, Kato opines, "With President Park spending all her efforts on security and dealing with the domestic situation, historical issues and removal of the statue are quite unlikely." He also notes that with the effective collapse of the Park government, "South Korea has changed into a government that will be difficult to work with in all respects."
Photo: Pool/ Reuters/ AFLO
*This page was created independently by Foreign Press Center Japan, and does not reflect the opinion of the Japanese government or any other organization.