Issues with Seniors in Japan
post date : 2016.10.17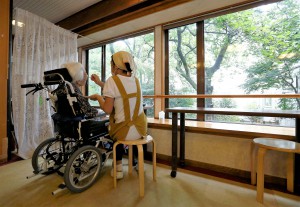 ・Kenichi Ohmae, "Blow away the depression caused by concern over retirement years," Voice, October issue
In an interview in Voice, management consultant Kenichi Ohmae commented on how after three and a half years, the Abe administration's economic policy of Abenomics has not had sufficient results, but that if the consumer confidence of seniors could be changed it could give the Japanese economy a major boost.
Ohmae describes the current state of Japan as a "low desire society," where there is an extreme low desire to possess or consume, and points out that seniors in particular "are preparing for their retirement years with three layers of investment: pensions, savings, and life insurance." If the perspective and consumer confidence of seniors, who hold the majority of Japan's 1700 trillion yen in personal financial assets, could be changed, that money would enter the economy, and even if only 1% was used "it would have an impact equal to a consumption tax of 4% or more."
Regarding the younger generation, who are satisfied with living in a small area such as at their local mall, his sarcastic analysis is, "They don't buy homes, or any cars but inexpensive cars, and don't marry. If you look around the whole world, people with such little desire exist only in Japan." The reason he gives for this is being "worried about their retirement years," and states, "Even if corporations somehow managed to increase salaries, the workers would not spend that extra money, they would just deposit it."
Ohmae says that for the economy to recover, policies encouraging seniors to feel safe about spending money for themselves are vital, emphasizing, "By teaching them that assets can create cash, and relaxing regulations to make it easier to do so, seniors should be more comfortable spending the money they have at hand." He also argues for tax reforms to "end the inheritance tax and make it an asset tax." His reasoning is that since the inheritance tax is up to 50%, "Even if some is gifted to children before death, they will think about having to pay taxes when their parents pass away and keep it without using it."
・Kohei Komamura, "It's time for people in their late 60s to act," Voice, October issue
In an essay in Voice, Keio University professor Kohei Komamura argues that for one of the "new three arrows" of Abenomics by the Abe administration, the goal of increasing total fertility rate to 1.8, "even if the total fertility rate increases, the number of children won't increase by much."
The professor explains that the reason for this is that the number of Japanese women aged 15 to 49 is steadily decreasing. In particular, he criticizes the governments during the 90s and early 2000s, when there were many women in their late 20s (the baby boomer [dankai] junior generation): "They were hesitant to implement policies support child-raising, and so lost the opportunity in a major mistake that will go down in history."
He also states that in order to raise the birth rates for women in their 20s and 30s, "It is most important to improve the salary for 'non-regular' workers, so that they are able to have some confidence in their future." He argues that the increase in non-regular workers in recent years has meant a decrease in income, causing an increase in people not marrying, and leading to a decrease in the birth rate in a vicious cycle.
What policies can be implemented to deal with the difficult issues of a super-aging society? Komamura suggests that instead of lumping all seniors together as "65 or over," they should be split into "65 to 69" and "70 or over." "Those aged 65 to 69 should be classified as "late-stage active workers," and we should take advantage of their stamina and knowledge." The professor proposes they participate in volunteering and lifelong learning, to create a "society for lifelong active workers."
・Yoshito Igarashi, "Incidents will continue to increase," Chuokoron, October issue
In March 2016, Japan's Supreme Court gave a ruling that the family was not liable for the actions of a 91-year-old man with dementia, who was killed by a train. JR Tokai had sued the family for compensation due to service disruptions. In an essay in Chuokoron, medical doctor and Center for Forensic Mental Health, Chiba University professor Yoshito Igarashi starts by stating that "the conclusion made by this decision is completely understandable," and follows by describing how crimes by seniors with dementia are on the rise.
According to the essay, the number of Japanese seniors with dementia in 2012 was 4.62 million, and is predicted to rise to 7 million by 2025. These seniors are often thought of by the general public as targets for crime such as fraud, but as Igarashi notes, "The increase in seniors committing crimes is also becoming a problem."
To be specific, the number of seniors arrested for crimes in 2014 was 47,252, approximately four times the number arrested in 1995, and the professor states "The number of violent crimes including assault and injuries have been increasing significantly as well, as are major crimes including murder and robbery." Although statistics for psychiatric evaluations of recipients of prison sentences are not publicly available, based on the number of convicts requiring hospital care in 2015, "It is undeniable that there are many cases where the possibility of senior prisoners having dementia should be examined," according to Igarashi.
While commending the Supreme Court decision, Igarashi notes, "The issue of who should take responsibility for damages caused by someone lacking the capacity for judgement still remains…. Regulations relating to the indemnity liability of supervisors for people who are not criminally responsible have not been changed since the establishment of the current Civil Code," arguing that legislation is required to establish compensation fitting for the current situation.
・Yukio Wada and Shigeto Yonemura, "Are you saying we should just shut dementia away?", Chuokoron, October issue
In an interview in Chuo Koron with certified careworker Yukio Wada, medical doctor and University of Tokyo associate professor Shigeto Yonemura states his concern that, since the Supreme Court decision makes hospitals and nursing homes responsible, it may lead to a situation in which, "Hospitals and care facilities will not accept seniors with dementia, or will lock them up inside the facility.... The nursing care system has maintained a tenuous balance between hospitals, nursing care facilities, and families until now, but there is the risk that it will collapse all at once."
His criticism did not end there: "The Supreme Court released a vague decision stating that the family could be held responsible in some cases, and as a result it has become unclear who is responsible." He gave his opinion that the only way to deal with the current situation was to use government benefits to cover compensation payments.
With 30 years of experience in nursing care, Wada stated that whether someone has dementia or a physical disability, "everyone being able to live an independent lifestyle in their local community," is fundamental, arguing that locking people in or limiting their actions should be avoided, and so the Supreme Court decision was "extremely regrettable." Yonemura also emphasized that "a soft approach to watch over people within the community would be more constructive."
Photo: Reuters/ AFLO
*This page was created independently by Foreign Press Center Japan, and does not reflect the opinion of the Japanese government or any other organization.