Obama's Hiroshima Visit/Ken Takakura and China
post date : 2016.07.11
■ Obama's Hiroshima Visit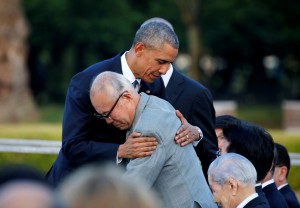 ・Shigeaki Mori, "Obama hugged me in Hiroshima," Bungeishunju, July issue
U.S. president Barack Obama's May 27 visit to Hiroshima, site of the first atomic bombing, was a historic event not just from the perspective of reconciliation between Japan and the U.S., but as a step towards the abolition of nuclear weapons. The moving image of Obama hugging an atomic bomb survivor after his speech was seen around the world. (Photo: Reuters/AFLO )
That atomic bomb survivor was historian Shigeaki Mori, a resident of Hiroshima. Stating that "when it comes to atomic bomb victims, nationality is not important," he has spent years researching the captive American soldiers who died in the atomic bombing of Hiroshima. In an exclusive article in Bungeishunju, he reveals that he first learned about the U.S. soldiers killed in the atomic bombing from the NHK's 1974-75 "A-Bomb Pictures" project. The project's pictures included over 20 drawn of American soldiers. This led to Mori reading as many official documents and records as he could find, both Japanese and foreign, and he writes that "For many years in the U.S., no official records mentioned that American soldiers died in the atomic bombing of Hiroshima. They thought they had used this terrifying new weapon, the atomic bomb, only on the Japanese, but they had also accidentally killed their own soldiers. The government at the time may have hidden the truth out of concern that it could turn public opinion in the U.S. against them."
A total of 12 American soldiers died in the atomic bombing, including the crew of a B-24 bomber that was shot down in the mountains of the Chugoku region in late July 1945. They had been transferred to Hiroshima for interrogation. However, the captain of the bomber, Thomas Cartwright, was transferred to Tokyo and thus escaped the bombing. After the war, he became a professor of agriculture. In 1999, after corresponding with Mori, Cartwright visited Hiroshima for the first time in over 50 years, along with his family and a fellow veteran. At that time, Mori had a memorial plaque made at his own expense, with text written by Cartwright.
Mori was initially hesitant about the invitation to Obama's speech, but he was encouraged to go by a letter from the American director of the 2015 movie about the American soldiers killed in the bombing: "You will not be attending alone. The twelve American soldiers killed in the atomic bombing will be with you in spirit." Mori concludes his article by writing that "President Obama embraced not only me, but all those who were victims of the atomic bombing, no matter what their nationality."
・Tadatoshi Akiba, "A milestone for making a nuclear-free world," Sekai, July issue
In an essay in Sekai, former Hiroshima mayor Tadatoshi Akiba looks back over the history of negotiations that began in the late 1970s between the U.S. government and Hiroshima, the first city to be atomic bombed, and stated his appreciation of Obama's visit to Hiroshima.
Akiba mentions that a significant change in public opinion in the U.S. was a factor in Obama's visit to Hiroshima. In 1945, 85% to 90% of Americans thought that dropping the atomic bomb was justified, but that number dropped to 67% in 2009 and to less than 60% in 2015. Akiba's analysis is "It seems clear that public opinion changed quite rapidly. This is what led to there being very little opposition that claimed a visit to Hiroshima would be tantamount to an apology."
He also noted one effect of the visit was that "Not only do the atomic bomb survivors and residents of Hiroshima not hate the U.S. or Americans, they welcome them with open arms." He also emphasized that this was a major step for reconciliation between Japan and the U.S.: "The power of reconciliation goes beyond any hate, resentment, or desire for revenge."
Akiba also argued that although there was no apology included in the president's speech, "It indicated a stance towards reconciliation" and "President Obama's Hiroshima visit was a starting point for an apology." In Akiba's view, reconciliation involves "…a rejection of violence and war, and ending the cycle of hate, violence, and retribution. Then, finding common ground, no matter how small, and working together to create a peaceful future."
He also thanked Obama for using hibakusha, the Japanese term for atomic bomb survivors, in his speech, and declared that "…thanks to President Obama's sincerity and humanity, and the fact that if even for only a short time he dealt honestly with hibakusha and Hiroshima, I believe many hibakusha felt saved."
■ Ken Takakura and China
 ・Liu Wenbing, "Ken Takakura and China—Japanese movies and stars, and the history of their acceptance," Gaiko, July issue
Waseda University lecturer Liu Wenbing writes in the July issue of Gaiko that Japanese movie stars in the postwar period were accepted by the Chinese public despite the difficult political situation between China and Japan at the time, and that they had a major influence on the Chinese perception of Japan. One actor who achieved incredible popularity among the Chinese public was Ken Takakura. Liu writes "His masculine performances led to various forms of media covering the topic of 'the nature of true manliness,' with 尋找男子漢 [xun zhao nan zi han] (looking for a manly man) becoming a popular phrase in the early 1980s."
Ken Takakura was not only considered by Chinese women at the time as the ideal husband, he was also voted as the most popular movie star in China in a 1983 poll that included both domestic and foreign actors. Liu noted the extent of his influence: "He played a deciding role in helping shift the perception of Japanese people from that of cruel soldiers, to normal humans."
However, regarding the history of acceptance of Japanese movies and Japanese movie stars, he states that "An ambivalent duality, a mix of both friendliness and aversion, of hate and admiration, is a unique characteristic of the Chinese acceptance of Japanese culture."
After the fervor of the Japanese movie boom passed, during the 17-year period from 2000 to 2016 only 20 Japanese movies were released in China. Lamenting this situation, Liu argues: "Today, it is incredibly important for both Japan and China not  to just rely on a simplistic image of the other country, but to establish a new model of acceptance for foreign culture, taking a serious look at the other country and working towards mutual understanding." 
*This page was created independently by Foreign Press Center Japan, and does not reflect the opinion of the Japanese government or any other organization.