Anecdotes about Political Figures/Trump Phenomenon and Japan-US Relations
post date : 2016.05.26
■  Anecdotes about Prime Minister Abe's Father and Grandfather
・Yoko Abe, "Shinzo is a child of destiny," Bungeishunju, June issue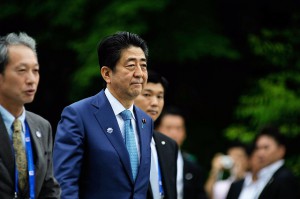 In a long interview with Bungeishunju, Prime Minister Shinzo Abe's mother Yoko Abe speaks about her father, former Prime Minister Nobusuke Kishi (Abe's grandfather); her husband, former Minister for Foreign Affairs Shintaro Abe (Abe's father); and her second son (Abe), shedding light on three generations of the backstage of politics. This is the first interview she has given since the beginning of the second Abe administration, but as this is the 25th anniversary of her husband's death, she was willing to give this rare interview. She also stated "I intend to make this the last time I respond to an interview for the media."
Ms. Yoko believes that Abe's "policies are similar to his grandfather, and political situation is similar to his father." His "policies are similar to his grandfather" in that just as Kishi staked his position as prime minister on revising the US-Japan Security Treaty in 1960, Abe put all his efforts towards passing security legislation. "Fifty-five years later, seeing Shinzo pledging his life to work for the nation just as my father did, I couldn't help but feel it was destiny." Last year, when the deliberation over the security legislation had reached its climax, she says Abe "talked less than normal," and reminisces that when Kishi felt he was in a precarious position while there was serious conflict over the issue of security, he "talked less, had a serious look in his eyes, and his face darkened."
The constitutional reform that Abe looks to achieve was also one of Kishi's greatest desires. Ms. Yoko declares: "Personally, I think the constitution should be revised. Considering how much times have changed, perhaps a new constitution should be made to reflect this new age."
Abe's "political situation is similar to his father" insomuch as both father and son encountered difficult conditions as they rose to power. Shintaro Abe was said to be a front runner in the 1987 election for LDP president, but missed his chance at the seat of prime minister due to Yasuhiro Nakasone (prime minister at the time) nominating Noboru Takeshita. During the struggle over who would succeed Takeshita as prime minister, Shintaro Abe (Minister for Foreign Affairs at the time) passed away from pancreatic cancer. During his first run as prime minister, Shinzo Abe resigned in September 2007 due to suffering from ulcerative colitis. According to Ms. Yoko, both father and son were similar, and "have a stubborn streak, and wouldn't listen to anyone else once they said they'd do something… Although they would speak harshly on the surface, inside they care about others."
Known as "the godmother of the political world," Ms. Yoko says "I felt purpose in my life, giving everything I had in order to support people who were active in national politics." Saying that even now she is interested in elections whenever they are held, she presented an anecdote about how she asked Abe "Are both Upper and Lower House elections ever held on the same day," and Abe did not answer clearly.
■  Anecdotes about Minister for Foreign Affairs Fumio Kishida and US Secretary of State John Kerry 
・Fumio Kishida, "Hopes for Obama's Hiroshima visit," Bungeishunju, June issue
On May 27, after the G7 Summit, American President Barack Obama will visit Hiroshima for the first time. In the June issue of Bungeishunju, Minister for Foreign Affairs Fumio Kishida writes that US Secretary of State John Kerry contributed significantly to bringing about this historic visit. During the G7 Foreign Ministers' Meeting in Hiroshima held in mid-April, after all the foreign ministers lay flowers at the Cenotaph for the Atomic Bomb Victims, Kerry suddenly suggested to Kishida that they visit the Atomic Bomb Dome, which had not been part of the itinerary.
Kishida introduces the message that Kerry left in the guestbook at the Hiroshima Peace Memorial Museum: "… War must be the last resort – never the first choice. This memorial compels us all to redouble our efforts to change the world, to find peace and build the future so yearned for by citizens everywhere." Kishida states that "I believe these feelings are why he then proposed we visit the Atomic Bomb Dome."
■The Trump Phenomenon and Japan-US Relations
Real-estate mogul Donald Trump is now certain to be the Republican candidate for the next United States presidential election. With his criticism of the Japan-US security alliance and of the devalued yen, there is increasing concern within Japan over Trump. In addition to opinion magazines devoting a significant number of pages to background and analysis of the "Trump phenomenon," they are also looking at what effect this massive paradigm shift that is happening in the US will have on future Japan-US relations.
・Yoshiko Sakurai, "Have the strategy and resolve to overcome the greatest threat to Japan's national security," Seiron, June issue
 Pundit Yoshiko Sakurai strongly objects to Trump's harsh criticism of the Japan-US alliance and security treaty, but also points out how this phenomenon is having a positive effect on the security debate in Japan.
Trump has said the US-Japan Security Treaty is a "pretty one-sided agreement," and that the US "cannot afford to be losing vast amounts of billions of dollars" on defending Japan. He has said he would be willing to withdraw US troops from Japan if necessary. Sakurai criticizes that "Mr. Trump's views are based on an outdated perspective of Japan from the 1980s… He is criticizing Japan based on a perception of Japan getting a free ride on security."
However, Sakurai also states that not all effects the Trump phenomenon has had on Japan and the US are negative. One benefit according to her is how in response to one of Trump's statements, the Wall Street Journal published an editorial mentioning "Tokyo is paying 94% of the nearly $5 billion needed at Marine Corps Air Station Iwakuni" and "the Abe government reinterpreted Japan's U.S.-imposed constitution to allow 'collective self-defense,' paving the way for…new laws…" Sakurai gives her approval, saying "These kinds of efforts by Japan would not have been reported in American newspapers before," and "Just as Japan needs the US, the US needs Japan. This may have led people to recognize that now."
Speaking of the effects on the domestic Japanese debate on security, Sakurai writes "The only benefit it had was encouraging people to be aware that we cannot keep relying completely on the US for our national defense, and must revise the constitution to protect Japan ourselves," pointing out a paradoxical benefit of the Trump phenomenon.
・Lully Miura and Masato Ushio, "The Trump sensation: the ebbing tide of a superpower. Does Japan have no choice but nuclear armament," Seiron, June issue
 Visiting Scholar at the University of Tokyo and international political researcher Lully Miura notes that Trump's statement about withdrawing US troops from Japan has caused a change in the opinions of Japan's center-left on the security debate, who had until now protested about the burden of paying for bases. Saying that among the center-left in particular "The Trump phenomenon has led to the opinions that 'I would like the US military to defend us after all' and 'It only makes sense that the US defends us' growing rapidly," her analysis is that their stance has grown closer to that of the center-right who argue for a realistic division of responsibilities for the US-Japan alliance and Japanese national defense. She also commented on members of the left who oppose Japan having nuclear weapons, saying "I believe they will reach the conclusion that in order to avoid arming Japan with nuclear weapons, the US's protection is necessary."
Trump also made controversial statements suggesting Japan and South Korea should acquire nuclear weapons. Pointing out the careless management of nuclear power plants exposed after the Great East Japan Earthquake, and that strategic management is a weak point for Japan with its bureaucracy and vertically divided administration, Miura provides her opinion that "Japan does not really seem like a country capable of possessing nuclear weapons… Independent nuclear armament is likely impossible for Japan." She states that considering the international situation in East Asia, Japan arming itself with nuclear weapons is not an optimal strategy.
・Yoichi Funabashi, "Trump and the Japan-US alliance," Bungeishunju, May issue
 Along with mentioning that Trump's comments bring to mind the 1980s economic "revisionists" and debate over Japan getting a "free ride," international journalist Yoichi Funabashi gives his analysis of the Trump phenomenon: "The masses have a distrust of elites bordering on hatred. 'The elite are not just corrupt, but incompetent… They think we are losers, and are mocking us.' It is a destructive impulse driven by that sense of loss and alienation. It is a revanchist hope that wants a return to the unwavering America of the past."
Saying that the Trump phenomenon "has a major risk of weakening the political foundations of the USA that support a system based on free and open international cooperation," Funabashi calls it a significant threat to the US-Japan alliance. Furthermore, even if Democratic candidate Hillary Clinton wins the presidential election, he is concerned that the effects of the Trump phenomenon will linger and "it may become necessary for America to revise its rebalancing policy and international trade policy, including the TPP."
・Terumasa Nakanishi, "A US that does not intervene throughout the world," Voice, June issue
Kyoto University Professor Terumasa Nakanishi argues that despite Trump being treated as an anomaly, his isolationist position contrary to the past 50 years of American interventionism is actually "A perfect match for the ideals of American democracy." He highlights the fact that a non-interventionism policy of "not participating in foreign conflicts under any circumstances" was part of mainstream American ideology from the founding of the nation until World War II. Nakanishi believes this will give Trump's seemingly outlandish statements "more weight than might be expected."
*This page was created independently by Foreign Press Center Japan, and does not reflect the opinion of the Japanese government or any other organization.