New Developments in East Asian Diplomacy
post date : 2016.03.17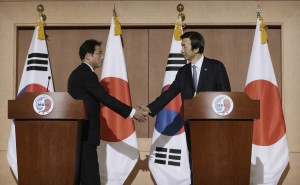 ・Neighborhood diplomacy in East Asia being put into motion: By Fumio Kishida, Diplomacy Vol. 35
・"One-China" principle puts government of Taiwan's president-elect Tsai Ing-wen to the test—Trends in East Asia after Taiwan's presidential election: By Yasuhiro Matsuda, Gaiko, Vol. 35
・"The agreement on the 'comfort-women' issue is the result of the power game between the United States and China": Kan Kimura and Shin Kawashima, Chuo Koron  March issue
(写真:AP/ AFLO) 
■  New developments in East Asian diplomacy
・Neighborhood diplomacy in East Asia being put into motion: By Fumio Kishida, Diplomacy Vol. 35
Though Japanese diplomacy has been facing difficulties in East Asia over such issues as China's rise in power and a feud with China and South Korea over history issue, trends have been shifting since around the latter half of last year. Against this backdrop, there have been new developments in the relationship between Japan and South Korea, including the recent agreement between both governments aimed at "settling" the long-standing "comfort women" issue. Foreign Minister Fumio Kishida talked about the outlook for Japan's East Asian diplomacy in an interview held just before the agreement was reached.
Commenting on the current status of Japan's relations with its neighboring countries, Kishida said: "It's true that some issues still remain, but there's been gradual progress in building trust among leaders. … In November last year, Prime Minister Shinzo Abe and South Korean President Park Geun-hye held formal talks for the first time since they took office. Also, foreign ministers from the two countries have held nine meetings so far." Kishida also said, "With efforts towards dialogue being made, I expect the South Korean court's recent not-guilty ruling on the former Seoul bureau chief of The Sankei Shimbun, as well as the summit meeting, will have a positive influence in terms of stabilizing the general relationship between Japan and South Korea."   
However, when asked if he thought the bilateral relationship was improving, he expressed caution, saying: "We've no reason to be either optimistic or pessimistic, as ties between Japan and South Korean aren't in a state whereby one specific action could dramatically improve the overall relationship." Expounding his view, Kishida added: "In Japan's relationship with South Korea—and Japan's relationship with China—historical or security-related issues could easily trigger fierce public reaction. However, if people operating in diplomatic circles were to become infuriated along with the public, it would be impossible to keep our important bilateral relationships under stable control. In the face of these difficult issues, we need to adopt a calm and resolute attitude, and continue dialogue."
On this year's Japan-China-South Korea trilateral summit to be chaired by Japan, Kishida said: "The three countries aren't supposed to merely focus on improving the interests of their own people, they also bear great responsibility for peace and prosperity in the region. From that perspective, we need to maintain and develop the tripartite cooperative framework, and, in order to achieve that, I think it's important to stabilize the respective bilateral relationships."
With regard to the Group of Seven summit to be held in Japan in May, 2016, Kishida referred to issues on which Japan has been focusing, in addition to traditional topics such as the world economy, politics and diplomacy, saying, "We're keen to promote productive discussions by taking up such issues as women's human rights, contributions in the fields of health and hygiene, and investment in high-quality infrastructure."
Commenting on the G7 foreign ministers' meeting to be held in Hiroshima—where Kishida was elected to the House of Representatives—he said given the fact that the 2015 Review Conference of the Parties to the Treaty on the Non-Proliferation of Nuclear Weapons (NPT) failed to reach consensus on a final document "Japan must pave the way for cooperation between nuclear-weapon-equipped countries and non-nuclear-weapon-equipped countries, while striving to realize realistic and practical outcomes." To achieve this, he said, "An awareness of the inhumanity of nuclear weapons will be key," adding that Japan must play a role in "promoting cooperation between nuclear-weapon-equipped countries and non-nuclear-weapon-equipped countries by using this awareness as a catalyst."
・"One-China" principle puts government of Taiwan's president-elect Tsai Ing-wen to the test—Trends in East Asia after Taiwan's presidential election: By Yasuhiro Matsuda, Gaiko, Vol. 35
In Taiwan's presidential election on January 16, Tsai Ing-wen, leader of the Democratic Progressive Party (DPP), was elected president, and the DPP returned to power for the first time in two presidential terms (eight years). In the attendant legislative election, the DPP won a landslide victory.
Explaining the reason behind the DPP's triumph, University of Tokyo Prof. Yasuhiro Matsuda pointed out it was "largely down to the self-destruction of the ruling Kuomintang," which lost support from young voters due to economic policy failure. But will the relationship between China and Taiwan be affected when Tsai of the pro-independence DPP takes office? Matsuda said the matter of how Tsai will regard "the 1992 agreement" between China and Taiwan during her inauguration speech—scheduled for May 20—will attract much attention. The 1992 agreement is a consensus on the "one China" principle between the governments led by the Communist Party of China and Taiwan's Kuomintang, though the DPP refuses to recognize the existence of the accord. However, according to Matsuda, "Tsai pledges to maintain the status quo, and has slightly changed her stance over 'the 1992 agreement.' She is expected to indirectly mention the agreement during her inauguration speech, and take a conditional stance over the accord."
Regarding the future relationship between Japan and Taiwan, Matsuda focused on a free trade agreement (FTA)—Tsai has already said she is keen to start talks with Japan in connection with this. Matsuda also noted, "[Japan] will likely ask Taiwan to lift restrictions as early as possible on imports of what Taiwan calls 'radiation-contaminated food' products." He added, "An important point is whether Japan and Taiwan can take a strategic approach to strengthening relations with important partners, without exacerbating minor problems."
Matsuda further opined: "If the DPP-led administration can successfully manage its relationship with China, this will help both Japan and the United States strengthen relations with Taiwan. Conversely, if the relationship between China and Taiwan becomes strained, Taiwan will step up efforts to strengthen ties with Japan and the United States. The U.S. presidential election will be held in 2016, so both China and Taiwan must be keen to ensure smooth political management in order to avoid being regarded as a 'troublemaker' by the new U.S. administration. There is little room for leeway, but it is possible for Japan and the United States to quietly boost ties with Taiwan based on their own strategies." Matsuda concluded by saying, "We should not take our eyes off Taiwan, which has returned to center stage in East Asian politics and diplomacy."
・"The agreement on the 'comfort-women' issue is the result of the power game between the United States and China": Kan Kimura and Shin Kawashima, Chuo Koron  March issue
Trends in East Asia are almost certainly influenced by China and the United States. Concerning the Japan-South Korea agreement on the so-called comfort women issue—which underwent rapid development at the end of 2015—the United States, with an eye on China, encouraged both countries, particularly South Korea, to reach the agreement. University of Tokyo Prof. Shin Kawashima and Kobe University Prof. Kan Kimura discussed the subtleties of the matter during their talk.
Commenting on the fact that Japan and South Korea agreed that the comfort women issue would be "finally and irreversibly resolved," Kimura said that given the lack of an official document for the agreement, "it's quite a vague accord, but it could be said that the two countries were able to reach an agreement for this very reason." Kawashima noted, "It's certain that this is a loose agreement, because both countries reserve the right to interpret it as they see fit." He added: "For the agreement, the United States also playsa role as a major onlooker. So, even though there's no official document, neither country will be able to significantly violate the agreement."
Regarding the latest agreement, Kimura said: "As the deal is obviously disadvantageous to South Korea, I never thought the country would ultimately swallow it whole. The more familiar you are with South Korea, the more you tended to make this assumption. It was therefore surprising that the country made such concessions." As for the reason for the concessions, Kimura said: "It's safe to say that this was basically done out of consideration to the United States." Kimura also said, "As a key ally of the U.S., South Korea had to show it was prioritizing the trilateral relationship between Tokyo, Washington and Seoul. South Korea's Ministry of Foreign Affairs apparently assumed that Washington would be happy if Seoul reached an agreement with Tokyo over the comfort women issue, which is the largest thorn in the side of relations between the two countries." Echoing Kimura's view, Kawashima said, "The agreement wasn't forged by Japan and South Korea alone," adding, "In talking about historical issues with Japan in 2015, South Korea was put in a difficult position, and Japan ably responded to that: Japan might have been lucky in that sense."
However, both Kimura and Kawashima pointed out that South Korea's predicament amid the rise of China is not just a case of "somebody else's problem," and close attention must be paid to future moves made by the United States. "As China grows ever-larger, South Korea, Taiwan and Hong Kong—all of which are the 'front line' vis-à-vis China—are being shaken," Kawashima said. "Thanks to the Obama administration's dialogue policy, South Korea and others are now able to adopt an ambiguous attitude. However, what will happen under the next U.S. administration? It's possible they will face a pretty difficult test of loyalty," he added. Kawashima also pointed out that if the United States and China clashed over security issues, Japan would also be required to offer a strong response, saying, "For Japan, it's desirable that Seoul shares a bigger power map with Tokyo. … In other words, both countries should jointly focus on missions concerning China. Japan shouldn't just complain about South Korea; it should also aim to build a constructive relationship with the country." Kimura issued a warning, too, saying, "The current situation faced by South Korea is one that Japan may be facing tomorrow."  
*This page was created independently by Foreign Press Center Japan, and does not reflect the opinion of the Japanese government or any other organization.