The Japan-US Alliance, and Japan's Position in Asia / A German Perspective on Japan's Historical Issues
post date : 2015.07.13
Monthly Magazines Covered This Month
Gaiko (Vol. 31)
Seiron, Chuokoron, Bungeishunju (July issues)
◆ July 2015 ◆ 
1. The Japan-US Alliance, and Japan's Position in Asia
2. A German Perspective on Japan's Historical Issues
1. The Japan-US Alliance, and Japan's Position in Asia
◆ "Reconciliation, pride, hope, and a Japan-US alliance for a new age", Interview with PM Shinzo Abe [Seiron]
◆ "New Global Geopolitics", Mr. Yoichi Funabashi [Bungeishunju]
◆ "Reconciliation and growth in Asia: Economic assistance in postwar foreign policy", Mr. Taizo Miyagi [Gaiko]
◆ "A new strategy for the age of co-creation and competition", Ms. Izumi Ohno [Gaiko]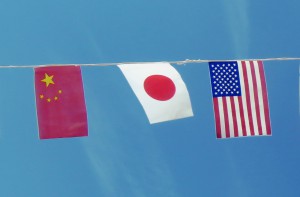 ■  Acting from a Position of Responsibility for Asian Development
All the monthly magazines have continued to discuss the Abe cabinet's foreign policy. After finishing a series of overseas visits in April, Prime Minister Shinzo Abe accepted an interview by Seiron, which ran in its July issue with the title "Reconciliation, pride, hope, and a Japan-US alliance for a new age", discussing the atmosphere during his visit to the US.
In this interview, Mr. Abe provided an anecdote about the warm reception he received, a striking change from when he visited the US after becoming prime minister in 2013. "President Obama was very kind to me. Before traveling to the US, Ambassador Kennedy asked me whether I'd liked any of the movies I'd seen recently, and I told her how impressed I was by Jersey Boys, a movie directed by Clint Eastwood about the legendary band The Four Seasons. Then when I visited the US, I had the opportunity to hear a live performance by The Four Seasons band consisting of the movie cast. It was a mini-concert during an official White House state dinner." The prime minister said the keyword for his speech at the US Congress the next day was "reconciliation," and it is clear that America was also interested in using the opportunity of this visit to build stronger cooperation in the future.
The prime minister also spoke on the TPP and AIIB, which will become the framework for a new international order in the Asia-Pacific region. "Before my visit to the US, Economy Minister Akira Amari (minister in charge of the TPP) and United States Trade Representative Michael Froman met for negotiations, and I believe an end is in sight. In my meeting with President Obama, we also agreed to work on reaching an agreement quickly." "Regarding the AIIB, I believe that Japan and China are in agreement that there is a massive amount of infrastructure demand in Asia, and that a financial system to respond to this demand is important. I believe the US is also in agreement on this point." His comments make it seem like, contrary to the Japanese media's reports on discord between major nations, the policymakers themselves are actually of one mind and are seeking an optimal solution considering the differences of public opinion in their respective countries.
What are the prime minister's thoughts on Japan's future position within Asia? After first mentioning that whether Japan will join the AIIB is still not decided, Mr. Abe said "Either way, Japan has to act from a position of being responsible for the development of Asian countries­—or countries in the region, as they are referred to in the AIIB." He also said that in order to respond to infrastructure demand in the Asian region, policies will be carried out by the Japan International Cooperation Agency, Asian Development Bank, and the Japan Bank for International Cooperation, and that "…private capital will also be used to ensure that infrastructure investment of sufficient quality and quantity is carried out in the Asia region."
■  Responding to a Reduction in American Power
The issue of joining the AIIB, a key point when considering Japan's future position in Asia, continues to be a popular topic of discussion in the monthly magazines. The point of contention is that there are both participating and not participating have merits and demerits, so it is a question of whether or not to join in a rising China's global strategy. In his "New Global Geopolitics" column in Bungeishunju, journalist Yoichi Funabashi points out that part of the reason for the AIIB issue is the reduction in American power.
Mr. Funabashi mentions that "The US was relatively public in criticizing the UK joining the AIIB as 'happily giving in to China,' but that is because of concern that this move by the UK could be seen as a hedge to the reduction of American leadership, and so the US moved to deal with it quickly." He also gave his analysis that "In the case of Japan, Japan joining the AIIB would leave the US completely alone, making the reduction in American leadership even clearer and possibly sending the wrong message to China. Neither Japan nor the US want that to happen."
Mr. Funabashi also said that while the UK is "trying to discipline the US like a father," "Japan is trying to embrace the US like a mother, or cling to it like a child that doesn't want to leave its mother." "…When the US is unable to provide sufficient leadership, and there is a gap in influence, it is up to American allies and friendly nations to fill that gap and protect the system. This is a new challenge." Mr. Funabashi states that Japan should show interest and use influence in dealing with Asia.
■  The Role of Japanese ODA in Asia
In that case, how should Japan move forward as part of Asia? Vol. 31 of Gaiko has a special feature on "A new mode of development cooperation and Japan's foreign policy strategy," looking at the state of economic cooperation, and also looking at the AIIB. In his article "Reconciliation and growth in Asia: Economic assistance in postwar foreign policy," Professor Taizo Miyagi of Sophia University explains how contrary to the way that support from other major nations was used as a political method to get their way in foreign relations, Japan's Official Development Assistance is deeply linked with measures after World War II, such as Japan's return to international society and compensation, and how during the Cold War it was used instead of military force as a tool to support the Western system. The ODA's role as a last resort to avoid American dissatisfaction over Japan's trade surplus came to an end as that age did, and the professor explained that from the late 90s onward "...the relationship with Asia, which had been one split between 'aid provider and aid recipients,' changed to that of partners building different frameworks." He ends by writing that in the 21st century, instead of just providing aid to prepare against China "...now is the time to focus on the dedication and profoundness of looking for issues shared throughout Asia in the future, and provide aid for these issues."
■  The Kind of International Contribution Japan Should Work Towards
Regarding the current state of development assistance in Asia, Professor Izumi Ohno of the National Graduate Institute for Policy Studies wrote "A new strategy for the age of co-creation and competition" in Gaiko. Ms. Ohno explains that Japan's economic advancement into the Asian region was based on major companies looking to transfer their production centers to locations with lower labor costs, due to the high value of the yen. Since the Global Financial Crisis, however, it has been mostly SMEs seeking new distribution channels. The professor also points out that previous economic assistance by ODA operated within the Japanese-style business models of major companies, such as in the manufacturing industry, entering markets. But with the present situation with most companies entering Asian markets being SMEs, cooperation between the government and private companies will be necessary to cover the weaknesses of these SMEs, such as business strategies and marketing.
Ms. Ohno provides four rules for the type of international contribution Japan should work towards in this new age. "First, establish a position as an intellectual and qualitative leader...Second, establish long-term commitments using particularly Japanese advantages: a focus on training personnel, on-site capability, high technical capability and trusted quality/productivity...Third, as a country that is a forerunner in solving emerging issues, industry, government, academia and NPOs in Japan should use their accumulated experience and knowledge to contribute...Fourth, as a way to carry out the steps mentioned above, networks of people and organizations that have been built up so far in Japan and throughout Asia should be used to their full extent, to provide intellectual development support to emerging regions worldwide using linked cooperation." According to the professor, building partnerships in Asia based on these rules would support "...a global strategy to enhance Japan's influence by using intelligence, instead of just quantitative contributions."
When thinking of what Japan's position in Asia should be, which major power the country should work with is unimportant. Japan's value in Asia will be determined by what Japan can do for Asia.
2.  A German Perspective on Japan's Historical Issues
◆ "German media portrayal of Japan's perceptions of history damages image of Japan", Mr. Norihide Miyoshi [Gaiko]
 Prime Minister Abe's statement on the 70th anniversary of World War II is a topic receiving attention both in Japan and internationally. Since relations have improved with China and South Korea, the two main countries involved in Japan's historical issues, the Japanese media doesn't seem to be as aggressive about the issue of the Abe cabinet's historical perspective. However, some foreign media outlets have maintained a severe stance towards Japan and the Abe cabinet. Mr. Norihide Miyoshi, a member of the Yomiuri Shimbun editorial board, writes in his article "German media portrayal of Japan's perceptions of history damages image of Japan" in Gaiko Vol. 31 about how this issue is one that originates within the foreign media.
As an example of how Germany's perception of Japan worsened around the time the Second Abe Cabinet was formed (December 2012), Mr. Miyoshi introduces public opinion surveys by the BBC. Between the 2012 and 2013 surveys, positive perceptions of Japan by Germans dropped by 30 points from 58% to 28%, and negative perceptions increased from 29% to 46%. These numbers are the third worst in Asia, after China and South Korea. Mr. Miyoshi believes the cause of this can be found in the German media. "The Abe cabinet's policies of Abenomics and restarting nuclear reactors are both polar opposites to a balanced fiscal policy and phasing out nuclear power, and so the German media is very critical of these points. There is also a perception that the foundation of the Abe cabinet lies in nationalism and revisionism. The idea that this kind of reporting has worsened the German perception of Japan can hardly be said to be completely off the mark."
He also points out that "...As far as I have seen in my comparisons with the media in the UK and US, this tendency is particularly strong in the German media. Although it is true the media in most developed countries are fairly critical of the Abe cabinet's historical perspective, the UK media seems to take a moderate stance without rushing to moralistic criticism. Also, while some individuals in the US media may take very critical positions, there is a lot of diversity in the media as a whole."
Based on this analysis, Mr. Miyoshi then provides his analysis on why Germans are so strict towards Japan: "With their Nazi past continually condemned, German intellectuals have partly maintained their mental balance via the distorted method of being proud of their atonement." While agreeing that their post-war atonement and restitution efforts were commendable, he also writes that "Atonement is supposed to be based on an individual's ethics, but it has become ideologized and is limiting free debate...Having an ethical base also tends to make attacks towards others more aggressive...This psychological tendency of Germans is shared widely among intellectuals such as academics, politicians and diplomats, and it appears journalism is no exception."
To conclude, Mr. Miyoshi writes about relations between Japan and Germany: "The German media's stance of focusing excessively on the historical perspective issue and constantly criticizing the current Japanese government from a moral perspective is unfortunate for Japan-German relations...The Japanese media should refrain from getting involved in the historical perspective issue and only reporting on certain aspects of Germany. Instead, they should focus the diverse possibilities that exist for relations between the two countries."
 *This page was created independently by Foreign Press Center Japan, and does not reflect the opinion of the Japanese government or any other organization.