Ms. Sun Xiuping, Stringer, Global Times (China)
post date : 2015.08.14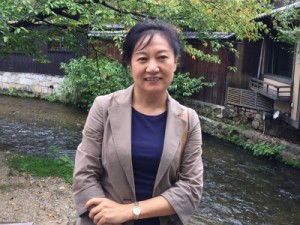 According to the analysis of Global Times' stringer Sun Xiuping, every time there is a report in China about friction in Japan-China relations, the reality of Japan is communicated less and less to China. Speaking on her 20 years as a journalist, she says "The more time passes, the more I feel the responsibility of being in a position to communicate to people." We spoke with her about reporting in Japan.
 ~ Showing the True Face of Japan ~
—What kind of articles do you usually write?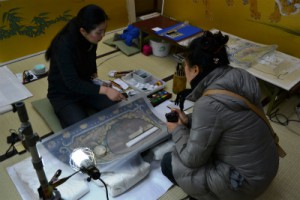 The Global Times is the most widely read international affairs newspaper in China. There is one section that introduces cultures and societies from around the world, and the articles I write on Japan mainly get published there. Recently, I wrote about konkatsu (marriage-hunting), which has been a social phenomenon in Japan these past few years. I also wrote articles on culture regarding efforts to preserve wall paintings at Nijo Castle in Kyoto, and about shojin ryori (Buddhist cooking) traditions at Jochi-ji (a Buddhist Zen temple in Kamakura), both based on press tours held by the FPCJ. I quite like the section because I can introduce things readers don't know about, like regional areas of Japan, but since cities from countries around the world are covered, it can take time before an article is published.
—You've also published a book in China based on articles you wrote from FPCJ press tours.
There are limits to the number of characters you can use when writing for a newspaper, so I collect the things I didn't have space for in the paper in books or write about them on social media. One example is my book 非常日本 [Unique Japan], which is a collection of very "Japan-like" things based on articles published in the paper. I also wanted to let my readers get a big-picture view of Japan, so I am currently preparing a sequel called 実話日本 [Real Japan], which might be published as early as this year. I also write about daily life in Japan on my personal blog. It is connected with Weibo, essentially a Chinese version of Twitter.
—What story has left the greatest impression on you?
Japan is a country that has progressed very rapidly in the past 100 years. China is following that same path now. Something I always keep in mind when reporting in Japan is "Which of Japan's experiences can China learn from?" From this perspective, the towel industry in Imabari, Ehime left an impression. Based on the coverage I did last year, I wrote an article about how the industry faced the risk of collapse during the 90s due to a rapid increase in inexpensive Chinese towels, and how they created a system to certify only products that met unique quality standards as Imabari Towels, opening up new markets in famous department stores and as gifts. There are a lot of points to learn from in there, such as how Chinese products are viewed overseas, and it acted as a wake-up call about mass production in China.
―What are Chinese readers most interested in?
Unsurprisingly, Japan-China relations. Since I live in Japan, I see lots of good aspects of the country, but looking at Chinese news on Japan I feel there is too much of a focus on the negative aspects of Japan-China relations. The same tendency exists in the Japanese media as well. This makes it harder to see the big picture for Japan, and interferes with attempts to understand the real Japan. The focus on problems in bilateral relations is an issue not just with Chinese media, but with Japanese media as well. My goal now and in the future is to try and communicate the real Japan to the people of China.
~ Clear Up Misunderstandings, Bring Japan and China Closer Together ~
―How did your impression of Japan change after you came here?
One thing most Chinese people have in common is that they have no knowledge about Japan between 1945 and 1972, the period of post-war recovery and the economic miracle, when relations weren't yet normalized. I myself came to Japan without knowing about the poverty in Japan after the war, and how the Japanese people reflected on the sadness of war during the recovery. Perhaps because of this, I had the impression that Japan was arrogant, patronizing, and looked down on China. But after coming to Japan in 1991, I learned about Japan myself by living here, and now my impression is that Japanese people are polite, and that it is a very orderly country.
―Do you have any advice for Chinese journalists who will come to Japan in the future?
First, abandon your preconceptions. Due to limitations on the spread of information and the influence of wars in the past, Chinese people often tend to try and look for problems with Japanese people. A lot of Chinese people who come to Japan today might still have their perceptions stuck in 1945. Reporting with a preconceived idea about what Japanese people are like will just lead to seeing nothing but negative aspects everywhere. While keeping in mind that we see each other differently, it is important to strive to use your articles to clear up misunderstandings between the people of Japan and China, and bring the two countries closer together. I would like these journalists to try and focus on the reality that they see.
―What moments make you feel fulfillment as a journalist?
When I make something I've experienced with my own eyes and ears into an article and it is printed in a newspaper, that is what makes me happiest. I am happy that I can tell at least 1.5 million readers in China about the real Japan, which isn't known in China. But as time goes on, more and more I feel the pressure of teaching Chinese readers about the Japan they do not know.
    ―――――――――――――――――――――――――――――――――――――――――――――――――――――――――――――――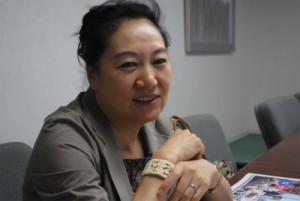 Ms. Sun Xiuping, Stringer: Born in Qiqihar, Heilongjiang, China. Graduated from the engineering faculty of the School of Heavy Machinery of Harbin Institute of Technology (Yanshan University). Came to Japan in 1991 for her husband to attend university, and after editing a newspaper targeting Chinese people in Japan she became a stringer for the Global Times in 1995. She also writes articles for the English edition of the Global Times, as well as providing articles for 環球人物 [Global Figures] and 生命時報 [Life Times], run by the same company. Published books include 非常日本 [Unique Japan] and 別様欧州 [Different Europe].
 ――――――――――――――――――――――――――――――――――――――――――――――――――――――――――――――― 
Global Times: First published in January, 1993 (Chinese edition). The most widely-read international affairs newspaper in China (circulation of 1.5 million). Operating under the People's Daily, the official newspaper of the Chinese Communist Party. The paper has approximately 350 correspondents and stringers in 75 countries around the world.