Mr. Jens H. Jensen, Japan Editor, Wallpaper* (UK)
post date : 2015.06.09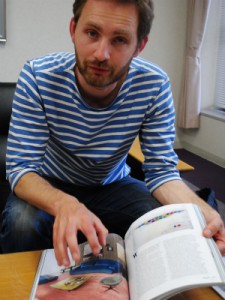 Wallpaper* is a monthly magazine based in London about trends in architecture, design and fashion. Jens H. Jensen, the magazine's Japan Editor, says "I think that a lot of readers around the world are very interested not just in 'Cool Japan', but in Japanese culture in general." We spoke with him about what aspects of Japanese culture he is most interested in covering.
More to Japan than Just a "Beautiful Country" or "Cool Japan"
—What is your impression of Japan?
I studied Japanese Studies at the University of London, so I was familiar with Japanese culture including literature and movies, and didn't have a particular preconceived notion of Japan. However, when I actually came to Japan, for one thing, I felt like there was a lack of urban planning. Japanese architecture, both old and new, is great, and there is beautiful scenery here, but the buildings are all different heights and colors, and it just makes the urban landscape look messy.
—You also mentioned that in your article on Kamakura in the April issue of Wallpaper*.
I live in Kamakura, and I love it there, but there are still some things I would like to see change. In my article on Kamakura, instead of just listing all its good features, I also pointed out issues such as how the power cables obstruct the view. In Denmark, all the power and telephone cables are underground, and they don't interfere with the view. Wallpaper* does cover the cool parts of Japan, but instead of just showing the parts that are pretty or cool, I believe it is my role to use my writing to tell readers about the real Japan. I want readers to learn about Japan beyond the "Beautiful Country" or "Cool Japan" slogans.
—What kind of magazine is Wallpaper*?
Wallpaper* is a lifestyle magazine focusing on architecture, design, and fashion, as well as a bit of travel information. For my Kamakura article, instead of just listing recommended hotels or restaurants, as most Japanese magazine would do, I also wrote about things I like about Japan and issues based on my personal opinion. Part of Wallpaper*'s uniqueness is also in the way that we use photos. We hardly ever use stock or PR photos and the pictures don't always coincide perfectly with the content of the article, so sometimes what is shown in the pictures isn't even mentioned in the article. The photos tell an independent story from the copy and are always visually interesting by themselves.
—Are there differences in content or frequency between magazine articles and online articles?
Entirely different articles are posted online and in the magazine. Magazine articles are longer, like the article introducing Kamakura. If I think something is worth covering, I pitch my story to our London head office, and I usually have articles from Japan in the magazine about once every two months or so. For the online edition, the articles tend to be shorter and more timely. For instance I cover new exciting architecture or museum openings, etc. Recently, I wrote articles about the Kyoto National Museum's Heisei Chishinkan wing designed by Yoshio Taniguchi, and about the Miu Miu new flagship store in Aoyama, Tokyo that was designed by Herzog & de Meuron. When the Hokuriku Shinkansen started running in March this year, I wrote an article on Ken Okuyama, who did the design for the new trains.
Going Outside Tokyo to Find New People and Places
—With the upcoming Tokyo Olympics, a lot of local governments have become more interested in providing information to an overseas audience.
I think a lot of people outside Japan are really interested in Japanese culture and not Japanese politics or economics. I would like to tell stories about the amazing culture and people of Japan, and I love to travel around Japan to discover new people and places. I write articles that focus mainly on architecture, art, design and travel, but I also cover technology, crafts, etc. If you hear of any interesting new art events or museum openings please let me know!
—What kind of stories are you thinking of covering in the future?
I am interested in doing more stories from the more rural areas of Japan. When the majority of our readers think about Japan, they probably mainly think of Tokyo, and maybe Kyoto. But there are so many other exciting places and people that Japan has to offer. Right now I am planning to do a story from Naoshima and the Seto Inland Sea on the Art Trienale and new architecture there. 
—Is there a specific subject you are interested in?
I am interested in Japan's monozukuri and craftsman culture. There are master artisans in countries around the world, but Japan has some really interesting ones, with craftsmen dedicating their life to for instance bamboo only, or using skills passed down for over 20 generations. Denmark is famous for making and designing furniture, but unfortunately more and more of the furniture is actually being made outside the country. When the designer and the craftsman are not in close contact, adjusting fine details becomes difficult, and the final product suffers. In Japan, the craftsman is often both the designer and the one making the product. Or the designer and the craftsman will work closely with each other and keep in close communication. I believe this is one of the secrets of Japan's many amazing products. 
Japan Editor, A Bit of Everything
—How did you become Japan Editor for Wallpaper*?
I don't have any formal training as a journalist, but I had years of experience writing books and writing articles for mainly Japanese magazines. I only became Japan Editor relatively recently, in February last year. I was introduced by an acquaintance to our editorial director who was looking for someone to represent the magazine in Japan, as the position had been vacant a few years. 
—What is your role as Japan Editor?
When it comes to writing articles, basically everything is up to me, from choosing the topic to deciding on the actual content. So there is a lot of freedom, and it is very fulfilling. Of the articles I've written recently, the only one I was told to write by the head office was the article I mentioned earlier about the building in Aoyama, Tokyo designed by Herzog & de Meuron. As well as writing articles, I handle any other work involving Japan and represent the magazine when relevant. For the Handmade exhibition we do every year at the Milan Furniture Fair, an art piece combining a cutting board and an hourglass was exhibited. This was a collaboration between Japanese designer Koichi Futatsumata and Danish watch company Skagen. Wallpaper* commissioned the work from both parties, and as Japan Editor I acted as a liaison to ensure everything went smoothly.
    ―――――――――――――――――――――――――――――――――――――――――――――――――――――――――――――――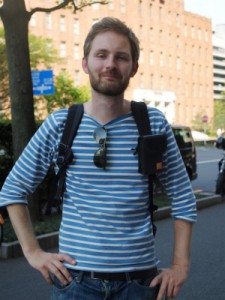 Jens H. Jensen, Japan Editor
Born in Denmark. BA in Japanese Studies from University of London School of Oriental and African Studies (in his second year, studied abroad at Tokyo University of Foreign Studies). After coming to Japan in 2002, worked at an architecture firm and a small branding agency and at the Embassy of Denmark in Japan, before becoming Japan Editor of Wallpaper* in February 2014. Writes articles on design, art, artisan craftsmanship, and travel.
   ―――――――――――――――――――――――――――――――――――――――――――――――――――――――――――――――  
Established in England in 1996. A monthly magazine introducing trends in design, architecture and fashion, as well as travel information, from around the world. It is sold in 93 countries, with a monthly circulation of 100,000 copies (including the digital edition).