Ms. Maha Matsumura, Reporter, Al Jazeera Tokyo Bureau (Qatar)
post date : 2014.11.25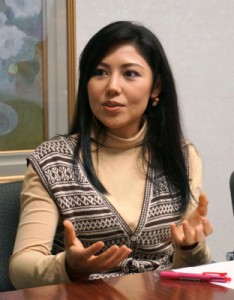 According to Al Jazeera Tokyo Bureau reporter Ms. Maha Matsumura, "Japan is essentially a mystery" as far as the Middle East is concerned. Ms. Matsumura was born and raised in the Syrian capital of Damascus to a Japanese mother and Syrian father, and first visited Japan in her twenties. We asked Ms. Matsumura about how she presents Japan to the Middle East when she is reporting.
–What is your impression of Japan?
On the plus side, I feel that Japanese people are methodical, well-organized, and punctual. On the other hand, social issues in Japan such as suicide and kodokushi ('lonely death') seem unlikely to occur in the Middle East, where people have very strong bonds with each other.
 –What kind of Japanese news are people in the Middle East interested in?
Viewers find most Japanese topics unusual, in the same way that Japanese people tend not to know much about Middle Eastern countries. Capsule hotels are one example. Since people in the Middle East want to go to luxurious five-star hotels with pools and the like, so they are baffled by why Japanese people would want to stay in a capsule hotel. Japan seems like a far-off country to people in the Middle East, a mystery. I also have to be careful what themes I cover. For example, since it is a Muslim society, video of fashion shows or other situations where women would wear miniskirts has to be avoided.
–Why did you become a journalist, and how did you feel about becoming a correspondent at the Al Jazeera Tokyo Bureau?
I didn't plan to become a journalist, and so didn't study it in particular, but I feel it was fate. It all started with me working at MBC, the Middle East Broadcasting Corporation (UAE). Working there, I learned the skills necessary for a journalist and grew more interested in the field. It was then that I was approached by the Al Jazeera Tokyo Bureau. I would have the opportunity to decide on themes, arrange interviews and write scripts all by myself there. I had never done a report entirely by myself until then, and so wasn't fully confident, but I feel a strong sense of responsibility for this work.
–Does being half-Japanese help with your work?
I'm called 'half' in Japanese, but I'd prefer to be called 'double'. I would like to act as a bridge between the Middle East and Japan. I like the cultures of both Japan and Syria. The war that is going on in Syria hasn't made me hate Syria. Being in Japan, I could even say that I like all of the Middle East that speaks Arabic as a common language. It may be difficult due to how separated the Middle East and Japan are, but I hope the residents of both will learn to understand the other's way of thinking. My goal is to promote mutual understanding through my work.
–Which story made the strongest impression on you of those you have covered?
I remember doing a story on the Chiran Peace Museum for Kamikaze Pilots in Kagoshima Prefecture took a lot of effort. It took a month and a half to get permission to film the museum, and even then they were very strict on what could and could not be filmed. I used clips from Hayao Miyazaki's The Wind Rises (2013) in the video, and getting permission to use those clips took time as well, so the report took around two months to finish. That was actually my first assignment at the Al Jazeera Tokyo Bureau, and it drove home how difficult this job is.
–Have you ever encountered any difficulties reporting in Japan?
It is very difficult to arrange interviews and filming at multiple locations to cover a story from a variety of angles. After deciding on a theme, I will ask at least five companies for interviews, and if I'm lucky one of them will agree. In early June this year, I researched stories in Kyoto, Osaka and Kobe over the course of five days. While in Kyoto I wanted to look into Zen, rock gardens and maiko, but no temples would agree to let me film and so I had to get help from the Tourism Agency. I had to make five stories over five days that time. Making arrangements is really the hardest part.
–What is a day of work like for you?
I start by spending about three hours reading the major Japanese newspapers. Then I start arranging appointments and writing scripts. My finished reports are often aired as international news as part of the 7 PM evening news. Almost all of the programs* aired can be watched on YouTube as well. They are only available in Arabic, but in the future when I've quit my job and have free time, I'd like to translate them into Japanese.
*Report from a FPCJ press tour (September 4 to 5, 2014; Ise Press Tour:
"The People of Ise and Jingu, the Most Sacred Site in Japan")
   ―――――――――――――――――――――――――――――――――――――――――――――――――――――――――――――――
Ms. Maha Matsumura, Tokyo Bureau Reporter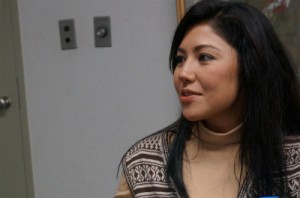 Born in December 1980 in Damascus, Syria. Graduated from the Damascus Tourism College in 1999 before majoring in animation at Yoyogi Animation Gakuin. After working in the tourism industry in Japan and abroad, worked as a freelance reporter at MBC (UAE), covering various topics about Japan such as Iga ninja and the Science Museum in Odaiba, and at Alkass Sport Channel (Qatar) covering the AFC Asian Cup (Doha) and Toyota Cup (Tokyo) in 2011. In her current position at the Al Jazeera Tokyo Bureau since October 2013, in charge of reporting on culture.
   ―――――――――――――――――――――――――――――――――――――――――――――――――――――――――――――――
Al Jazeera, referring to 'the peninsula' in Arabic, is a Doha-based satellite TV broadcaster established in 1996 and funded by the House of Thani, the Emir of Qatar. It reaches about 250 million households in more than 100 countries and broadcasts in Arabic, English, Russian, etc. It has 65 bureaus across the globe. The Tokyo bureau opened in 2004. Three journalists work there including Ms. Matsumura. The other two cover politics and the economy, and sports.