Ms. Foo Choo Wei, Japanese Correspondent, Lianhe Zaobao, Singapore Press Holdings (Singapore)
post date : 2014.04.04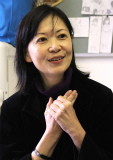 Interview with Ms. Foo Choo Wei, Japanese correspondent for Lianhe Zaobao, a Chinese language paper published by Singapore Press Holdings Limited.  Ms. Foo has been transmitting information from Japan for the past 14 years.  "Japan has some wonderful facets that you don't see unless you live here," she says.  We asked her about reporting in Japan and her impressions of Japan.
- What kind of a place is Japan?
 In a word, it seems very clean.  When entering a house, people arrange their shoes neatly.  This is true in homes, traditional inns and even public buildings.  Even after a disaster, shoes are neatly arranged.  You don't see this in other countries.  Japanese hospitality is another aspect people wouldn't understand without visiting or living in Japan.  When shopping, the store clerks demonstrate hospitality in their every action.  I call this "work from the heart".  Japan has some wonderful facets that you don't see unless you live here.
~ Motivation from "Old Cool Japan", a Series Starring Momoe Yamaguchi ~
- Why did you decide to become a journalist?
 At first, instead of journalism I was interested in drama and producing television series, and wanted a job in television.  At the time, there were no universities in Singapore with media studies, so I decided to study overseas.  My reason for choosing Japan is because of what is called "Cool Japan" now.  I guess you could call it "Old Cool Japan".  There was a show starring Momoe Yamaguchi being broadcast at the time that influenced me.  After graduating from university, I was told by my father who works as a TV producer that it would be better to start work with news programs before working with serials, and so I started work in journalism.
- What was the most memorable story you have covered so far?
 The Great East Japan Earthquake left a strong impression.  When March 11 approaches, I visit affected areas and every year I meet with and interview the same people.  Reporting on disasters is different from other coverage, both for the reporters and the people being reported on.  The journalist's questions can bring up bitter memories.  It is important for those reporting to also think about how to overcome problems.  In the twenty-some years I have been a journalist since graduating from university, the Great East Japan Earthquake in 2011 and the Indonesian riots in 1998 are the two stories that made the strongest impression.  Natural disasters and wars both cause people pain.  They make happy moments end immediately.
~ Singapore Media Articles Spread Throughout Southeast Asia ~
- What kind of themes are you thinking of covering in the future?
 It might not seem that exciting, but I am interested in small and medium businesses.  Behind the success of major corporations like Toyota, there is the support of small and medium businesses, but people in Southeast Asia are not yet aware of this.  The Japanese economy is said to be stagnant, but I think that it has undiscovered treasures that should be reported on more.
- Why do you keep Southeast Asian readers in mind, in addition to readers in Singapore?
 Articles from Singapore media are also seen in China, Hong Kong and Southeast Asia.  The online version of Lianhe Zaobao is accessed by a lot of Chinese people from around the world, so when writing articles I keep readers throughout Southeast Asia in mind.  As a specific example of an article that had a noticeable impact, there was an article explaining the popularity of Japanese cosmetics.  With the caption "Japanese Women Cannot Go Outside Without Makeup", it mentioned the everyday sight of Japanese women putting on foundation to take out the garbage.  This article was introduced in Malaysian newspapers and on online news sites in a variety of countries.
~ Asian Trust That Japan Will Never Go to War Again is Important ~
- When you decided to study in Japan, was your family resistant to the idea?
 My grandmother wouldn't even talk to me, she was so against it.  She suffered during World War II.  I think that since her only impression of Japanese people was from the war, she was afraid of her granddaughter going to Japan.  I told my grandmother that Japan was not the same as it used to be.  She even came to Japan.  It is important for Japan to gain Asian trust that they will never go to war again.  Even the generations that suffered through difficult times are trying to see Japan for how it is now.
  ―――――――――――――――――――――――――――――――――――――――――――――――――――――――――――――――
Lianhe Zaobao, Singapore Press Holdings Limited
Singapore Press Holdings Limited is a major Singapore publisher that releases 19 newspapers (in English, Chinese, Malay and Tamil).  Main papers include The Straits Times (English) and Lianhe Zaobao (Chinese).  Lianhe Zaobao is also sold in major cities in Indonesia, Vietnam and mainland China.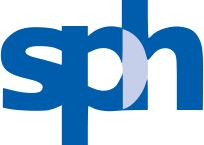 ―――――――――――――――――――――――――――――――――――――――――――――――――――――――――――――――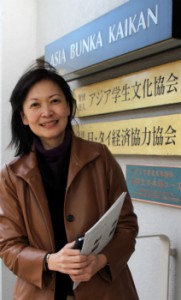 Ms. Foo Choo Wei, Japanese Correspondent
Born in Singapore, 1964. Came to Japan to study after graduating high school in Singapore. Graduated from Nihon University, College of Art, Broadcasting Department. Obtained MA at Interfaculty Initiative in Information Studies, University of Tokyo. Worked as the director of a news program in Singapore Broadcasting Corporation and then as a reporter for U channel. Since 2000, Tokyo Correspondent for Lianhe Zaobao in Singapore (Singapore Press Holdings Limited).