Mr. Carsten Germis, Correspondent for East Asia, Frankfurter Allgemeine (Germany)
post date : 2013.09.20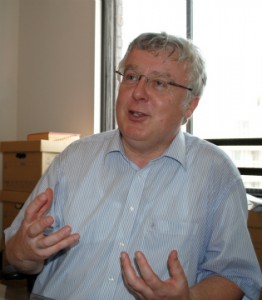 Mr. Carsten Germis, Frankfurter Allgemeine Correspondent for East Asia,  tirelessly pursues "what is happening now." Interviewed him about his view of Japan through his work of gathering information.
-Since when have you worked in Japan?
I have been in Tokyo since January 2010. It is very interesting to work as a foreign correspondent in Japan, as the country is in a process of change. I would be happy if German people get interested in this country, the people living here, and what is happening here, through my articles. In fact, I have always been interested in Japan. I have some close Japanese friends in Germany and I have always been a big fan of Japanese writers, especially of mystery writers, Natsuo Kirino, Seicho Matsumoto, Miyuki Miyabe and many others. I read most of their books when they are translated into English or German. My dream is to read them all in the original Japanese. Actually, I myself write mystery novels as a hobby. Two of my stories have been published in anthologies of short stories.
~ It was my job to write about the tough situation in Tohoku ~
-What is your most impressive work in Japan?
The disaster in March 2011, of course. I visited Miyagi Prefecture for five days at the end of that month. Indeed, that was one of the most impressive and touching experiences in my life. There I saw all the levels of destruction. I will remember this time for the rest of my life. The tough situation that people in Tohoku face; so many people lost their homes and are forced to live in temporary housing; and their stories about how they experienced the earthquake and tsunami. I think it was my job to write about these things. Nearly eight months later, I joined a press tour to Miyagi. The region was still devastated, but I met people, especially young people, who were really trying to bring life to the region. I appreciate and adore them very much. At the same time – and because of the unstable situation, still today - we had and we have to cover Fukushima. In my country the accident in Fukushima Daiichi called for great attention. The Berlin government was the first to decide to close down nuclear power plants. The political effect of the accident was bigger in Germany than in Japan, in a sense.
-When do you feel the greatest pleasure in being a journalist?
The words of Japanese readers in Germany made me happy at that time. They felt encouraged by my reporting, and some of them sent me really touching e-mails. After the accident of the Fukushima No.1 Nuclear Power Plant, I went to Seoul and Osaka for a few days. On the day I decided to leave Tokyo, I wrote a story about the process of leaving. First I did not plan the memo to be published as an article. I was just writing what happened, without thinking; the moments of saying good-bye to everyone and going to the airport by subway. My paper decided to print the story. When I later went to Berlin, my former chief editor told me, "Ah, I think I am not a very emotional type, but by reading your story I understood what happend in Japan at that time, and I saw and felt your and my own emotions."
~ After Fukushima, freedom of the press in Japan hugely dropped ~
-Have you experienced any difficulties in gathering information in Japan?
After Fukushima, the standard of freedom of the press in Japan hugely dropped to 53rd in the ranking of freedom of press in the world by the Reporters without borders. It is easy to find a way of reporting in the field of economy and business, but not in the political field. The access to information for journalists who do not belong to the Kisha Club is limited. The situation changed for the better under the DPJ administration. I am concerned that the Abe administration may be going back to the old time, when foreigners were not welcome to share information. Compared with the international standards the situation in Japan still is, let us say it like this, a bit special.
-How do you see Japan?
The standard of living is much higher than in most other countries. Japan is a rich country. People are friendly; Japanese food is among the best in the world; and it is a no-crime society from the viewpoint of foreigners, though I notice that more and more Japanese people feel it is becoming less safe. This country is a society in change. The Japanese society is resisting the changes, though. Every country is conservative in a way, but Japan may be a little more so. I am interested in how Japan manages to deal with the necessary changes.
-What is your advice to foreign journalists who are about to start their work in Japan?
For those media which do not have big branches with enough personnel, it is important to get some info-resources. One way is to get assistance from FPCJ, and another is to exchange information among colleagues of the foreign media in Japan. If the language ability of a newcomer is limited, a supporting staff would be needed. There is no problem to gather information in English in the business realm, but there are often difficulties to access information without speaking Japanese in the political field and local, smaller entities. Japanese people are more open than their image. If I show my genuine interest, they are often happy to explain. So, simply, try to be self-confident and start.
-What are your main fields of interest?
I am interested in the situation of young people in Japan. I am also keeping my eye on whether the "Third Arrow" of Abenomics will work or not. I am studying the economic history of Japan. Technology is noteworthy, too. Japan is a leading country of high technology such as health care robots, but there are tight regulations. I am interested in how far change will go in the next few years, or if there will be any change at all. I will watch Fukushima, too. The problem is how I make time for it all as I have to cover everything here alone.
―――――――――――――――――――――――――――――――――――――――――――――――――――――――
Mr. Carsten Germis
Born in April 1959. Originally from Hanover, Germany. M.A. (Political Science), University of Hamburg. After working at a local newspaper and others, in 1991 became a writer for Der Tagesspiegel, one of the major newspapers in Berlin. During his compulsory military service he was an engineer in a ship. After German reunification he worked for a short term as a civil servant in a state government in eastern Germany. In 2001, joined the Frankfurter Allgemeine. In 2010, became a correspondent in Tokyo. At first covered only the economy, as there was one other writer, but from the end of 2011 the branch became a single-correspondent office. Covers news in Japan, South Korea, North Korea, and Taiwan. Also writes about economics for the Swiss Neue Zürcher Zeitung. Three books including one about political scandals in West Germany.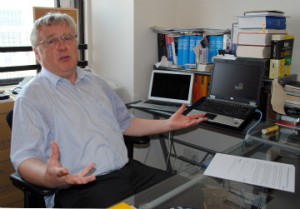 First published in 1949. Its predecessor had been established in 1856 and had been banned by the Nazis. Stands for independence. More than 70 correspondents work inside and outside Germany. Daily paper whose subscribers number more than 36 hundred thousand (as of 2011). There is also a Sunday edition. There is an official news site, "FAZ. NET" (German only).