Date : April 28, 2021
OECD Secretary-General on Japan after the COVID-19 Pandemic and Its Role in the Indo-Pacific Region
post date : 2021.04.08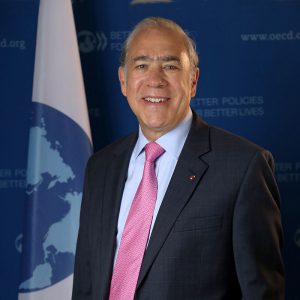 This year marks the 60th anniversary of the Organization for Economic Co-operation and Development (OECD), and Mr. Angel Gurria, who has been the OECD's Secretary-General for the past 15 years, will be stepping down this May.
The FPCJ has invited Mr. Gurria to hold a press briefing from Paris, in which he will look back on the past 15 years and the changes which occurred in the Japanese economy. He will also discuss topics such as Japan after the COVID-19 pandemic and the role of digital transformation (DX), and how Japan can contribute to development in the Indo-Pacific region, and also to fighting climate change.
■Please note that you cannot physically attend this briefing, as it will be an online press briefing held as a Zoom webinar. 


■Date: April 28 (Wed), 2021, 17:30-18:30 (Deadline for application: Noon, April 27)
■Briefer: Mr. Angel Gurría, OECD Secretary-General
■Language: Simultaneous Japanese translation of original English               
As in our standard press briefings, there will be a Q&A session at the end.
*In principle, questions will only be accepted from members of the foreign press.

■Members of the Foreign Press:
Since there will only be a limited time for Q&A, please include the questions you would like to ask the briefer with your application or please send questions to cp@fpcjpn.or.jp (Deadline for questions: Noon, April 27). For questions which multiple people submitted, the moderator will ask the question.

Embassy representatives and FPCJ supporting members may also watch the briefing as observers (admission free).
■How to Apply: Please refer to either the email or fax we sent.
*We will not be accepting applications by email.