Date : October 10, 2006
NIIGATA CITY Press Tour
post date : 2013.08.25
- La Renaissance Agricole - Japan's first ordinance-designated city in countryside with 810,000 population and food self-sufficiency ratio at 67%
Niigata City is scheduled to become the first ordinance-designated city on the Japan Sea side of Honshu, the main island of Japan, on April 1, 2007. In fact, it completed the merger of 13 neighboring cities, towns and villages last year, and its current population is 810,000. The City is the most productive agricultural area of the country with its outstandingly high 67 % ratio of food self-sufficiency, compared with the current ordinance-designated cities, for instance, Sendai City at 6%, the highest among them. Thus Japan's first ordinance-designated farming city will be born in six months' time.
Blessed with rich water resources brought by the heavy snow in winter, Niigata has long prospered as one of the major rice-farming regions in Japan. In the Edo Period, it was a major port for rice trading vessels called Kitamae-sen, and its farmland and arable lands were extended by the reclamation of the area at the mouths of the Shinano and Agano Rivers.
Today, Niigata City, situated at the center of the Echigo Plain, one of Japan's major farming areas, boasts not only its strength of agricultural production but also its advanced urban functions such as the international airport and the specially-designated port. As a hub of Asia, the City shows its strong commitment to extend the potential of agriculture and contribute globally in the fields of food, energy and environment.
Under such pressures as the FTA, the rice acreage reduction policy, and dwindling numbers of next-generation farmers, Japanese farmers are trying to cope with the structural change of the industry. However, a new trend of agri-business has made its appearance in Niigata: university researchers succeeded in producing catechol from waste rice bran; a senbei (rice cracker) maker developed fine rice that is easily digestible, targeting the elderly and the patients afflicted with life-style related diseases; a cosmetic startup created a skincare lotion using grape residue left after wine is made. In addition, given the geographical advantage, one of the agricultural cooperative associations started exporting local fruits to Russia through Niigata Airport and Port.
Together with the four other old port cities that opened their ports between the late 1850s and early 1860s, namely Yokohama, Kobe, Nagasaki, and Hakodate, Niigata opened its port in 1860 and has long developed a unique "Minato machi", or seaport, culture. On the occasion of becoming an ordinance-designated city, Niigata City has announced that it and Yokohama have jointly bid to host the G8 Summit in 2008, which they name "Old port cities Summit". In the forthcoming international event titled "Food and Flower World Forum, Niigata 2006", scheduled to take place from the day of the press tour, October 12, the City will be speaking out globally with its message, "contribute to the world by producing food and flowers". The foreign media in Tokyo will have a chance to explore the city in the middle of harvest time and rediscover the fundamental strength, flexibility and potential of Niigata's agriculture.
*Niigata City, the host, and Foreign Press Center have co-organized this press tour.
*Niigata City's home page: 
http://www.city.niigata.niigata.jp/e_page/e_index.html
Presentations
photo1: Aerial photo of Niigata city center
photo2: Mr. Akira Shinoda, Mayor of Niigata city
photo3: The health care products of Kameda Seika
photo4: Rice harvest in Niigata
1. Interview with Mr. Akira Shinoda, Mayor of Niigata city
>> Link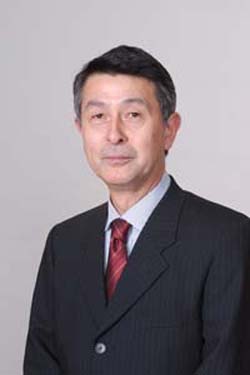 Niigata city has now a population of 810,000 after its merger with 13 neighboring cities, towns and villages in 2005. In 2002, Mr. Akira Shinoda became Mayor of Niigata city, and he promised that it would become the greatest major city on the Sea of Japan side in Honshu mainland, as he would reform the city office along with the merger. He also issued a "manifesto of merger" which includes the new concept of fiscal efficiency. There are three pillars for regional development: 1) an international major city on the Sea of Japan side, 2) a countryside-style major city, 3) a decentralized major city. Mr. Shinoda will present you the future vision of Niigata city, which is proud of its huge agricultural land, agricultural resources and beautiful natural scenery.
2. Food and Flower World Forum, Niigata Pilot Event
Taking advantage of the big merger, Niigata city launched the "Food and Flower World Forum" which includes both an international conference and an international trade fair. Following last year, it is the second pilot event of the Food and Flower World Forum, Niigata 2007. It will be held from October 12 (Thu) to 15 (Sun), 2006. An international symposium on food (theme: the quest for better food), some public events and an international trade fair for food and flower are scheduled for that period.
In this Press Tour, you will have a brief look at the venue of the forum and will be briefed by Mr. Yukio Takahashi, Director of the Agricultural Promotion Division of Niigata city, on Nii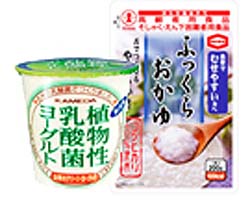 gata's agricultural policy and its activities which are the essential part of New Niigata city. Niigata city is now trying not to set "urban" in opposition to "countryside" but to combine both of them in one city. It is also seeking to promote the new trends of agriculture. The fluctuation of the rice price will be one of the bottlenecks for commercial uses, but Niigata has recently experimented with special rice cultivation as raw material of bio-ethanol, for prospective use as vehicle fuel. 
3. Kameda Seika Co., Ltd. – putting people and rice in the center - 
Kameda Seika is the leading company in making Japanese rice crackers, and they have almost a 30% market share with ARARE (pellet-shaped rice crackers) and O-SENBEI (Japanese crackers). The motto of Kameda Seika is "to show dedication to society through Japanese rice, which plays an important role in Japanese food". Thanks to their major product named "KAKINOTANE", which has sales of more than 12 billion yen annually, Kameda Seika is well known to Japanese people. Considering the health-conscious boom, the aging society and the special needs in the medical field, the Rice Science Laboratory of Kameda Seika has many projects which are focusing on uses new uses of rice. In 2000, Kameda Seika introduced a special yogurt produced with vegetable-origin lactic acid bacteria. The ingredients of the yogurt are raw milk and rice, which are fermented by bacteria extracted from rice. These bacteria help the fermentation of rice and vegetables, so it has beneficial effects on the digestive tract of Japanese, whose main food is rice.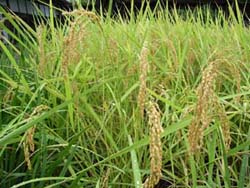 In 2003, they launched a new product named "Yume-gohan 1/25", an extremely low-protein rice which contains only 1/25 the protein of normal rice. This product was introduced for patients suffering from chronic renal failure as a special treatment food. They next launched a new product named "Yume-gohan Plus" which has only 1/10 the protein of normal rice. The main target of this product is diabetics, since diabetes is one of the major adult diseases in Japan.
They have another product named "Fukkura Okayu", a special rice porridge, which is easy for elderly people to swallow. This product has also been highly praised as a health care food identified by the Ministry of Health, Labor and Welfare. "Still we are trying to maintain our profitability in this business field," says Mr. Toshiyuki Watanabe, general manager of the Rice Science Laboratory, "but we believe that rice is important to keep our body in good health."
In this Press Tour, you will be briefed by Mr. Watanabe, and you can see the production process of the low-protein rice "Yume-gohan".
4. JA (Japan Agricultural Cooperatives) Shirone – the new trial of exporting agricultural products to Russia and Taiwan 
Shirone area, former Shirone city, is located 15km south of the Niigata city center, and it was merged into Niigata in March 2005. The main products of Shirone are fruit and flowers. Spring is the peak season for tulips, while peaches and nashi (Japanese pears) are harvested from summer to early winter. In autumn, the "Hosui" nashi, which is famous for its high content of suger - more than 13.5% -, and the giant "Shintaka" nashi, each weighing more than 800g, are shipped to "Fruits & Flowers Shirone", a collection warehouse operated by JA Shirone. After strict selection, they are delivered not only to the Japanese domestic market but recently also to the overseas market. JA Shirone started to export their agricultural products to Russia and Taiwan several years ago. Nashi, usually sold for 200-300 yen each in Japan, are also very popular among wealthy people, although they are sold for about 700 yen in Russia and for 700-900 yen in Taiwan. More and more people are conscious of "safe, secure and delicious food", the current slogan for Shirone fruit. Mr. Yoshihiro Nagasawa, Director of "Fruits & Flowers Shirone", pays visits to both Russia and Taiwan, and meets many local importers or distributors. "The total amount of export is still very small, if you compare it with the domestic market", says Mr. Nagasawa, "but I want to stimulate and encourage conservative Japanese agriculture and distribution, introducing the idea of "competition with overseas".
In this press tour, you will first be briefed by Mr. Nagasawa at "Fruits & Flowers Shirone", next you will observe the collection and selection procedure, and finally you will pay a visit to growers of nashi and also kakinomoto flowers (edible chrysanthemums), which eaten locally.
5. Northern Culture Museum
"Gono no yakata", which literally means "the residence of a wealthy farmer", is located in the Yokogoshi area, in the south-east part of Niigata, where the Agano River runs nearby. "Gono no yakata", the highlight of the Northern Culture Museum, is open to the public although it was originally the home base of the Ito family, big land owners in Echigo district (old name of northern Niigata). The Ito family goes back to the Edo period, and used to own 14 square kilometers of rice fields and farmland, which was worked by more than 2,800 tenant farmers. The Ito family was still the top land owner in Niigata in the early Showa period (1930s). 
"Gono no yakata" boasts a huge floor space of 4,000 square meters and contains 65 rooms. The tatami-matted hall was built of zelkova wood, and in every season you can enjoy the beauty of its Japanese garden. Visitors can learn what the culture of wealthy farmers used to be like, and can be impressed by the precious heritage preserved in this museum, which has been visited by the Crown Prince and Crown Princess, and also by Princess Kiko.
In this press tour, you will observe "Gono no yakata" with Mr. Bunkichi Ito, the 8th head of the Ito family, as a guide, and you will enjoy the Niigata Koshihikari Lunch at the Japanese restaurant "Misogura" in the museum.
6. Niigata Bio Research Center
To develop industry-university joint research, Niigata Bio Research Park Corporation started its operation as an incubation facility in November 2005. They are cooperating with the Niigata University of Pharmacy and Applied Life Sciences, which lies next to the center, and tenant researchers are dealing with many varieties of bio studies which aim at the promotion of local agriculture. So we can say, new technologies are about to launched, which will be the core of future bio business in Niigata.
(6-1) Production of chemical raw material "catechol", made from rice bran (Niigata Bio Research Park Corporation)
Catechol is mainly used as raw material for making Nylon or medicines. Catechol has mostly been produced from crude oil, but NBRPC succeeded in producing catechol using acid / enzyme treatment and synthesization by E. coli, from local rice bran which had previously been treated as industrial waste. Now the technology is expected to be applied to chemical fiber production and a new development of a medicine for diabetes. In this press tour, you will be briefed by Mr. Nobuo Ikekawa, who taught for many years at the Tokyo Institute of Technology and now is Chairperson of NBRPC, on the process of the development and the competitiveness and marketability of the new technology.
(6-2) Development of "Wine Cosmetics" and the natural preservative "Apolactoferrin" (NP Co., Ltd)
Sediment is produced along with wine. This sediment had been discarded as industrial waste or used as animal feed. NP Corporation now uses it as raw material for cosmetics which are rich in natural polyphenol, effective for beautiful skin. NP Corporation also developed the natural preservative "Apolactoferrin", by using the lactoferrin contained in animal milk, and by applying it into the new technology to produce Apo-type lactoferrin (with reduced iron content), which has strong antibacterial action. The company will soon launch new cosmetic products which contain Apolactferrin. NP Corporation has a local corporation in Lyon, France, where it is pushing new research and development and seeking to popularize their brand. Mr. Takao Nakamura, president of NP Corporation, will explain to you about the unique properties and possibilities of wine sediment research, and their marketing strategy including overseas markets.
(6-3) Observational study on anti-cancer activity of "petit vert", and its agricultural promotion (Niigata University of Pharmacy and Applied Life Sciences / JA Niigata Satsuki)
A new vegetable named "petit vert" ("little green") has been newly developed by cross-breeding Brussels sprouts and kale, and is produced in the Niitsu area of Niigata city as a health food. A special research group led by Prof. Konishi and lab assistant Mr. Nishida, at the Niigata University of Pharmacy and Applied Life Sciences, is now focusing on the rich components of petit vert, and is studying its anti-cancer properties. If its efficacy is confirmed in the near future, the commercial value of petit vert will increase and the needs will also expand. JA Niitsu Satsuki is now trying to encourage local farmers to cultivate petit vert, to make this vegetable a speciality product of the Niitsu area.
photo5: Mr. Yoshihiro Nagasawa, JA Shirone
photo6: selection process of Nashi, checking the suger contents
photo7: The scenery of Japanese garden from the hall of "Gono no yakata"
photo8: Mr. Nobuo Ikekawa, Chairperson of Niigata Bio Research Center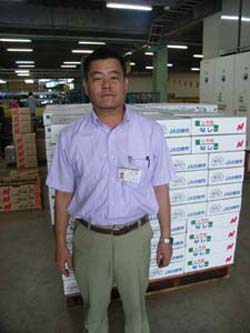 Tour itinerary and application details
Tour itinerary and application details:
1.Itinerary (Tentative):
DAY 1: Thursday, October 12
07:30 Meet at JR Tokyo Station (Joetsu Shinkansen platform)
07:48 Leave by Joetsu Shinkansen Max Toki 307
09:54 Arrive at Niigata Station (Move by Niigata City's chartered bus)
10:25 Arrive at Hotel Niigata, venue of "Food and Flower World Forum, Niigata 2006"
10:30-11:40 Briefing on the City of Niigata and its agricultural policy
12:00-13:00 Lunch (@Restaurant Port Curve Docci, Niigata City History Museum)
13:30-14:30 Courtesy call on Mayor Akira Shinoda at the City Hall
14:50-17:00 Visit Kameda Seika Corporation
18:00-20:00 "World Forum of Food and Flower Niigata Pre 2006" reception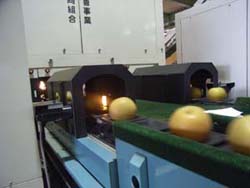 DAY 2: Friday, October 13
08:20 Leave hotel and move by Niigata City's chartered bus
09:15-11:00 Visit JA Shirone
11:30-12:30 Visit Northen Cultural Museum
12:30-13:30 Lunch (@Japanese restaurant Misogura in the Museum)
14:00-16:00 Visit Niigata City Bio Research Center
Presentations: 
1) New technology of producing catechol, industrial chemicals, from rice bran
2) Wine skincare products by NP Corporation
3) Research on the anticancer activity of Petit Vert, green salad
16:50 Arrive at Niigata Station
17:11 Leave by Joetsu Shinkansen Max Toki 340)
19:20 Arrive at Tokyo Station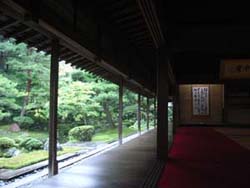 2. Qualification: Bearer of Gaimusho Press ID card
3. Expenses: 13,000 yen per person including transportation, meals and accommodation
*FPC will inform the participants of payment methods, cancellation fee etc. later on.
4. Participants: Limited to the first 10 applicants on a first-come first-served basis. 
(Only one reporter and one photographer from each company, but two 
participants from each TV team will be acceptable.) 
5. Application:
You can also find information on this press tour on
the FPC's website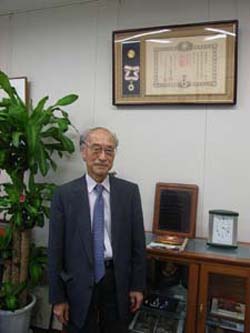 (Media Assistance, Press Tour Information): 
Please apply online from the page. You need the following username and password to access to the application form. Username: fpcj Password: members.
6. FPC Contact: Ms. Koizumi and Ms. Yoshida 
(Tel: 03-3501-5070)
7. Remarks: 
(1) There are some restrictions on photographing and filming at the tour sites. Please follow the instructions of the officials on duty.
(2) Niigata City and FPC will not be liable for any inconvenience, trouble or accident that might occur in the course of the tour.