Date : March 5, 2007
TOKYO UBIQUITOUS TECHNOLOGY PROJECT in GINZA Press Tour
post date : 2013.08.25
-Experience Ubiquitous Computing Society of the Near Future-
Date: March 5 (Monday)
"Necessary information can be obtained by anyone, anytime, and anywhere." Research and development activities to realize a ubiquitous computing society have recently accelerated.
The Tokyo Metropolitan Government has been working on the "Tokyo Ubiquitous Technology Project" since fiscal 2005 using cutting-edge information technology. In the project, various services and information have been provided on an experimental basis, using state-of-the-art ubiquitous ID technology*, in order to make Tokyo "the world's most advanced ubiquitous computing city." The Ministry of Land, Infrastructure, and Transport is also supporting this project as part of its program to realize "design for all" and a "barrier-free" universal society. 
The highlight of the project is the "Tokyo Ubiquitous Technology Project in Ginza," which has been held since January 21 this year in one of the world's busiest commercial districts, with the participation of ordinary citizens and tourists.
In this press tour, you will actually join this experiment, experience part of the upcoming ubiquitous computing society, and also cover the latest computing technology by visiting the YRP Ubiquitous Networking Laboratory, the core organization of the project in terms of technological development.
*Ubiquitous ID technology: cutting-edge technology which links the real world and virtual space by having computers automatically recognize the identifier unique to each "location" or "object." 
This press tour has been organized with the cooperation of the Tokyo Metropolitan Government, the YRP Ubiquitous Networking Laboratory, and the Japan Institute of Construction Engineering.
Presentations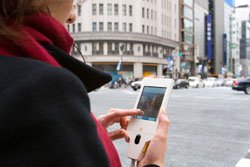 1. Tokyo Ubiquitous Technology Project in Ginza
>> Link
As part of the Tokyo Ubiquitous Technology Project, the "Ueno E-Navigation Experiment" was tried out in October-November 2005, in which information on Ueno Zoo and other museums in Ueno Park was provided. This time, however, the venue is Ginza, the up-market shopping center in Tokyo where all different kinds of electronic waves are exchanged in multi-layered constructions including underground, and people from all over the world need a whole range of information.
The experiment is now being carried out at Ginza-dori, Harumi-dori, and the Tokyo Metro Ginza Station (subway), where numbers of IC tags, infrared markers, and wireless markers are installed underground, and in the streets and buildings. All you need to do is walk around the area with a portable information terminal (Ubiquitous Communicator or QR code-compliant mobile phone), which can automatically recognize the unique code allocated to each place when you pass its IC tag or marker, and show you the on-site information, not only in Japanese but also in English, Chinese, and Korean. The terminal can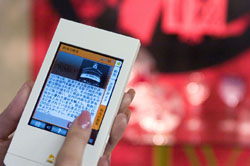 also download the latest information through a wireless LAN system. They are also trying to provide such real time information as store news, traffic, disaster prevention, and navigation services to meet the needs of each user. The experiment will continue until March 10, gradually upgrading the level of information provided in three phases.
The tour participants will experience the ubiquitous computing society of the near future by actually joining the final phase of the experiment in Ginza.
2. YRP Ubiquitous Networking Laboratory (Director: Dr. Ken Sakamura)
>> Link
YRP Ubiquitous Networking Laboratory (YRP UNL), located in Gotanda, Tokyo, is responsible for the technical development of the Tokyo Ubiquitous Technology Project. The YRP UNL was established with the aim of achieving a ubiquitous computing environment that supports our lives in a more sophisticated manner, and also establishing protocols for the next-generation communication as its infrastructure. In the ubiquitous computing environment, such devices as micro-computers with communication capabilities, sensors, and actuators will be installed in all the things around us, enabling them to communicate with each other and operate together.
As part of their R&D activities, they are developing a general-purpose computing system, which can be used by "anyone, anytime, and anywhere," and have conducted demonstration experiments in Tokyo, Kobe, Aomori, and elsewhere.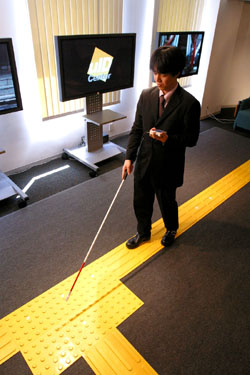 The Director of the laboratory is Dr. Ken Sakamura, professor of the University of Tokyo, a leading figure in the field of ubiquitous computing and also the world-famous computer architect who led the TRON project that started in 1984. In the tour, Dr. Sakamura will give you an account of the latest technological developments of ubiquitous computing, and also show you some demonstrations in the laboratory.
【Picture 1】Exploring the Ginza with an information provision terminal (Ubiquitous Communicator (UC))
【Picture 2】Information on shopping and sightseeing is displayed with maps, pictures and animated images
【Picture 3】Demonstration of navigation system with Ubiquitous Networking Technology at YRP UNL
(Pictures provided by YRP UNL (C)copyright YRP Ubiquitous Networking Laboratory)
Tour itinerary and application details
1.Itinerary: (transportation: subway and walking)
Monday, March 5
09:15 Meet at the exit of JR Gotanda Station (Yamanote line)
Move to YRP Ubiquitous Networking Laboratory (5 minutes on foot)
09:30-10:30 Visit YRP UNL (briefing by Dr. Sakamura and demonstrations)
Move to Ginza (by Toei Asakusa subway line)
11:00-12:00 Experience Tokyo Ubiquitous Technology Project in Ginza
12:00 Disperse
2. Qualification: Bearer of Gaimusho foreign press registration card
3. Expenses: free
4. Participants: Limited to the first 15 applicants on a first-come first-served basis.
(Only one reporter and one photographer from each company, but two participants in each TV team will be acceptable.) If the number of applicants exceeds 10, an upper limit may be set on the number of participants from each country.
5. FPC Contact: Mr. Yano and Mr. Sugawara, Media Relations Division (Tel: 03-3501-3405, 5070)
6. Remarks: 
(1) When you photograph and film at the tour sites, please follow the instructions of the officials on duty.
(2) FPC, Tokyo Metropolitan Government, YRP Ubiquitous Networking Laboratory, and Japan Institute of Construction Engineering will not be liable for any inconvenience, trouble or accident that might occur in the course of the tour.
(3)We have Japanese, English, Chinese (simplified), Chinese (traditional), and Korean version of portable information terminals (Ubiquitous Communicator (UC)). Please specify which version you need in the entry field "OTHERS" of the application form.