Date : June 20, 2006
"Made in Japan" Musical Instruments Press Tour
post date : 2013.08.24
"City of Music" Hamamatsu, Shizuoka pref. and the expanding musical market for the middle-aged and the elderly
"Music lessons for adults" are getting popular in Japan. Companies are launching various services targeting not only children or youngsters who used to be the main customers, but also baby boomers who are said to have "200 thousand hours after their retirement". So, people have come to want a range of musical instruments, from "high-tech" instruments invented by leading companies to "high-quality" instruments made by craftsmen.
Shizuoka prefecture is well known for producing almost 100% of Japan-made pianos and is the business hub for musical instruments. Hamamatsu city, in western Shizuoka, with a population of 820 thousand, is the home of YAMAHA and KAWAI, both musical instrument producers known world-wide. Hamamatsu is now putting into effect a plan to make it a livable city, by putting emphasis on the conservation of the natural environment of the Tenryu River and Lake Hamanako, and enriching its public services. But the most important policy is "Hamamatsu --the City of Music". The city is trying to shift its image from an "industrial city of musical instruments" to a "culturally developed city full of music" by holding international music competitions and concerts of famous artists, it has also opened the only public museum of musical instruments in Japan.
Another aspect of Hamamatsu is "co-existence" with foreigners. There are many transportation machinery factories in the city, where immigrant workers, especially from South America including Brazilians of Japanese descent, are employed. As one of the most "international" cities in Japan, Hamamatsu has 30,000 foreign residents of whom 18,000 are Brazilians. You can find Portuguese on signboards, and many support programs have been started by citizen's groups.
The Press Tour will focus on Hamamatsu's new policy, "City of Music" and also its internationalization, covering the trend of "Made in Japan" musical instruments, which is diversifying while keeping up their high quality. We can also see the future trend of the Japanese musical market in Hamamatsu, ready for 2007 when a rush of baby boomers will retire.
*This Press Tour is held with the courtesy of Shizuoka prefecture.
*On June 22nd, FPC will hold a press briefing titled; 
"Co-existence with Foreign Residents – the Case of Hamamatsu"
(briefer: Mr. Yasuyuki Kitawaki, Mayor of Hamamatsu city)
Presentations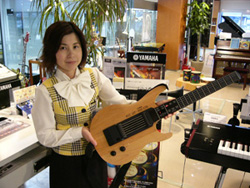 YAMAHA Corporation (Hamamatsu city)
YAMAHA, a leading company of the musical instrument industry, have launched the "Silent Series" including the "Silent Cello" and the "Silent Guitar" after its introduction of the "Silent Piano" in 1993. The "Silent Ensemble Piano", which not only cannot be heard by others but also can be set to play automatically, has a good reputation as a hybrid instrument of acoustic and digital technology, and it meets the needs of both professional artists and general users.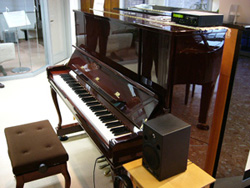 YAMAHA's grand pianos, with their 100-year-history, are loved by users all over the world including professional pianists, and have 70% share of the domestic and 30% of the international market (money basis), all of which are still produced in Hamamatsu. YAMAHA also started a new range of musical instruments.
The "EZ (= easy) series", which consists of guitars and trumpets, is popular with beginners, and this helps to broaden YAMAHA's business base. In this Press Tour, you will visit YAMAHA's grand piano factory, and experience the new line-up of its musical instruments.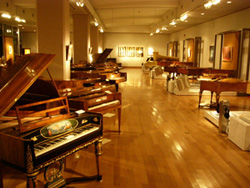 YAMAHA "Music lessons for adults"
It has been 50 years since YAMAHA started its music lesson business. Now YAMAHA regards the baby boomers as its main target believing that they were influenced by the Beatles and have a basic sense of music. The Hamamatsu store, rebuilt and completed in this March, is a beautiful glass-walled building of 8 stories, right in front of Hamamatsu station. The 6th and 7th floors of the building are for music lessons for adults, and the interior design is appropriate to the high-class image of the YAMAHA brand. As a result, the Hamamatsu store has already signed up about 350 adults for its music lessons in only two months since its renovation, and it is the flagship for YAMAHA's music schools all over Japan.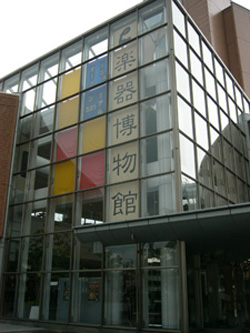 SUZUKI Musical Instrument Corporation (Hamamatsu City)
SUZUKI Musical Instrument Corporation is famous for its production of educational instruments, especially melodions and recorders, and various music classes. SUZUKI has recently placed emphasis on harmonicas, and invented an original version with a special characteristic for playing halftones, and established the "SUZUKI Harmonica Organization". SUZUKI drew up the first curriculum and textbook for learning to play the harmonica, is training future teachers, supports harmonica playing, and encourages harmonica lovers. SUZUKI's harmonica lessons are popular especially among the elderly, and are worthy of remark as a form of lifelong studies.
Hamamatsu Museum of Musical Instruments
The new symbols of Hamamatsu city are "ACT City", a complex concert hall connected to JR Hamamatsu station, and the building next to it, the "Hamamatsu Museum of Musical Instruments". This museum opened in 1995, the first public museum of musical instruments in Japan and the biggest in the East. It features not only 1200 pieces of musical instruments collected from all over the world but also videos of live performances and actual sounds on the earphone guide. Recognizing Hamamatsu as the first piano production place in Japan, this museum has a collection of more than 100 of keyboard instruments including pianos of the 19th century. Mr. Kazuhiko Shima, Director of the museum, is trying to popularize this museum as a valuable source of information on music and comments, "Thanks to this important collection, we can understand that the big grand pianos of today are not the only pianos".
Mundo de Alegria
Mundo de Alegria was established in August 2005 as the first licensed "irregular" (i.e. outside the official education system) school for Latin American children in Japan. There are many foreign residents, especially from Latin American countries, in western Shizuoka centering on Hamamatsu, and education for their children is a matter of great urgency. To deal with the problem, Shizuoka prefecture started in this fiscal year to aid this school financially, besides relaxing the qualifications for a licensed irregular school. Now Mundo de Alegria offers classes in both Spanish and Portuguese for its 100 children, about half of whom are Peruvians, another half are Brazilians, and a few Argentines. Ms. Masami Matsumoto, the Principal, was originally an employee of a private company, and is now making efforts to educate the children for real "co-existence" with multilateral understanding as all are Hamamatsu residents. Ms. Matsumoto says "We would like to turn out graduates who can support the bilateral relationship between Japan and Latin American countries in the future". We will visit Mundo de Alegria and ask Ms. Matsumoto about the problems and pleasures of running the school, and will try to understand the reality of "co-existence" with foreign residents in municipalities in Japan.
*On June 22nd, FPC will hold a press briefing titled; 
"Co-existence with Foreign Residents – the Case of Hamamatsu"
(briefer: Mr. Yasuyuki Kitawaki, Mayor of Hamamatsu city)
K. YAIRI GUITARS (Kani city, Gifu prefecture)
Acoustic guitars of the "K.Yairi" brand, loved by many famous musicians such as Paul McCartney, are made by 30 craftsmen including Mr. Kazuo Yairi, President. "Good Guitars are made of Good Wood by Good Craftsmen" is the policy of Yairi, so the wood is aged 5-10 years in the lumberyard. The completed products are also aged 10 days before shipping in a "seasoning room" which is controlled at 20 degrees Celsius, 40% humidity and continual music at full blast, to produce uniformity and good resonance. Yairi products are under permanent guarantee. Recently they developed a guitar-like new instrument called "Ichi-Go-Ichi-E" applying the principle of the Okinawan San-shin (three strings) based on the idea of "BEGIN", a popular band from Okinawa. The new instrument are getting popular among people of all ages, from children to the elderly as "the easy and enjoyable instrument for beginners". There was originally a two-year wait from placing the order to receiving a shipment, now it is down to six months. At the Yairi factory, you will grasp the concept of the Yairi brand, which never changes, and will enjoy the beautiful sound of acoustic guitars.
【photo 1】YAMAHA "EZ" guitar
【photo 2】YAMAHA "Silent Ensemble Piano"
【photo 3】keyboard instruments collection of Hamamatsu Museum of Musical Instruments
【photo 4】the outside of Hamamatsu Museum of Musical Instruments
【photo 5】Ms. Masami Matsumoto, the Principal of Mundo de Alegria
【photo 6】a classroom at Mundo de Alegria
【photo 7】Mr. Kazuo Yairi, president of K. YAIRI GUITARS 
【photo 8】guitar making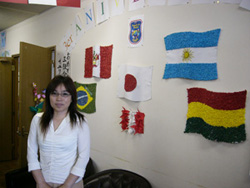 Tour itinerary and application details
1. Itinerary : 
Tuesday, June 20 (local transportation: chartered bus)
8:06 Leave JR Tokyo Station by Shinkansen (Hikari 403)
9:36 Arrive at JR Hamamatsu station
10:00〜12:00 Visit YAMAHA's showroom and the grand piano factory
12:15〜13:00 Lunch
13:30〜15:00 Visit SUZUKI Musical Instrument Corporation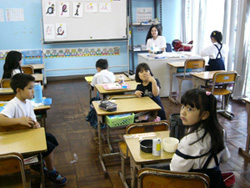 15:30〜17:30 Visit Hamamatsu Museum of Musical
Instruments
17:45 Check in at Hamamatsu Meitetsu Hotel
18:00〜19:00 Free time or dinner buffet at the hotel
19:15〜20:15 Visit YAMAHA "Music lessons for adults" at Hamamatsu store
Wednesday, June 21 (local transportation: chartered bus)
7:30 Check out at the hotel and leave
8:00〜10:00 Visit Mundo de Alegria Primary School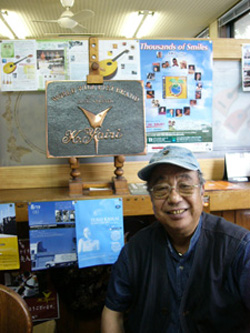 13:30〜15:30 Visit K. Yairi Guitars
17:25 Leave JR Nagoya station by Shinkansen (Nozomi 32)
19:06 Arrive at Tokyo Station and disperse
2. Qualification: Bearer of Gaimusho foreign press registration card
3. Expenses: 10,000 per person including transportation, accommodations, and meals
* FPC will later inform the participants of methods for payment, cancellation fee etc.
4. Participants: Limited to the first 15 applicants on a first-come first-served basis. (Only one reporter and one photographer from each company, but two participants from each TV team will be acceptable.)
5. Application: You can also find information on this press tour on the Press tour information of the Media Assistance Page of the FPC's website: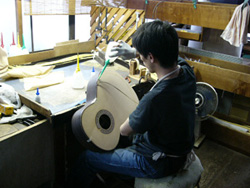 Please apply online from that page. You need the following username and password to enter the application page. 
Username: fpcj Password: members
6. FPC Contact: Mr. Yano and Ms. Yamashiro (Tel: 03-3501-3405)
7. Remarks:
(1) There are some restrictions on photographing and filming at the tour sites. Please follow the instructions of the officials on duty.
(2) FPC will not be liable for any inconvenience, trouble or accident that might occur in the course of the tour.