Date : March 27, 2007
– How to live in Super-Greying Japan – Community Medicine Press Tour
post date : 2013.08.23
--- visiting Niigata Minami Uonuma Medical and Welfare Center --- Started 30 years ago with Close Coordination of "Healthcare, Medicine, Welfare" that makes seniors healthier and happier
Date: Tuesday March 27, 2007
"Year 2007 problem" - Japan's postwar baby boomers' retirement - has been a subject of media buzz in recent years. This year 2.2 million people who were born in 1947 are due to retire, that paves the way for Japan to become a "super-greying" country. According to the 2005 National Census, the proportion of the population over 65 stands at 20.2%, the highest in the world, and is predicted to reach 30% in 2023, then 40% in 2052 (FY2006 White Paper on Aging Society). Japan is also expected to continue having fewer children in future. The question is who will be able to take care of a great number of old people, and how? It is urgent for Japan to establish a social system in which the elderly can live healthily, safely and comfortably.
Community medicine is a comprehensive medical care that consists of prevention, treatment, domiciliary care, rehabilitation, nursing care and welfare service, suited to the characteristics and social factors of the particular region. It consequently gives local residents a better quality of life. There are two leading regions in this field in Japan: Mitsugicho, Onomichi City, Hiroshima Pref., the first in the country to set up a regional comprehensive care system, and Minami Uonuma Medical and Welfare Center in Niigata Pref., which started operating its particular community medicine system based on the close coordination of healthcare, medicine and welfare since 1976.
Minami Uonuma Medical and Welfare Center was born thirty years ago when the idea of the elderly being taken care of by non-family members was new; they developed the alliance of healthcare, medicine and welfare to support life in old age. For the last thirty years it has been trying hard to keep improving its system. The Center consists of 5 major facilities: a hospital, a nursing home for the elderly, a health checkup wing, a visiting care station, and a home-help station. As all is located on the same plot and linked with corridors, it allows easier access regardless of weather or time as well as quicker action in an emergency. Also, it started visiting care services in 1980, ahead of the time, and the homecare for the aged became in common in the region. Later this was followed by the central government and the Nursing Care Insurance Law came into effect in 2000.
Minami Uonuma City is located in the southern part of Niigata Prefecture with a population of 63,000; its population over 65 stands at 24.9% (Basic Resident Register, March 2006). It is known for the magnificent Echigo Sanzan (three mountains in Niigata), Uonuma Koshihikari rice, the king of Japanese rice, and the late-Kakuei Tanaka, who when premier resumed the Japan-China diplomatic relationship 35 years ago. His statue stands in front of Urasa Station on the Joetsu Shinkansen Line; there is a plastic roof over his head and back to keep him from being covered by snow. The City promotes itself as place to live pleasantly and safely with rich natural resources.
In past press tours, FPC featured such advanced projects led by local governments as the Sendai City -Finland Wellbeing Center Project in 2005 and Toyama City's project of the compact size and easy access city for the elderly in 2006. This time, we are delighted to present Minami Uonuma's project which is not so well known but has been developed for thirty years step by step by the local people and their real life. We will see a rural community where everyone can live longer and more happily.
*Courtesy of Minami Uonuma Medical and Welfare Center and people in Minami Uonuma
Presentations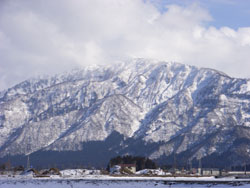 photo1: Echigo Sanzan, Mt. Hakkaisan (March 9, 2007)
photo2: Yairo-en, Special Nursing Home for the Aged
photo3: Visiting care
photo4: Helpers giving bath
1. Minami Uonuma Center for Medicine and Welfare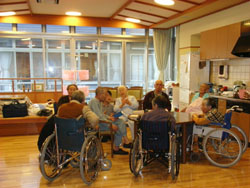 Five minutes' drive from JR Urasa Station, the Center is situated in the middle of rice paddies with the auspicious view of Mt. Hakkaisan in front. With its slogans, "Let's build our health with our own hands" and "Unification of health promotion, prevention, treatment, and rehabilitation", it has created its own community medicine and carries it out side by side with the reality of local life, culture and tradition. Five major organizations/facilities - Yukiguni Yamato Hospital, the core organization, Medical Examination Center for Farming Community for protecting local people's health, Yairo-en Special Nursing Home for the Aged, Visiting Care Station, and Helper Station in charge of welfare - work together as one and provide a variety of services for anyone, anytime and anywhere. Secretary-General Tsuneo Yoneyama believes that community medicine is a sort of livelihood support in the name of medicine.
2. Hospital Director Yoshio Saito's 30-year "humble attempt" to create Minami Uonuma's community medicine
In 1976, the year the FPCJ was born in Tokyo, Yamato Medical and Welfare Center was founded in Yamato Town, Minami Uonuma in Niigata Prefecture. Dr. Saito moved from Tokyo to Niigata, and his two great senior colleagues, former hospital director Dr. Takuo Kurowa and Dr. Tatsujiro Gondaira, implemented the framework of the Center that had been proposed earlier, with the slogan: harmonize "thorough prevention", "conscientious medicine" and "full-hearted welfare", aiming to reduce the medical expense for the elderly and ultimately ensure a happy life and dignified death for the citizens. It was begun like a joint venture and has been developed as what Director Saito calls a "humble attempt". To change the subject, he has been living in the famous "Niigata electoral district 3", the birthplace of former Prime Minister Kakuei Tanaka, witnessed the dramatic change of the region as a citizen, and realized the ambivalent structure in which rural villages were being sucked down by the central city in the process of modernization. As the population is rapidly aging everywhere in the country, many municipal governments are trying improving their own medical and welfare systems. Director Saito welcomes this move and wishes to extend it to the rebirth of local cities. We will hear his challenge and vision.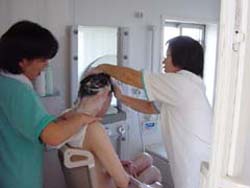 3. Visiting Care and Homecare - keystones for community medicine
Collectively located at a corner of Yukiguni Yamato Hospital, "Visiting Care Station", "Regional Comprehensive Support Center", and "Home Care Station"are all small in size but play an essential role in the community medicine. The Hospital set up the Regional Nursing Division (currently Homecare Station) in 1980 and provided such services people can receive whenever necessary as regular or emergency doctor calls. 
As a result, homecare for the aged became common in the region. Later, the Helper Station was established in 1993, followed by the Visiting Care Station 1995. In 2000 the central government followed suit and the Nursing Care Insurance Law came into effect. Currently the Visiting Care Station is operated by a staff of 10 including health nurses, clinical nurses, and physical therapists, visiting totally 6,800 households a year. They provide a variety of services, such as giving bath, assistance with elimination, rehabilitation, medical aid, and family guidance. Tour participants will be divided into small groups and accompany the visiting care staff at their work.
4. Day services and respect for the individual ? YAIRO-EN Special Nursing Home for the Aged
Currently operated by six municipalities including Minami Uonuma City, Yairo-en opened in 1975 as the seventh facility in the prefecture and in 2003 upgraded into a new type of special nursing facility (residential capacity 100 persons and short stay 20), equipped with all individual rooms and providing 'unit care', small-size caretaking. Since its opening within the Home in 1987, the Day Service Center has taken care of old people (up to 41 persons) as well as people suffering from dementia (up to 9) individually from 7:30 to 18:30 in cooperation with the local care managers. Yairo-en's policy is to respect the personality, will, and privacy of residents and users, and this is reflected in its private rooms and bathrooms. It has public spaces here and there for all the people in the Home including staff and visitors to get together to view the magnificent Echigo-sanzan mountains from the window. This is a place where both care receivers and care givers can enjoy tranquility and comfort.
5. Health checkup and food education for citizens ? KEN'YU-KAN and its special menu "Healthy Kaiseki Lunch"
Inaugurated in 1989, Ken'yu-kan, the hospital's health checkup wing, is mainly in charge of complete medical checkup, residents checkup (basic health checkup plus cancer examination), and local company employees' checkup. It also operates a health promotion program named "Health Yamato-pia" using Minami Uonuma's medical, dietary, and agricultural resources. "Healthy Kaiseki Lunch" is served as a special set meal for those who have just had a complete medical checkup and this year has the annual theme for its menu, "prevention of metabolic syndrome", an idea that came out of the checkup result data last year. Tour participants will be lucky enough to be able to enjoy this special lunch with Minami Uonuma's famous Koshihikari rice and sake 'Hakkaisan' as an aperitif. Look forward to it!
Tour itinerary and application details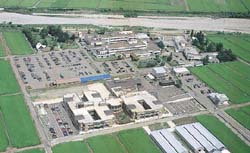 photo1: Aerial photo of Minami Uonuma Medical and Welfare center
photo2: Yukiguni Yamato Hospital, the core of the community medicine in Minami Uonuma
photo3: The late-Kakuei Tanaka's statue in front of Urasa Station on the Joetsu Shinkansen Line 
photo4: Auspicious view of Mt. Hakkaisan from the Center
1. Itinerary (Tentative):
Tuesday, March 27
08:15 Meet at JR Tokyo Station (Joetsu Shinkansen platform)
08:24 Leave by Joetsu Shinkansen Max Toki 309
09:59 Arrive at Niigata Station (Move by wagon taxi)
10:15 Arrive at Minami Uonuma Medical and Welfare Center10:30-45 Introduction to the Center by Secretary- General Yoneyama
10:45-11:30 Briefing on the 30-year history of MinamiUonuma's community medicine by Hospital Director Saito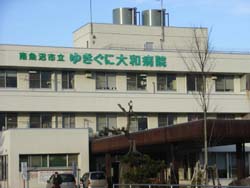 11:30-45 Briefing on Yairo-en Special Nursing Home for the Aged
11:45-12:45 Yairo-en tour
12:50-13:40 "Healthy Kaiseki Lunch" at Ken'yu-kan 
13:45-55 Visit Visiting Care Station, Regional Comprehensive Support Center, 
and Home Care Station
14:00-30 Briefing on Minami Uonuma's Home Care System and Visiting Care 
Service
14:30-16:00 Visit local residents in their homes with a nurse/physical 
therapist/helper
16:15-45 Q&A and wrap up
Leave the Center by taxi
18:14 Leave by Joetsu Shinkansen Max Toki 342
19:50 Arrive at Tokyo Station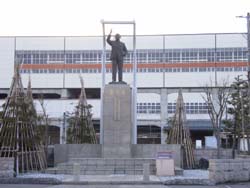 2. Qualification: Bearer of Gaimusho Press ID card
3. Expenses: 5,000 yen per person including transportation, meals and accommodation
*FPC will inform the participants of payment methods, cancellation fee etc. later on.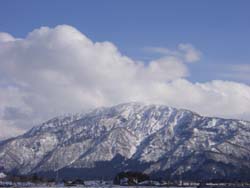 4. Participants: Limited to the first 10 applicants on a first-come first-served basis. 
(Only one reporter and one photographer from each company, but two 
participants from each TV team will be acceptable.) 
5. FPC Contact: Ms. Koizumi and Ms. Nagai (Tel: 03-3501-5070) 
6. Remarks: 
(1) There are some restrictions on photographing and filming at the tour sites. Please follow the instructions of the officials on duty.
(2) Minami-Uonuma Center for Medicine and Welfare and FPC will not be liable for any inconvenience, trouble or accident that might occur in the course of the tour.