Date : January 14, 2006
Serial Press Tours in 2006 – Experience Japanese Food Culture with Five Senses
post date : 2013.08.23
Vol. 1: Makizushi (sushi roll), Special Recipe for Hare-no-Hi, a Day of Celebration
Date: Saturday, 14 January, 2006
Presentations
Have you heard such Japanese words as hare and ke? These two words come from folklore. Hare means formal, official, and special, implying a celebration or a happy event. Ke, to the contrary, means ordinary and usual, indicating the daily routine. Japanese people live according to the classification between hare and ke. 
When we celebrate the New Year, or the coming of spring by holding a bean scattering ceremony on February 3, or mark the start of something new, we prepare and eat makizushi (sushi roll) as a special recipe for hare-no-hi, or a day of celebration.
As sushi is becoming better-known and popular globally, makizushi is also made and eaten in other countries besides Japan. In fact, makizushi is a generic name and it has many forms, for instance, hosomaki (thin roll), futomaki (thick roll), and uramaki (back roll).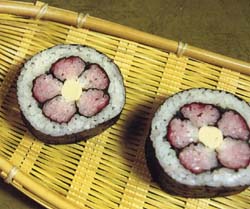 It is traditionally said that on the night of the day of bean scattering ceremony to celebrate the coming of spring (3 February) that if you want to live happily for the coming year, you should take bites out of a whole roll of futomaki while looking in the lucky direction (eho) of the year which is indicated by the old calendar.
With the cooperation of Kagawa Nutrition University, this press tour gives participants a unique opportunity to make their own makizushi and eat it, with a lecture on the special recipe for hare-no-hi that gives insight into Japanese people's life and way of thinking. Through this experience they will start feel the reality of hare and ke.
*Courtesy of Kagawa Nutrition University and Kagawa Education Institute of Nutrition
>> Link
Tour itinerary and application details
1. Date: Saturday, 14 January, 2006
2. Place: Kagawa Nutrition University Komagome Campus (Bunkyo-ku, Tokyo)
3. Schedule (tentative):
09:30 
Meet at JR Komagome Station and walk to Kagawa Nutrition University
09:45 
Arrive at Kagawa Nutrition University
10:00-10:30 
Briefing on makizushi, a special recipe for hare-no-hi, or a day of the celebration, and how Japanese people live according to the classification between hare and ke by Mr. Isamu Tohyama, lecturer, Kagawa Education Institute of Nutrition
10:30-12:00
Making makizushi
12:00-13:00
Lunch with makizushi and Q&A
(Wrap up and disperse)
4. Qualification:Bearer of Gaimusho foreign press registration card
5. Expenses: 1,000 yen per person 
*FPC will later inform the participants of methods of 
payment, cancellation fee etc.
6. Participants:Limited to the first 15 applicants on a first-come first-served basis.
(Only one reporter and one photographer from each company, but two participants from each TV team will be acceptable.)
7. FPC Contact:Ms. Koizumi (Tel: 03-3501-5070)
8. Remarks: 
(1) There are some restrictions on photographing and filming at the tour sites. Please follow the instructions of the officials on duty.
(2) Kagawa Nutrition University, Kagawa Education Institute of Nutrition and FPC will not be liable for any inconvenience, trouble or accident that might occur in the course of the tour.