Date : March 3, 2005
"Tsunami Countermeasures" Press Tour
post date : 2013.08.23
- Gigantic Floodgate to Protect Numazu Port and Tsunami Dome Theater -
"It would not be surprising if a large earthquake were to hit the Tokai region, mainly Shizuoka Prefecture, tomorrow." The comment was made about thirty years ago by Katsuhiko Ishibashi, then science department assistant at the University of Tokyo, and it became a social issue. Seismologists still agree that the big one is certainly coming.
This area has been hit by disastrous earthquakes every 100 to 150 years, and the last one, the Ansei Tokai Earthquake, came in 1854. With a 150-year blank period, the region is considered to have accumulated the largest earthquake energy on the Pacific coast west of the Kanto region.
Shizuoka Prefecture, having suffered heavily from the tsunami caused by the Ansei Earthquake, has been preparing against the next one. Numazu City, located at the western root of Izu Peninsula, is a major city in eastern Shizuoka with a population of about 210,000. When the Tokai Earthquake occurs, a 2 to10-meter-high tsunami is expected to strike Numazu within 3 to 10 minutes, and the city is estimated to suffer over 80% of the total casualties in Shizuoka. In September last year, a floodgate called "Byuo," one of the largest in Japan, was constructed in Numazu Port to protect the heavy-populated city center. Besides "Byuo," the tour will visit Shizuura fishing district in suburban Numazu, and cover their tsunami countermeasures involving the local residents.
Moving to Shizuoka City, you will visit the Shizuoka Prefectural Earthquake Preparedness Education Center in Shizuoka City, where the TSUNAMI Dome Theater was opened in January 2003. You will also cover the control room of the prefecture's disaster management headquarters, a center of information gathering and analysis, where Shizuoka Governor Yoshinobu Ishikawa will speak to you about one of the most advanced preparations being made by the prefecture.
Presentations
1. "Byuo" a gigantic floodgate in Numazu Port
>> Link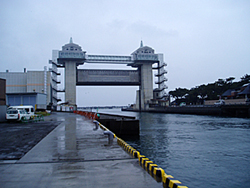 "Byuo" was constructed last September in the middle of Numazu Port, which is known for its large fish market. With a 9.3-meter-high gate door and a total weight of 923 tons, it is one of the largest floodgates in Japan. When the acceleration seismograph apparatus senses 250 gal (a tremor with an intensity of 6 minus on the Japanese seismic scale) or over, the gate will automatically shut down within 5 minutes. The new guardian of Numazu can block a 5.8-meter tsunami from flooding into the city center. From its 30-meter-high observation tower, you can enjoy the view of Mt. Fuji and Suruga Bay.
2. Tsumani Countermeasures in Shizuura Fishing District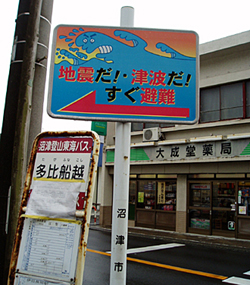 Shizuura District in eastern Numazu is a small fishing district with a population of about 7000. Since the people live on a small narrow place of flat land between the sea and the mo
untains, it is necessary for them to secure shelters and establish seawalls. In a community center built on a hill slope, they store food, blankets, and portable lavatories for evacuees. A 12-meter-high concrete tsunami mound on the seashore will be used as an emergency temporary shelter, accommodating about 300 residents or visiting anglers. The seawall on the coastline protects the local residents, and the opening and closing of the gates should be done by the residents. Thus the tsunami is really part of their life. The tour participants will cover those facilities and talk with the residents.
3. TSUNAMI Dome Theater, Shizuoka Prefectural Earthquake Preparedness Education Center
TSUNAMI Dome Theater was opened in January 2003 when the center's renovation was completed. With a 400-inch (9-meter-diameter) screen and a large tsunami water tank (30 meters by 10 meters), you can experience a powerful tsunami simulation. The center also exhibits earthquake-resistance designs and other educational materials.
4. Governor Yoshinobu Ishikawa and Disaster Management Headquarters
Shizuoka Prefecture is a top runner in earthquake countermeasures and has spent 1632.1 billion since the Tokai Earthquake theory was advanced some three decades ago. Of the prefecture's total coastline of 505.7 km, 279.2 km is considered to need preparations against such natural disasters as tsunami and flood tides, and 90% has already been protected by embankments and other measures. The tour participants will have a chance to talk with Governor Ishikawa about the prefecture's efforts, and also cover the disaster management headquarters.
Tour itinerary and application details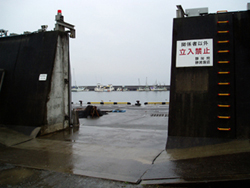 1. Itinerary
Thursday, March 3
(transportation: chartered bus)
07:30
Leave Nippon Press Center Building
(Briefing in the bus on the tsunami countermeasures of Shizuoka)
10:00-11:00
Visit Shizuura fishing district in Numazu
11:30-12:20
Lunch
12:30-13:30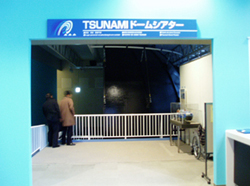 Visit "Byuo" floodgate in Numazu
15:00-15:40
Visit Shizuoka Prefectural Earthquake Preparedness Education Center
16:00-17:20
Meet Governor Ishikawa and cover the disaster management headquarters
17:30
Leave Shizuoka
20:30
Arrive at Nippon Press Center Building
(Participants may take Hikari 280 bullet train leaving Shizuoka Station at 18:10 and arriving at Tokyo Station at 19:13, at their own expense (about 6,000))
2. Qualification
Bearer of Gaimusho foreign press registration card
3. Expenses
2,000 per person (including lunch)
4. Participants
Limited to the first 20 applicants on a first-come first-served basis.
(Only one reporter and one photographer from each company, but two participants in each TV team will be acceptable.)?If the number of applicants exceeds 20, an upper limit may be set on the number of participants from each country.
5. FPC Contact
Mr. Yano or Ms. Suzuki (Tel: 03-3501-5070)
6. Remarks
(1) When you photograph and film at the tour sites, please follow the instructions of the officials on duty.
(2) FPC will not be liable for any inconvenience, trouble or accident that might occur in the course of the tour.