Date : January 17, 2006
Pioneer the Space-Yokohama Machi-koba (small factories) Press Tour
post date : 2013.08.23
Afeaturing The MANTEN Project, a consortium of local aerospace parts makers in the Kanagawa-Tokyo area
Date: Tuesday, 17 January
Recently, as its vaulting stock market suggests, Japan seems to be finally coming out of its decade-long economic slump. If the recovery is really under way, what industries can it develop to compete globally, as ever seen in automobile and home electronics? One obvious answer is aerospace. In this particular field, Japan once lagged behind America and Europe, but now the size of its market in Japan is 400 billion yen.
The Japanese aerospace industry, manufacturing parts for rockets and satellites in particular, has long been in the hands of a small number of major corporations. But since the bubble economy burst, the big players have started pulling out of supplying space-related parts, as they had to restructure their management and cut the less profitable business. For small-and-medium-sized companies, this can be a business chance - but it could also portend a crisis for the entire industry if it continues shrinking. 
In recent years, a growing number of small firms, strong in cutting-edge technologies and accurate workmanship, have started networking regionally and advancing into the market with the intention of raising the industry from the bottom. One example of such a move is "The MANTEN (whole sky) Project", a consortium formed by small-and-medium-sized companies based in the Kanagawa-Tokyo area. With its motto, "not work under major corporations but sell our technologies directly outside Japan", the consortium was founded in September 2003 as an organization whose member companies jointly accept orders for space-related products. At the time, small factory owners in Higashi Osaka City announced the joint project of launching their own commercial satellite named "MAIDO No.1", and gave a boost to their counterpart in the East. 
As of October 2005, 71 companies are participating in the MANTEN Project. They have a professional approach as manufacturers capable of meeting such requirements as small lot production with a wide range of variety, high value, high quality, and credibility, keeping a distance from the trend of mass production with low value that is rapidly shifting to China. Japanese small-and-medium-sized companies gained a clear edge from their integrated technologies and techniques and are excellent at processing, production, and innovation. Nevertheless, they are poor at collecting resources from fields outside their specialization, at quality control system, and at sales promotion. This hinders them from direct entry to the aerospace-related market and leaves them only indirect access to it. The MANTEN Project is trying to get them a better business environment by jointly collecting information, accepting orders, establishing a guarantee system, and promoting the links between industry, government and academia to pioneer new fields.
Aiming at contribution to the field of monitoring the situation of natural disasters or inspection of natural resources, the world's largest-scale observation satellite, "ALOS" (Advanced Land Observing Satellite) is scheduled to be launched from Tanegashima Space Center on January 19. 
Prior to the event, FPC has organized a press tour to visit two key member companies of the MANTEN Project in Yokohama - Yamanouchi Co., Ltd. (YSEC) specializing in high precision metal work and ORBITAL Engineering, a maker of the "thermal blanket" (Multi-Layer-Insulation), which protects satellites and space-related instruments from heat and cold in space. At the beginning of the tour, Japan Aerospace Exploration Agency's business coordinator will brief us on the current situation of Japan's small-and-medium-sized companies in aerospace industry.
Presentations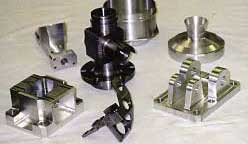 Photo
1:Aerospace-related parts produced by YSEC
2:ORBITAL Engineering's clean room
3:Thermal branket in production
4:YSEC President Keijiro Yamauchi and OEI President Koji Yamaguchi, key members of the Manten Project
1. Briefing on Japan's small-and-medium-sized companies' strength of technology in the field of aerospace by Mr. Terumasa Sugio, business coordinator on parts and technology, JAXA 
>> Link 
>> Link
In such industries as automobiles, home electronics and mobile phones, Japanese small firms have a reputation as world-leading manufacturers with cutting-edge technologies. What about their performance in aerospace in which the Japanese have less experience than theirAmerican and European competitors? In fact, who are the main players? Where are they located and what sort of products do they make, using what sort of technologies? 
FPC has invited Mr. Sugio, JAXA business coordinator on parts and technology, to share with us his information and experience based on his own fieldwork with us. Mr. Sugio, himself, visits small firms one after another all over the country and collects information on their developed technologies and products. He works as a bridge between small firms and large
corporations in and outside Japan, linking small firms' developed products and technologies to large corporations' demands or government projects. At the introduction of the tour, Mr. Sugio will give us a clear picture of the current situation of Japanese small-and-medium-sized companies in the aerospace industry.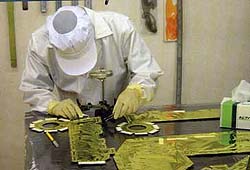 2. The MANTEN Project
>> Link
The project was born in September 2003 from a joint meeting of Kanagawa based small-and-medium-sized firms of different industries and their counterparts from Metropolitan Tokyo. The total number of the current member companies is 71: 32 from Kanagawa, 23 from Tokyo, 3 from Saitama, 9 from Niigata, and one each from Chiba, Toyama, Hokkaido, and Aichi.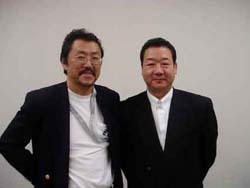 In April 2004, JASPA Co., Ltd.(Japan Aerospace Parts Association) was established by a few voluntary members of the Project with a joint capital 10 million yen, as a window of the organization for receiving and sending out orders. It is also responsible for building a guarantee system that is essential for aerospace-related parts that are used in an extremely severe environment. In the same year of the foundation JAXA ordered the JASPA to produce parts of a satellite and last year allowed it a direct deal.
Recently it received an order from a Japanese car maker and was approached by Airbus Industries, France, with a request to participate in a project to develop an aircraft.
3. Yamanouchi Co., Ltd (YSEC) 
>> Link
Founded in 1964, YSEC is currently led by 47-year-old President Kiejiro Yamauchi with a capital of 32 million yen and 70 employees (as of August 2005). Specializing in high precision metal work since its foundation, it started producing parts for aerospace-related instruments 16 years ago.
Characteristic requirements of aerospace-related parts are lightness, strength, and accuracy; they also have complicated shapes. YSEC technicians are proud of their own skillful work using such light and difficult metallic materials as aluminum, titanium, and magnesium. They neither weld, grind, nor polish. People admire their techniques saying "however difficult a material is, they can plane it to perfection". 
One example of their recent achievements includes the parts for the solar fuel cell of the multi purpose transport satellite launched In February 2004; and last year they received an order to produce parts related to the International Space Station, the first case for small-and-medium-sized companies in Japan.
YSEC used to produce car parts in mass production but shifted to aerospace-related parts 16 years ago. Since then it has made a specialty of producing a variety of items in small quantity, and currently develops products on its own brand. "Our next target is a carbon fiber combined material", President Yamauchi never tires of saying.
4. ORBITAL Engineering Inc. 
>> Link
Established in 1995 with a capital of 3 million yen, OEI is led by 42-year-old President Koji Yamaguchi with a total staff of 10. Its expertise is heat analysis in space - how much sunlight a satellite receives in different directions, then how much heat it generates etc.
It is said that in space while the temperature at a place in sunlight goes up to 150 degrees centigrade, it goes down to minus 150 degrees centigrade at another place with no sunlight. OEI designs and produces the "thermal blanket", Multi-Layer-Insulation (MLI), which protects satellites and space-related instruments from extreme heat and cold in space. Surprisingly, they use just their hands and a sewing machine in production. A high-polymer film named Polyimide, which has the greatest heat-resistance and strength against sunlight and cosmic rays, is the main material for the MLI. They sew two pieces of the film together skillfully using a sewing machine. The X-ray observatory satellite "SUZAKU", launched in July 2005, was protected by thermal blankets produced by the OEI. 
Recently it has started working with Cullimore & Ring Technologies of the US, and Explorer Consulting, France. OEI also took part in the Paris Air Show in 1999 and 2001 individually from Japanese private sector.
Tour itinerary and application details
1. Itinerary: Tuesday, January 17
(transportation: chartered bus)
08:45 
Meet at FPC Press Conference Room, 6th floor, Nippon Press Center Building
09:00-10:00
Briefing on the current situation of small and medium size enterprises
in the aerospace industry by Mr. Sugino, JAXA Business Coordinator
10:10 
Leave FPC by chartered bus
(In the bus: Briefing on "The MANTEN Project" by Mr. Koji Yamaguchi, President, Orbital Engineering Inc.)
11:00 
Arrive at YSEC Yamanouchi Co., Ltd.
11:00-11:20 
Introduction of YSEC Yamanouchi Co., Ltd. by President Yamauchi
11:20-11:40 
Introduction of JASPA Co. Ltd. (Japan AeroSpace Parts Association)
11:40-12:10 
YSEC factory tour
12:10-13:10 
Lunch meeting with representatives of The MANTEN Project member companies
13:10-13:30 
Introduction of Orbital Engineering Inc. by President Koji Yamaguchi
13:30 
Leave YSEC
14:30 
Arrive at Orbital Engineering Inc.
Visit OEI clean room
15:30 
Leave OEI
16:30 
Arrive at Press Center Building
2. Qualification: Bearer of Gaimusho foreign press registration card
3. Expenses: 1,000 per person (including transportation and lunch)
*FPC will inform the participants of payment methods, cancellation
fee etc. later on.
4. Participants: Limited to the first 15 applicants on a first-come first-served basis.
(Only one reporter and one photographer from each company, but two participants in each TV team will be acceptable.) If the number of applicants exceeds 10, an upper limit may be set on the number of participants from each country.
5. FPC Contact: Ms. Koizumi and Ms. Yamashiro (Tel: 03-3501-5070)
6. Remarks: 
(1) When you photograph and film at the tour sites, please follow the instructions of the officials on duty.
(2) JAXA, YSEC, ORBITAL Engineering, and FPC will not be liable for any inconvenience, trouble or accident that might occur in the course of the tour.