Date : February 24, 2005
"Disaster Prevention Technology" Press Tour
post date : 2013.08.23
- R&D of Resource Robot and Disaster Simulation System plus Kawasaki Waterfront Area, a New Hub of Robot Industry -
It is ten years since the Great Hanshin Awaji Earthquake, and technological development for disaster reduction has reached various stages. One of them is a rescue robot capable of searching for victims trapped under the wreckage of collapsed buildings, and another is a simulation system of earthquake and other disasters.
Keihin Industrial Area, covering the Kawasaki waterfront district, is the first coastal industrial zone in Japan, developed by the concentration of the heavy and chemical industries. The area, which supported Japan's post-war economic development, is now trying to revitalize itself as a hub of rescue robot development.
A gymnasium formerly used by NKK (now JFE), a steel maker that has played a leading role in the Keihin Industrial Area, is now called Kawasaki Laboratory, a new center for disaster reduction research that opened in 2002. In the laboratory, the Earthquake Disaster Mitigation Research Center of the Institute of Earth Science and Disaster Prevention (NIED-EDM), is engaged in developing a comprehensive simulation system for earthquake disaster. The International Rescue System Institute (IRSI), an NPO initiated by top researchers, is conducting R&D on the rescue robot.
Keen on redeveloping the area, Kanagawa Prefectural Government is also promoting the International Rescue Complex (IRC) program with the Kawasaki Laboratory as a core facility. They are planning to concentrate and activate the robot industry, particularly in the rescue field.
The tour will visit the Kawasaki Laboratory to cover the cutting edge of disaster reduction technology, and also see their efforts to turn a heavy and chemical industry region into an international hub of the robot industry.
Presentations
Presentations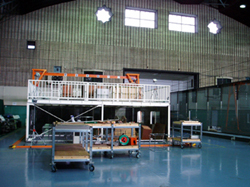 1. Kawasaki Laboratory
>> Link
>> Link
In the Kawasaki Laboratory, the NIED-EDM and IRSI are carrying out a "Special Project for Earthquake Disaster Mitigation in Urban Areas," a contract research project of the Ministry of Education, Culture, Sports, Science and Technology.
Under this project, the NIED-EDM is developing cutting-edge simulation technology including a comprehensive simulation system of earthquake disaster and another for tsunami in coastal areas.
Taking advantage of the ample space of the former gymnasium, the IRSI has established in the laboratory a test field, where they conduct various performance tests of the rescue robot in a mock disaster field with piles of rubble, in order to produce a robot fit for practical use.
The tour participants will be briefed about the R&D activities of the two organizations and have a chance to see a demonstration of the rescue robot and the tsunami simulation system.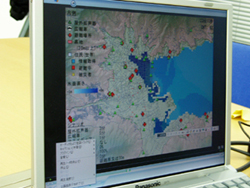 2. Briefings on International Rescue Complex program and Techno Hub Innovation Kawasaki
>> Link
Kanagawa Prefectural Government inaugurated the IRC program in 2002, aiming at becoming the world's Center of Excellence to provide technological solutions on rescue, with the Kawasaki Laboratory as the core institution. They plan to develop a center for rescue robots, equipment for rescue corps, disaster simulators, and human resources. A prefectural official will brief you on their vision for the IRC and strategy for forming new industries.
You will also hear about a new science park, Techno Hub Innovation Kawasaki (THINK), the main research facilities for realizing the IRC program, utilizing the existing establishments and functions of the JFE.
3. Robot Venture Company: Silicon Robotics, Ltd.
>> Link
THINK Mirai-kobo provides robot venture companies with offices and lab facilities. The tour will visit Mirai-kobo and cover Silicon Robotics, Ltd., which was established in November 2001 as an intra-venture business of SGI Japan. The company's business includes planning and production of rescue robots and communication robots. Company Director Dai Akimoto will be available to discuss their business scope.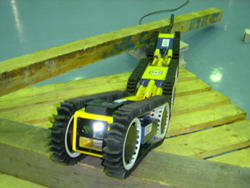 Tour itinerary and application details
Thursday, February 24
(transportation: chartered bus)
08:30-
Leave Nippon Press Center Building
(Briefing on the IRC in the bus)
09:30-10:00
Briefing on THINK
10:00-12:30
Visit Kawasaki Laboratory
10:00-11:00 Cover NIED-EDM
11:00-12:30 Cover IRSI
12:30-13:30
Lunch
13:30-14:30
Cover Silicon Robotics
15:30
Arrive at Nippon Press Center Building
Qualification
Bearer of Gaimusho foreign press registration card
Expenses
1,000 per person (including transportation and lunch)
Participants
Limited to the first 20 applicants on a first-come first-served basis.
(Only one reporter and one photographer from each company, but two participants in each TV team will be acceptable.)?If the number of applicants exceeds 20, an upper limit may be set on the number of participants from each country.
FPC Contact
Mr. Yano or Ms. Suzuki (Tel: 03-3501-5070)
Remarks
(1) When you photograph and film at the tour sites, please follow the instructions of the officials on duty.
(2) FPC will not be liable for any inconvenience, trouble or accident that might occur in the course of the tour.